About a month ago I posted about my pregnancy cravings on Instagram. I'm now 24 weeks along and since week 12 I've been craving everything salty, smokey and savory. I've been eating tons of pickles, sauerkraut and nut cheese, but nothing has hit the spot quite like today's Vegan Carrot Lox!
Growing up in a Jewish New York household, bagels with cream cheese and lox were always a staple. This recipe is a veganized version of one of my most well-remembered childhood comfort foods! Even if you're not pregnant, Jewish or from New York I have a feeling you're going to love it too.
For the vegan cream cheese, I used Kite Hill Chive Style Spread  which I love because it doesn't contain any funky ingredients and it's just so delicious. Lately I've been in the mood for these spelt english muffins but I also love these gluten-free bagels. I've included my favorite toppings in the recipe below but feel free to get creative!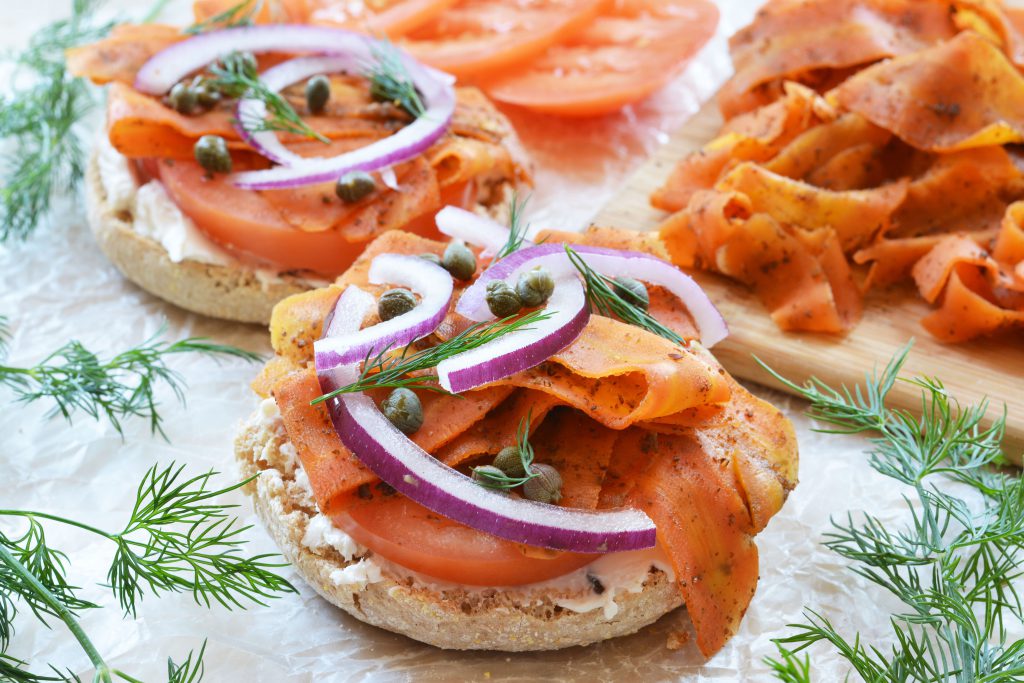 Vegan Carrot Lox
Ingredients
for the carrot lox
serve with
bagels, english muffins or toast
vegan cream cheese
tomato slices
red onion slices
capers
fresh dill
Instructions
Preheat oven to 400°. Line a baking sheet with aluminum foil.
Use a vegetable peeler to peel carrots into thin strips. Place in a bowl and toss with tamari, liquid smoke and seasoning.
Place on baking sheet. Fold aluminum foil around carrots so they are completely covered. Bake for 20 minutes.
Remove from oven and let cool (place in fridge to speed this up). Serve with my suggestions or your favorites!