Today's recipe is a fun cookie that I've been meaning to test out for a while. I love sneaking greens into unexpected places because they add nutrition and color and most of the time you can't even taste them!
These Vegan Kale & Oatmeal Cookies taste just like your favorite oatmeal raisin/chocolate chip cookies with a slightly savory hint from the kale. I've always been a fan of desserts that are both sweet and savory so they're right up my alley. For those of you who aren't on such friendly terms with greens (or baking for kids/friends/family who aren't) you can reduce the amount of kale or try substituting spinach since it has a more mild flavor.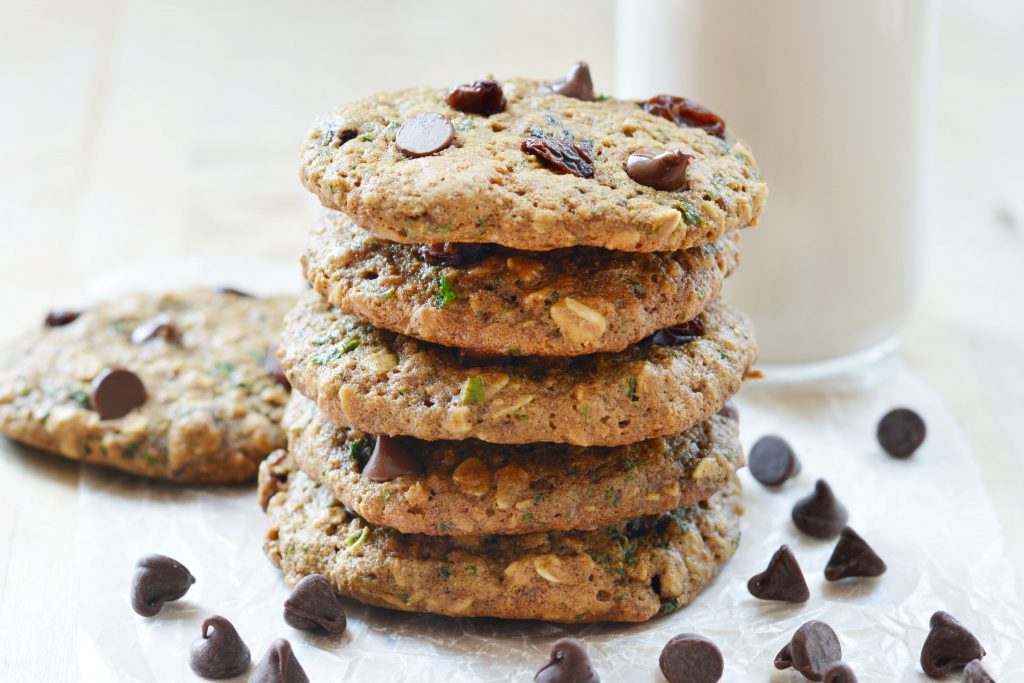 Vegan Kale Oatmeal Cookies
Ingredients
1 tbs ground flaxseed
3 tbs warm water
1 cup spelt flour + extra, as needed
1 cup oats
⅔ cup coconut sugar
½ tsp baking soda
⅛ tsp salt
⅔ cup coconut oil or vegan butter, melted
2 tsp vanilla extract
¼ cup non-dairy milk
2 cups kale, shredded
handful vegan chocolate chips
handful raisins
Instructions
Preheat oven to 350°. Grease a baking sheet.
Prepare flax "egg" by stirring together flax and water in a small bowl or cup. Let sit 10 minutes before using.
In a large bowl, whisk together flour, oats, coconut sugar, baking soda and salt.
Combine melted coconut oil, vanilla extract and kale in blender. Blend until kale is shred into very small pieces. Stir mixture into large bowl with flour, add flax "egg" and mix until thoroughly combined.
Fold in chocolate chips and raisins.
You should be able to roll the batter into loose balls with your hands. If dough is too wet (the kale adds water), add a little more flour (I added about ¼ cup).
Scoop a little more than 1 tablespoon of batter onto baking sheet for each cookie.
Bake for 11-13 minutes, until edges are slightly firm (they'll firm up more as they cool). Let cool before enjoying.