Even though we promised to stop giving each other kitchen gadgets as gifts (our cabinets have been jam-packed since our wedding), Ross gave me this waffle iron last year for Chanukah. I was so excited to try it but after the first time I used it I realized that I hate waffles and they make me feel sick.
Well, it turned out that at 7 weeks pregnant I was actually experiencing the first signs of morning sickness and my taste buds and stomach were gearing up to say NOPE! to just about everything I ate. Flash forward to the present day (I'm now 30 weeks pregnant and eating everything in sight) and I've been on a serious waffle kick for the past week.
I came up with these Vegan, Gluten-Free Maple-Tahini Avocado Waffles as a super easy, sweet and savory brunch. I love this recipe because it's just like avocado toast but a little more fancy and fun.
For the waffles, I kept it simple and used Bob's Red Mill Pancake Mix. The instructions call for eggs so I substituted flax "eggs" (1 egg= 1 tablespoons ground flax + 3 tablespoons water) and they turned out perfectly.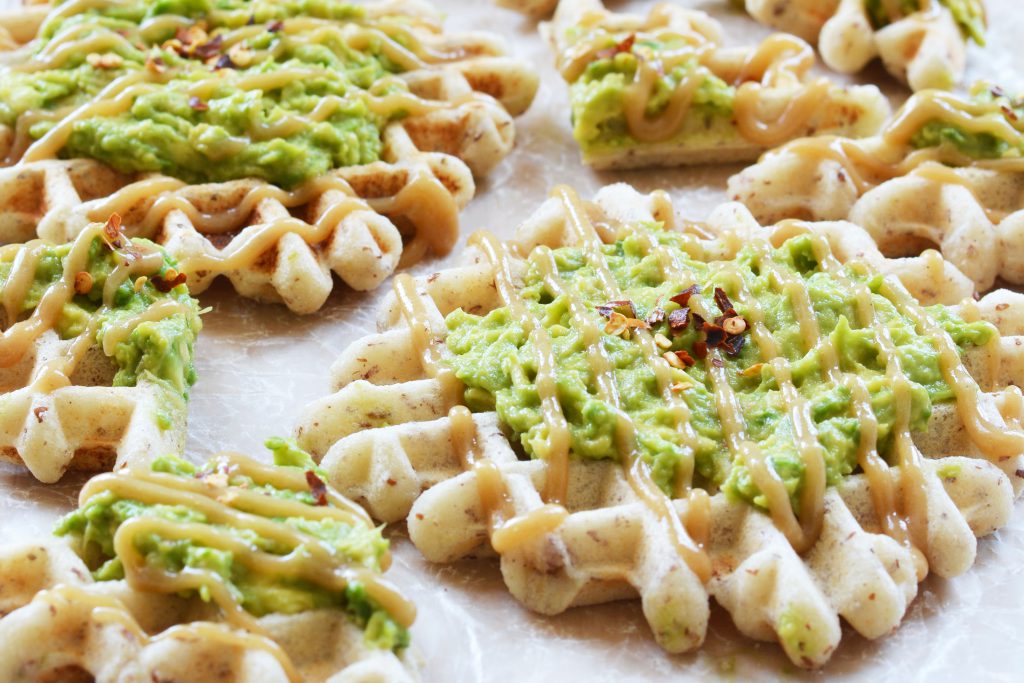 Maple-Tahini Avocado Waffles, Vegan + Gluten-Free
Recipe type:
breakfast, brunch
Ingredients
4 waffles (see above)
1 avocado
2 tablespoons tahini
2 tablespoons maple syrup
salt
optional- red pepper flakes
Instructions
In a small bowl, mash avocado.
In another small bowl, stir tahini and maple syrup together.
Lay out waffles. Spread mashed avocado on top. Drizzle maple-tahini over everything. Sprinkle with salt and red pepper flakes.