It's donut time!  (Mostly) Raw Vegan, Gluten-Free Donuts, that is.
Truth be told, I've never been the biggest donut/pastry fan. Less doughy, more dense desserts (does that make sense?) like cookies, cake and pie have always done it more for me. Today's donuts are totally up my alley though, since they are sweet and chocolatey but full of so much goodness they can double as dessert or your midday energy snack.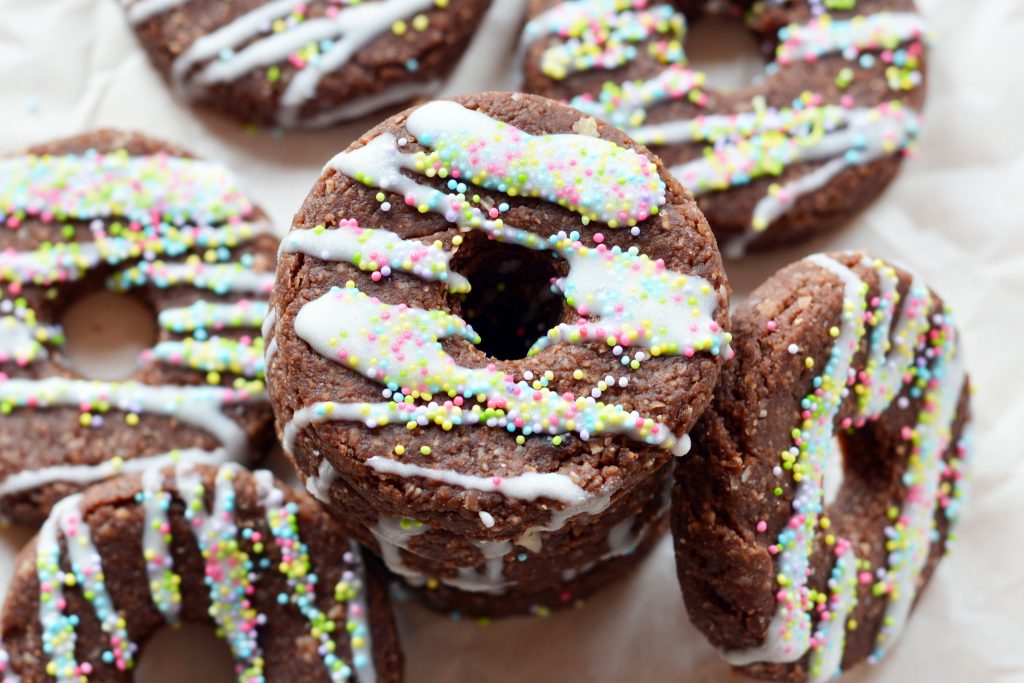 They really hit the spot on their own or are the perfect topper to a big bowl of coconut yogurt…
Try these little babies the next time you want something sweet and energizing that won't weigh you down. Ps- try this recipe when you want a more decadent dessert.

Raw Vegan, Gluten-Free Donuts
Ingredients
donuts
1 cup rolled oats
1 cup dates, soaked in warm water for 30 minutes
½ cup shredded coconut
¼ cup coconut oil
3 tablespoons cacao powder
2 tablespoons peanut butter (or nut butter of your choice)
2 tablespoons maple syrup
dash of salt
toppings
¼ cup coconut butter, melted
sprinkles
Instructions
Pulse oats in blender until flour is formed. Add all remaining donut ingredients and blend until mostly -smooth texture is formed (you'll have to scrape the sides down a few times).
Lay a piece of wax paper out and use a rolling pin to roll dough out so that it's about ½" thick. Use a 3" cookie cutter (or jar lid) to cut out doughnuts. Use something circular that's about ½" wide to cut holes of out donuts (I used a pastry bag tip).
Transfer donuts to plate or tray and place in refrigerator to set (about 1 hour).
Once donuts have hardened, drizzle coconut butter and add sprinkles on top. Store in refrigerator and enjoy!