Have you heard that I'm writing a cookbook?!
Yep, life is a little crazy right now as I'm 35 weeks pregnant and hustling to get the majority of the recipes for the book finished before my due date in August. Over the past few weeks it's gotten a little more challenging to be on my feet for long periods of time while I'm cooking and photographing, but I really can't imagine a job that would be more perfect for pregnancy since I'm always hungry!
Today I'm excited to share a recipe that didn't quite make the cut for the book. The theme of the book (like the theme of the blog) is "colorful, not complicated" and even though this dessert is totally delicious, the directions feel just a bit too complicated to include in the book.
These Vegan Blueberry Pie Pockets with a Spelt Crust are a really fun twist on blueberry pie. You probably already know that I have a thing for mini desserts, so I'm all about the cuteness factor of this dessert. I love this recipe as a fun summer picnic or potluck dessert- be sure to do yourself a favor and top them with vegan ice cream!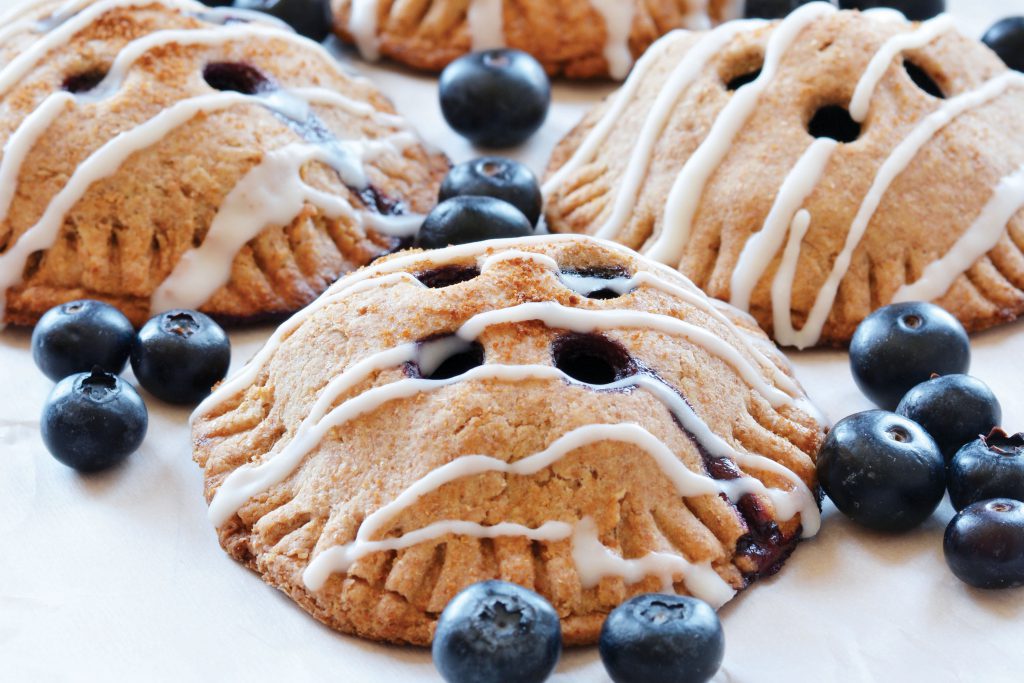 Vegan Blueberry Pie Pockets
Ingredients
crust
⅔ cup vegan butter
2 cups spelt flour, plus extra for sprinkling
2 tablespoons coconut sugar
¼ cup cold water
dash of salt
filling
2 cups blueberries
¼ cup coconut sugar
¼ cup water
¼ cup cornstarch
juice of 1 lemon
dash of salt
topping ideas
coconut butter
vegan vanilla ice cream
Instructions
Preheat oven to 400°F. Grease a baking sheet or line it with parchment paper.
To prepare crust, pulse all ingredients in food processor or in a bowl with an electric mixer, until thoroughly combined. Add a few extra splashes of water if dough feels crumbly. Scoop out dough, roll it into a ball and chill in the refrigerator for 20 minutes.
While dough chills, toss all filling ingredients together in a bowl and set aside.
Sprinkle flour on a clean surface. Cut ball of dough in half. Rout half of the dough until it's about ¼"- ⅓" thick. Use a 3" circular cookie cutter (or jar lid) to cut out circles. Use something small and circular (the end of a reusable straw is perfect) to poke holes in half the circles that will be used as the tops.
Spoon berry mixture onto the bottom circles. Scoop a little extra liquid onto each one. Cover with top circles and use your fingers to pinch edges together. Use a fork to press lines into the edges.
Bake in oven for 15-20 minutes, until edges are lightly golden. Let cool, then serve with with your favorite topping.