Since entering the third trimester of my pregnancy, I've been learning about different foods that naturally help your body prepare for labor and nursing.
One magical pregnancy food- dates! Did you know that eating dates in the last last month of pregnancy is known to help women have shorter labors? I've always loved dates and lately I've been trying to find ways to eat at least 4 each day (which actually isn't hard at all since they're sweet and delicious).
Even if you aren't pregnant, I think you'll love today's incredibly easy, date-filled recipe, Vegan + Gluten-Free Crunchy Date & Peanut Butter Chocolate Cups. Ooey gooey in the center and crunchy/salty on the outside, the little cups are the perfect sweet snack.
They take just a few minutes together and are made without any of the funky ingredients found in store-bought chocolate cups. There are tons of different brands of vegan chocolate chips out there but these are my favorite because they're grain-sweetened!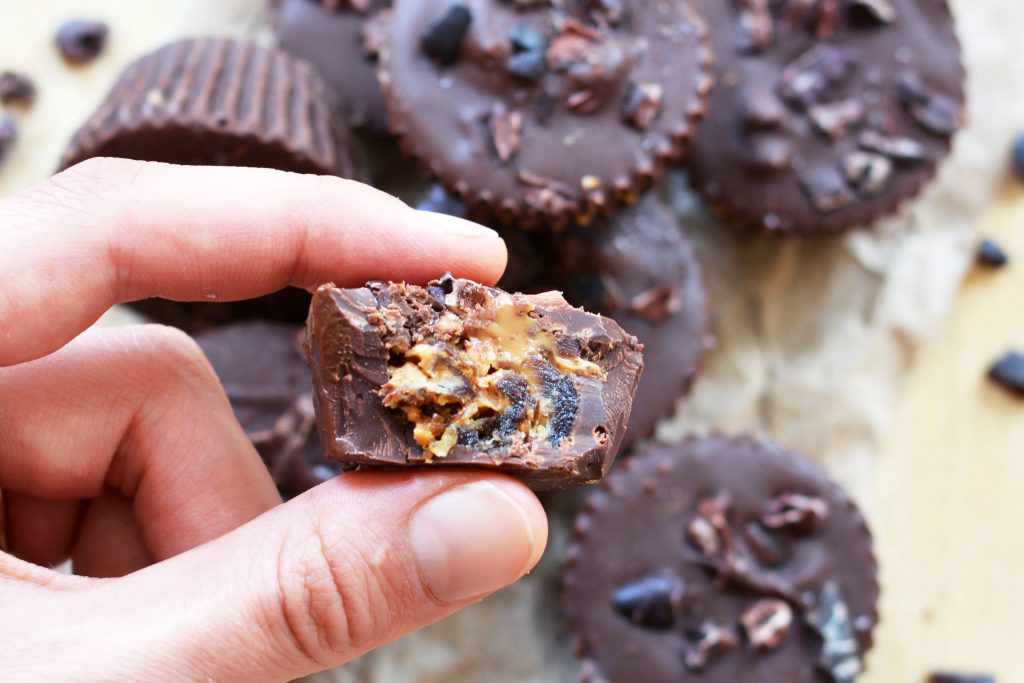 Crunchy Date & Peanut Butter Chocolate Cups, Vegan + Gluten-Free
Ingredients
½ cup chopped dates
¼ cup peanut butter
1½ cup vegan chocolate chips
2 tablespoons cacao nibs
sea salt
Instructions
Line a mini muffin tin with baking cups.
In a small bowl, stir together chopped dates and peanut butter. Set aside.
In a small saucepan on the stove, heat the chocolate chips at a low temperature, stirring until melted.
Spoon 1-2 teaspoons of the melted chocolate into the bottom of each cup. Add a scoop of the date/peanut butter mixture on top. Spoon another 1-2 teaspoons of melted chocolate on top and use your spoon to spread it out evenly. Sprinkle cacao nibs and sea salt on top.
Place in the refrigerator to set (30-45 minutes), then enjoy!