One of my all-time favorite holiday dishes and one that has been shared around the internet the most (remember when it was in the NYtimes last year?!) is my Stuffing Muffin recipe.
This year I'm excited to share a new variation, Vegan Stuffing Muffings with Cauliflower Mash. I swapped out the traditional mashed potatoes for mashed cauliflower- which if you haven't tried it you'll be surprised by how delicious it is!
The cauliflower mash makes for a slightly lighter dish…but really, does that even matter on T-day?? I'm all about this variation for the creamy dreamy cauliflower texture!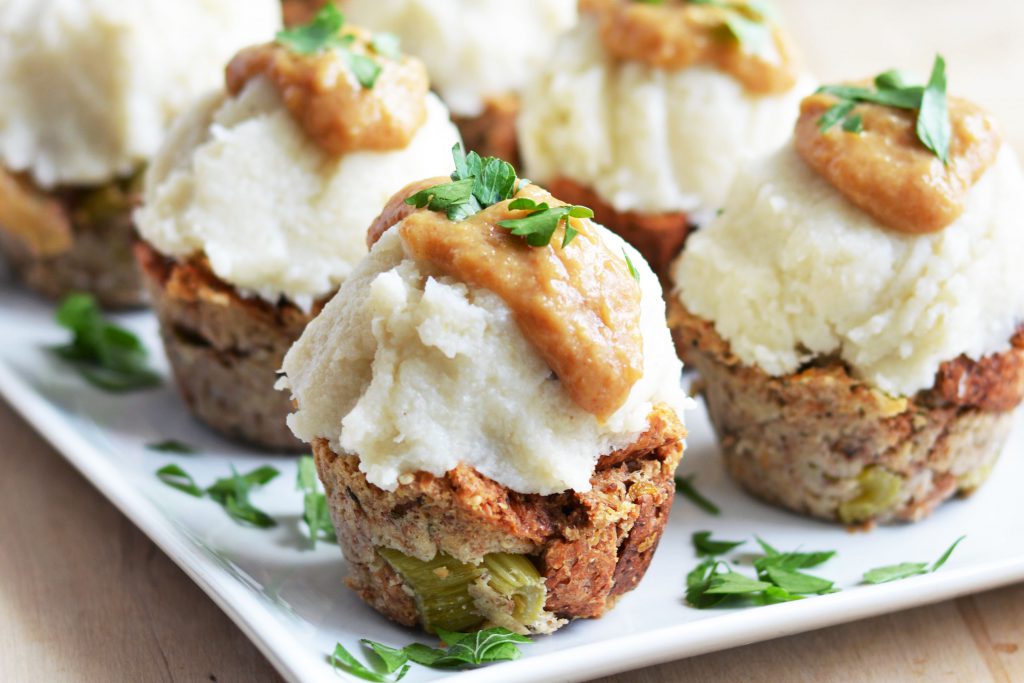 I've compiled all my favorite recipes (some you'll remember from last year and some new ones) into a brand new ebook: The Colorful Kitchen 2016 Guide to Vegan Thanksgiving!
Click here to get your free copy sent straight to your inbox! *If you're already a subscriber the ebook will be sent to you on Friday!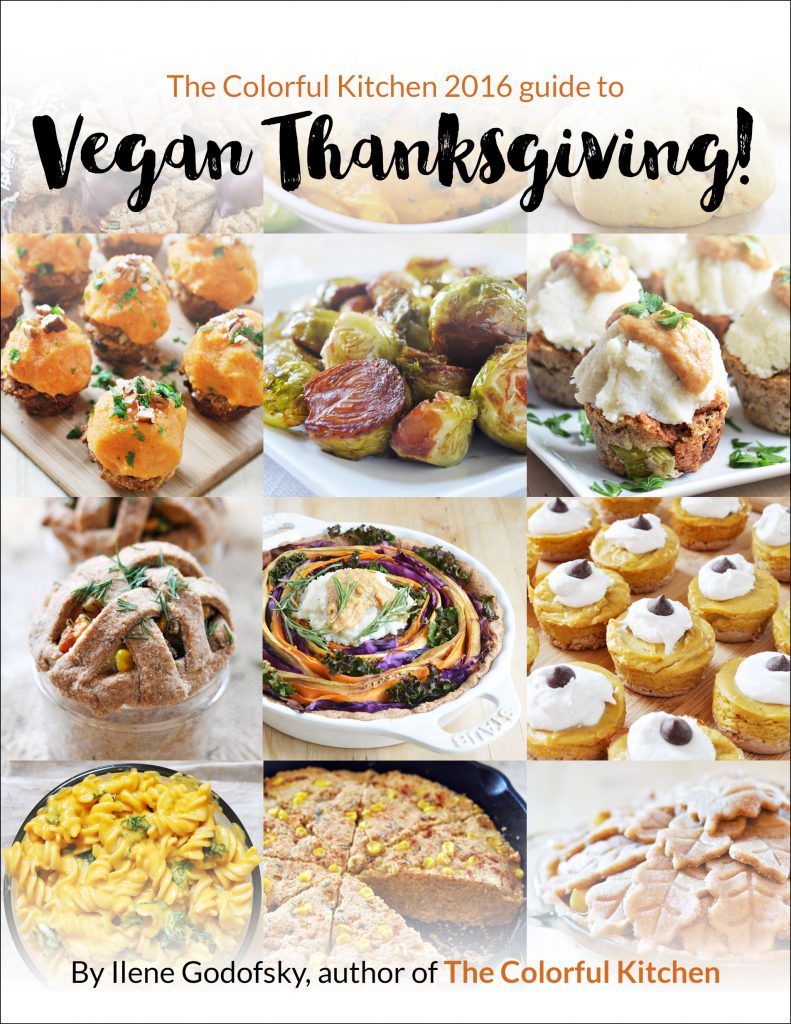 Ok, let's make some stuffing muffins!

Vegan Cauliflower Mash
Author:
Ilene Godofsky Moreno
Recipe type:
Thanksgiving
Ingredients
1 medium head of cauliflower, broken into florets
2 medium yukon gold potatoes, cut into 1" pieces
2 tablespoons vegan butter
⅛ teaspoon garlic powder (optional)
non-dairy milk, as needed
salt and pepper, to taste
Instructions
Bring a large pot of water to boil.
Add cauliflower and potatoes and simmer until tender (about 15 minutes).
Drain the water and transfer the cauliflower and potatoes to a food processor or blender. Add vegan butter and garlic power and blend until desire texture is formed. For a smoother texture, add a tablespoon or two of non-dairy milk.
Season with salt and pepper. Enjoy over stuffing muffins (see below).
Vegan Stuffing Muffins
Author:
Ilene Godofsky Moreno
Recipe type:
Thanksgiving
Ingredients
flax "egg"
1 tablespoon ground flaxseed
3 tablespoons warm water
everything else
8 cups bread cubes (about 1 loaf)
3 tablesoons vegan butter
1 medium onion, diced
4 cloves garlic, minced
1.5 cups diced celery
1 tsp thyme
1 tsp rosemary
salt and pepper to taste
2½ -3 cups vegetable broth
Instructions
Preheat oven to 375°. Grease a muffin tin.
Prepare flax "egg" by stirring flaxseed and water together in a small bowl. Let sit at least 10 minutes.
Spread bread cubes out on a baking sheet. Bake until toasted (about 10-15 minutes). Transfer bread to large bowl.
Heat vegan butter in pan on stove at medium heat. Add onion, garlic and celery and sauté until vegetables are soft (about 15 minutes). Add mixture to bowl with bread cubes.
Stir thyme, rosemary, salt, pepper and flax "egg" into bowl.
Slowly add vegetable broth, being careful not to make bread too soggy, and stir. Add 1 cup at a time and let it absorb for a minute before adding more.
Spoon mixture into each spot in the muffin tin, packing it down and filling it slightly above the top. Bake in oven for 18-20 minutes, until edges are browned.
Remove from oven and let sit until cool enough to handle. Add a scoop of cauliflower mash (see above) on top of each muffin and top with gravy.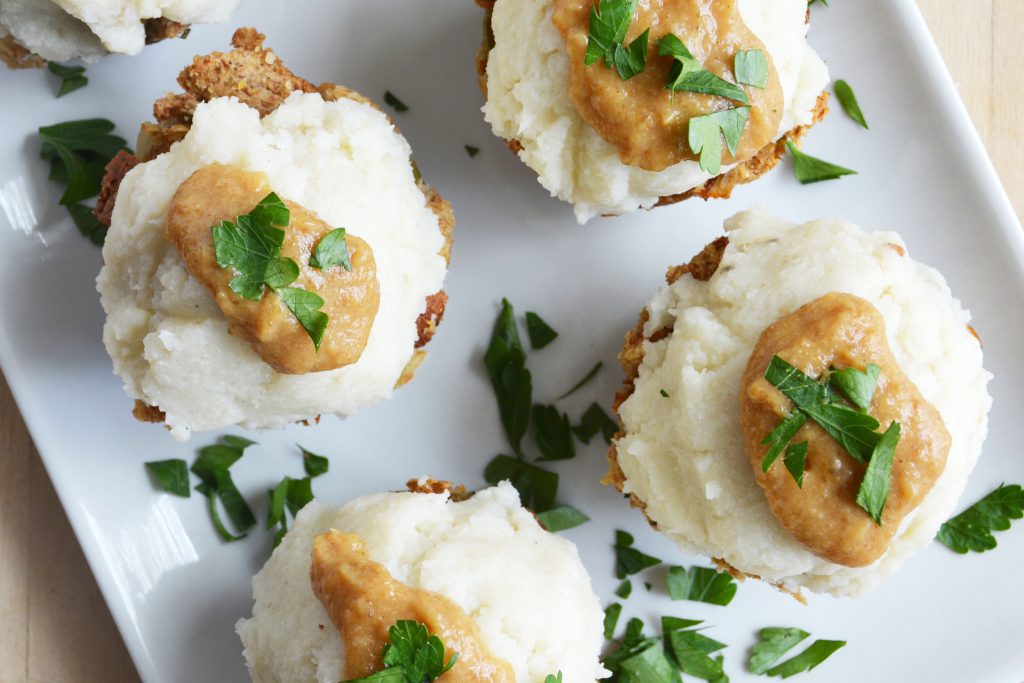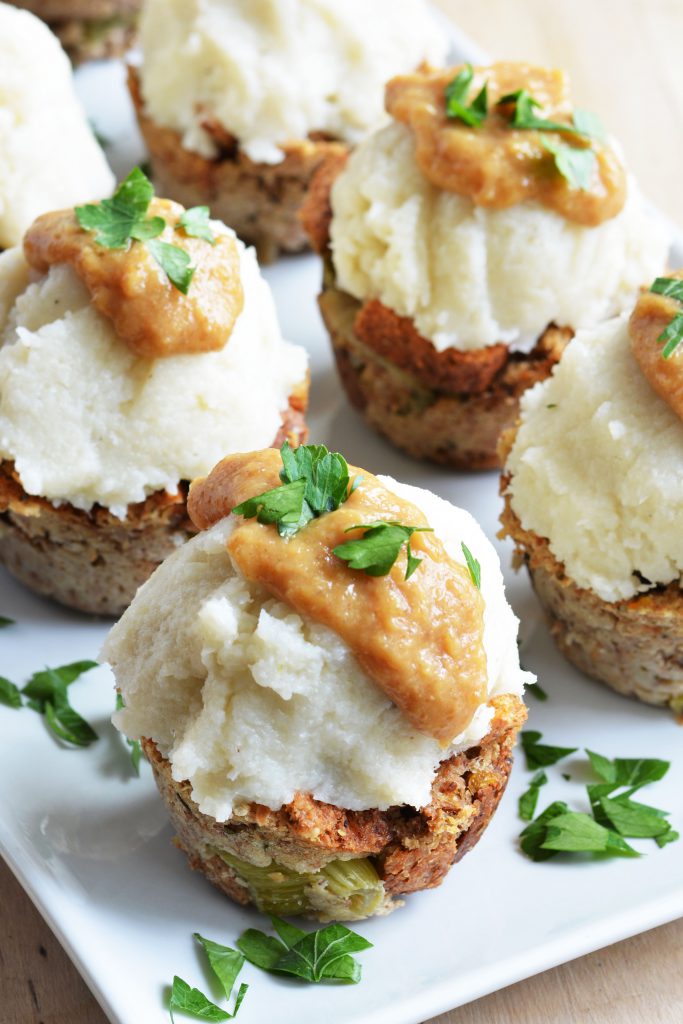 hk