Last week I found myself at the grocery store with a fussy baby, wandering the aisles thinking, what should I make for dinner?? I felt tired of all my winter weeknight go-to's- chili, mac n' cheese, macro plate– and decided to consult my long-running list of recipe ideas. I've had "hummus soup" written down for ages so I made some funny faces at my baby girl to keep her happy (which worked for about 30 seconds) and scrambled to come up with a plan for the ingredients.
Let me tell you, I'm so, so glad I finally got around to today's Vegan, Gluten-Free Hummus Soup!
The photographs truly don't do the recipe justice. Actually, scratch that- they make the recipe look like a regular old bowl of hummus (not that there is ever anything wrong with a bowl of hummus) but I promise it's so much more!
If you like hummus you'll love this soup. It's so simple, it's basically all the ingredients in hummus plus a creamy cauliflower base, with sauteed onions and garlic. It's cozy, warming and filling.
I garnished mine with an extra lemon wedge, a scoop of sauerkraut, fresh dill and black pepper. The next day I mixed green lentils into the leftover soup and topped it with avocado and crackers- so hearty and delicious!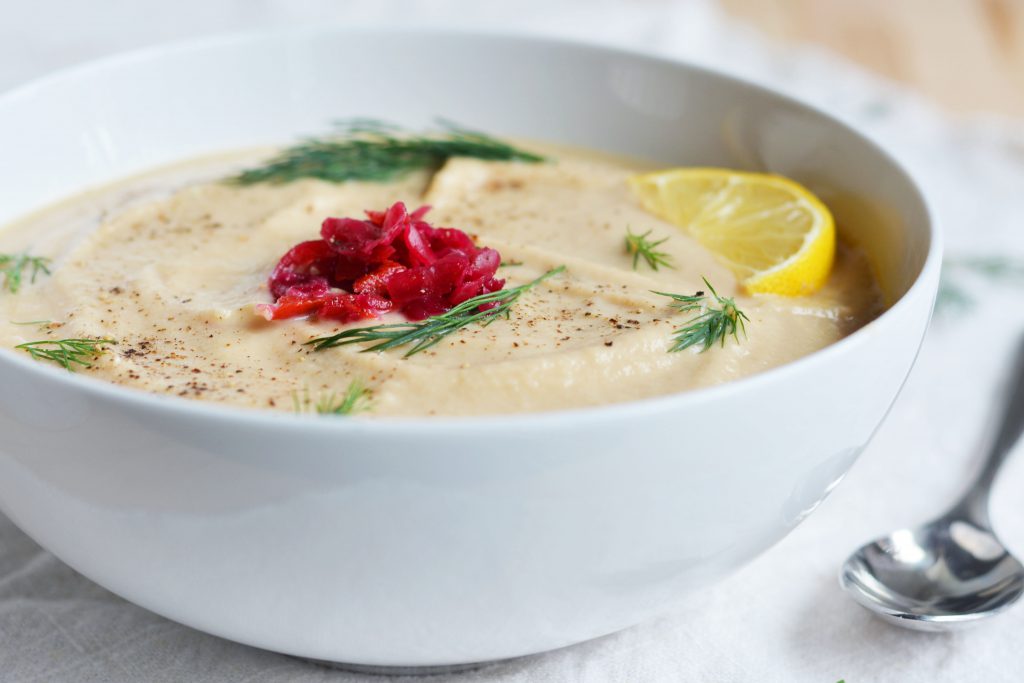 Hummus Soup, Vegan + Gluten-Free
Author:
Ilene Godofsky Moreno
Cuisine:
vegan, gluten-free
Ingredients
1 tablespoons olive oil
1 medium onion, diced
3 cloves of garlic, minced
4 cups of vegetable broth
1 medium head of cauliflower, broken into florets
1½ cups cooked (or 1 15-oz can) chickpeas
¼ cup tahini
juice of 1 lemon
1 tablespoon tamari
salt and pepper, to taste
garnish
lemon wedges
sauerkraut
fresh dill
Instructions
Heat the olive oil at medium-high in a large stockpot. Add the onion and garlic and saute until browned (5-7 minutes).
Add 4 cups of vegetable broth and bring to a boil. Add the cauliflower and simmer until tender (10-15 minutes).
Carefully transfer to contents of the pot to the blender. Add all the remaining ingredients and blend until smooth.
Return the soup to the pot. Heat at medium, stirring occasionally, until it's warm. Season with salt and pepper.
Transfer to bowls to serve and add your favorite garnishes.