I'd like to start off today's post by saying that there's probably a good reason we don't usually make cookies in waffle irons. That said, I'm excited to share an experiment with you that I plan to keep trying until I get it just right!
The idea of making cookies in my waffle iron came to me last week and once I got it in my head I had to try it right away. The result was today's Vegan Chocolate Covered Peanut Butter Waffle Cookies.
I love the combination of peanut butter and chocolate in these cookies. They turned out extra, extra crunchy- which I have to admit I weirdly kind of like, but it definitely wasn't the texture I was going for. If you too are a crunchy cookie fan, you'll love them dipped in warm almond milk!
I'm going to keep working on the recipe until I come up with a waffle iron cookie that's soft in the middle, but until then I wanted to share this recipe and ask all of you if you have any waffle iron cookie suggestions?
Also, aren't they just plain cute?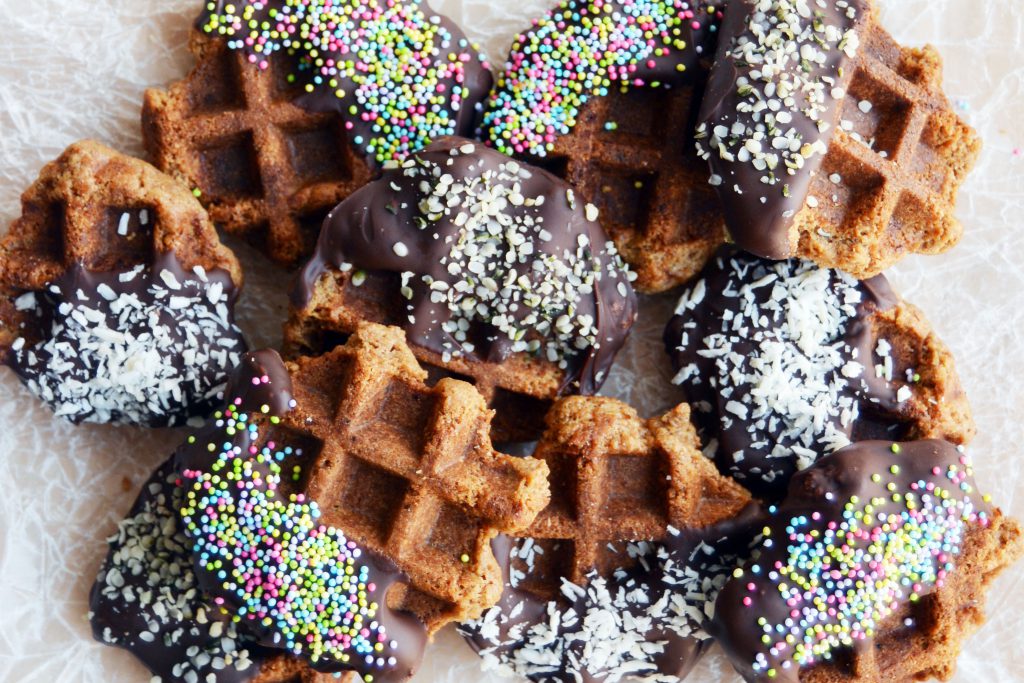 Vegan Chocolate Covered Peanut Butter Waffle Cookies
Author:
Ilene Godofsky Moreno
Ingredients
flax "egg"
1 tbs ground flaxseed
3 tbs warm water
dry
2 cups spelt flour
⅔ cup coconut sugar
½ teaspoon baking soda
⅛ teaspoon salt
wet
½ cup creamy peanut butter
2 tablespoon coconut oil, melted
2 teaspoons vanilla extract
¼ cup + 2 tablespoons non-dairy milk
toppings
1 cup chocolate chips
shredded coconut
hemp seeds
sprinkles
Instructions
Heat the waffle iron.
Prepare the flax "egg" by stirring together flax and water in a small bowl or cup. Let sit 10 minutes before using.
In a large bowl, whisk all the dry ingredients together.
In a small bowl, stir the wet ingredients together.
Add the contents of the small bowl to the large and mix until thoroughly combined.
Scoop 1 tablespoon of batter and roll into a ball. Repeat until you have 4 balls and place each one on one quadrant of the waffle iron. Close the iron and let the cookies bake until crispy. The time will vary depending on your waffle iron but for me it took 3 minutes. Remove the cookies from the iron and repeat until all the batter is used.
For the chocolate coating, heat the chocolate chips in a small saucepan at low, stirring until melted. Dip the cookies halfway in the chocolate then place them on a baking sheet lined with wax paper. Sprinkle your choice of topping over chocolate. Let the chocolate cool and harden before enjoying.