I've mentioned my husband, Ross, here and there on the blog and he occasionally makes a guest appearance on Instagram but today I'd like to take a minute to talk his recipe rating system.
When we first met almost 5 years ago, Ross basically lived off the burrito food truck on his street (until he got food poisoning!) and would occasionally make himself pasta (with nothing but noodles and sauce) for dinner. He is one of those people who will really eat anything you put in front of him. In the beginning when I would cook for him, he was always so impressed. It wasn't until a few months in that I realized his reactions can't be trusted! I've made tried out some pretty questionable dishes (that didn't make it onto the blog) and his reaction to them was almost the same as to something really delicious (like this mac).
It's always really fascinating to me what goes on behind the scenes at food blogger homes- are the husbands, wives, boyfriends, girlfriends or roommates actively involved in recipe testing? Do they sit around the table trying batch after batch of cookies, examining each bite until the recipe is just right? While I wish I could say this is the case in my house, the truth is that if I set a fresh batch of cookies on the counter Ross will usually make half of them disappear, then say "yum, thanks!" and return back to whatever activity he was doing. If I ask him what he thinks of the recipe, the ingredients or what makes them unique…99% of the time all he can muster is a "they were…really good!"
That's not to say he isn't grateful for my cooking. Our fridge is always full of snacks and he knows he's got it good, plus he shows his gratitude by doing the dishes (which I love).
He eats almost everything you see on the blog so when I started working on my cookbook I told him that he needed to step up feedback game! I wanted to make sure that every recipe was absolutely perfect and I wanted to be able to rely on his input. Even after having a sit-down to tell him I needed his help, the best I could squeeze out of him was a "really, really good!" in between bites if he liked something, and a "not my new favorite" (also in between bites) if he didn't. It would be comical if I didn't genuinely want his feedback!
Ok, so he didn't end up being very much help with recipe testing for my cookbook but luckily I had a great group of volunteers (thanks, ladies!). For whatever reason, I just can't let his lack of a rating system go! Last week I asked him if he could think of a meal that really stood out for him, either at home or at a restaurant. He thought about it for a good ten minutes then recalled a BBQ jackfruit sandwich he had at Brooklyn Whiskers. I decided I would try my hand at a jackfruit sandwich and see if I could get more of a reaction out of him, so I came up with today's Vegan Smoky Tahini Jackfruit Sandwich.
Well, Ross's verdict is in and…it was "really, really good!" Oy vey! He did ask if I could make another batch to bring for lunch at work, so I'm considering that his highest regard.
Anyways, I think this sandwich is super unique and delicious. If you haven't had jackfruit, it's a fruit with a very meaty texture and it's often used as a pulled pork-ish substitute. I used this prepared jackfruit (they also make a bunch of flavored varieties that are delicious) but you can often find it canned at healthfood stores as well.
I'm also all about the super easy slaw! It's just cabbage, vegan mayo and pickle brine but it adds a great flavor and crunch. You can change this recipe up by using brine from different types of pickles (bread and butter for sweet, spicy for a little kick).
Does anyone else have a husband/wife/girlfriend/boyfriend/friend, etc. who loves to eat but has little to say about it? Let's sympathize in the comments!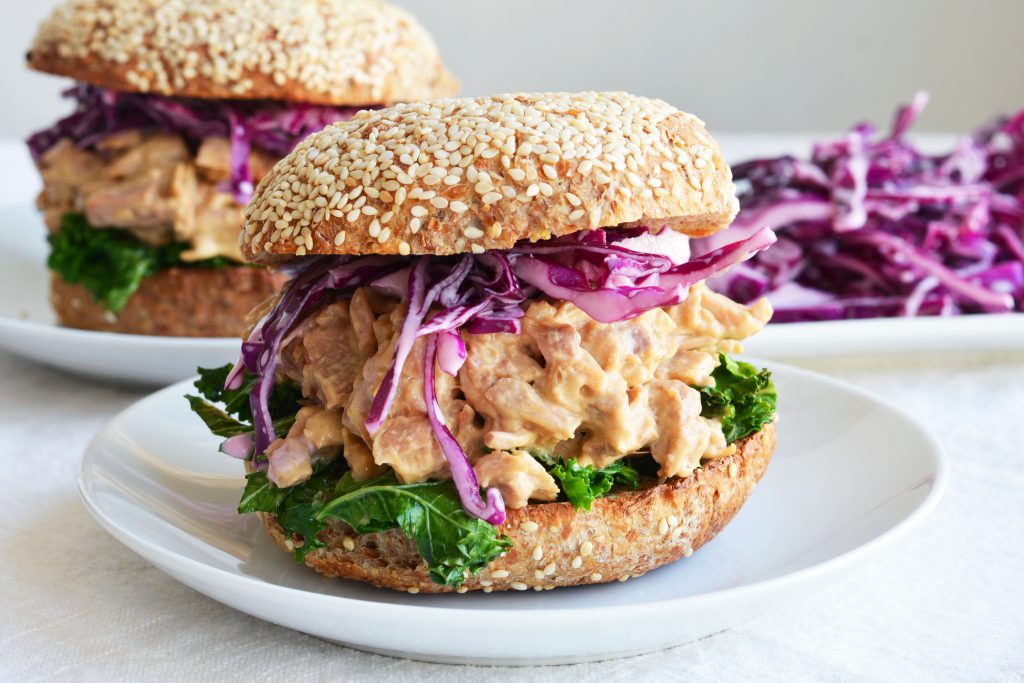 Vegan Smoky Tahini Jackfruit Sandwich
Author:
Ilene Godofsky Moreno
Ingredients
smoky tahini jackfruit
2 tablespoons tahini
2 tablespoons maple syrup
1 tablespoon tamari
1 teaspoon apple cider vinegar
1 teaspoon liquid smoke
roughly ½ cups shredded jackfruit
salt and pepper, to taste
easy slaw
2 cups shredded cabbage
2 tablespoons vegan mayo
1 tablespoon pickle brine
salt and pepper, to taste
sauteed kale
1 tablespoon olive oil
2 packed cups shredded kale
everything else
4 buns
vegan mayo
mustard
any other condiments you like!
Instructions
To prepare the jackfruit, stir all the ingredients together in a medium bowl. Set aside.
To prepare the slaw, stir all the ingredients together in a small bowl. Set aside.
To prepare the kale, heat the olive oil at medium-high in a pan. Add the kale and sauteed until wilted (2-3 minutes).
Toast the buns.
To assemble the sandwiches, spread your condiments of choice on the buns. You may choose to heat up the jackfruit but it's also great at room temperature! Layer the sauteed kale, jackfruit and slaw on top. Enjoy right away!