If you keep up with me on Instagram, you've been hearing about today's recipe in my "stories" for a while. I'm so excited that today I'm finally going to share it because…it's creamy dreamy magic and you need to try it!
The inspiration for today's Vegan Tahini Hot Chocolate came from the PB Hot Chocolate at By Chloe. After having it there and experiencing a total WOW food moment, I set out to make my own version at home. I came up with a recipe that was much less sweet (because I can't eat that much sugar on the reg!) and made it every afternoon for a week. One day I was out of peanut butter so I decided to go with tahini on a whim and I'm oh-so glad I did!
I'm pretty obsessed with this recipe because it's rich and creamy but not overly sweet. There's an almost-savory hint from the tahini and salt that makes it feel perfectly balanced. It's just the right amount of sweet to be the perfect afternoon snack that won't send me into a sugar coma or ruin my appetite for dinner. The recipe calls for 2-3 tablespoons of chocolate chips because I like to add more or less depending on how much sweetness I'm craving.
Oh, and the marshmallows on top! They're totally vegan! I used Dandies (which we also used for s'mores at the bonfire after our wedding!) which you can usually find at Whole Foods or here. They also make mini marshmallows which may be a more traditional choice for hot chocolate but I just love the way the big ones look in the mug.  The marshmallows do add a bunch of extra sugar so I don't always add them on top but they're super fun if you're making the hot chocolate for friends (which I hope you do!).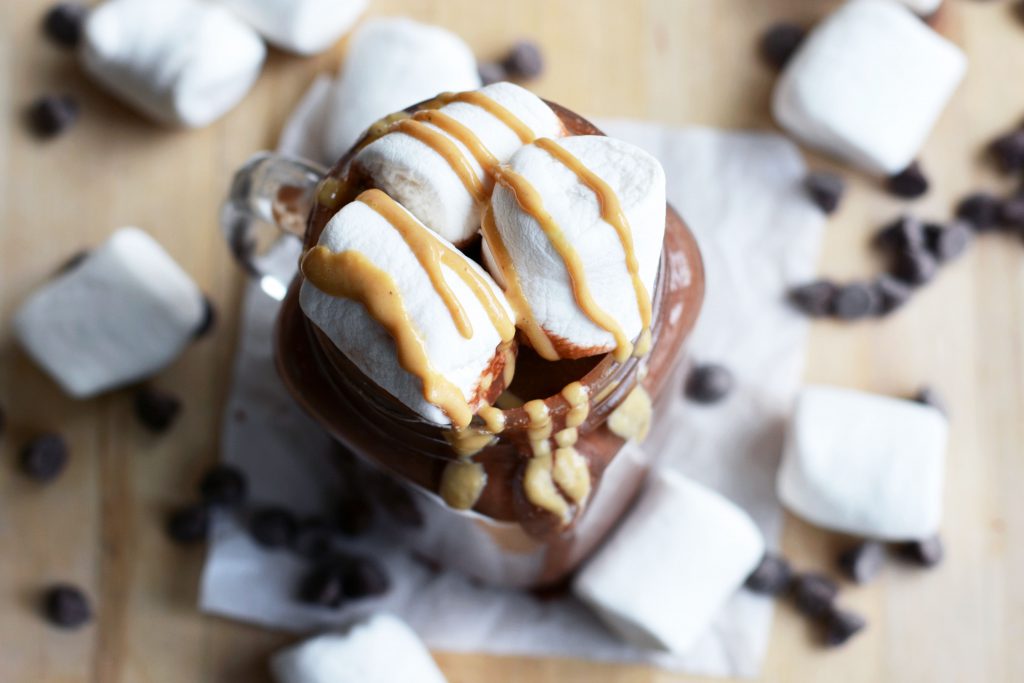 Vegan Tahini Hot Chocolate
Author:
Ilene Godofsky Moreno
Ingredients
2 cups unsweetened almond milk
3 tablespoons tahini
2 tablespoons cocoa powder
2 tablespoons maple syrup
¼ teaspoon vanilla extract
pinch of salt
2-3 tablespoons chocolate chips
toppings
vegan marshmallows
tahini
Instructions
Heat the almond milk in a small saucepan at medium-low heat.
Whisk tahini, cocoa powder, maple syrup, vanilla extract and salt. Wisk every 30 seconds or so until everything is smooth and almost simmering (4-5 minutes).
Add the chocolate chips and whisk for a minute until they are melted.
Transfer to mugs and top with marshmallows and an extra drizzle of tahini.