I used to watch food trends used to come and go without giving them much thought (hello goodbye, cronut!) but lately a few have come onto the scene that I really called my name!
The first trend that I'm wild about is all things golden milk… but have you heard about unicorn food? The word "unicorn" is basically being used to describe anything rainbow, but- HELLO- that is SO my jam!
With Purim (a very rowdy Jewish holiday known for it's triangular cookies) around the corner, I decided to get extra colorful with my hamantaschen this year. Say hello to today's Vegan Marshmallow Unicorn Hamantaschen!
These whimsical cookies are pillowy, whimsical and feel a little magical. I love how when they cool, the marshmallow filling gets crispy and s'mores-like on the top but stays creamy-dreamy inside. I used these large vegan marshmallows (which you'll notice call to be sliced in half) but you could also swap in 3-4 minis. I opted for spelt flour but you can easily use this gluten-free dough instead.
Traditionally, hamantaschen are sugar cookies filled with fruit spread. In past years I've shared my gluten-free, vegan take on the classic, samoa, and chocolate peanut butter. Even if you aren't celebrating Purim, I have a feeling you could use a little unicorn magic coming out of your oven!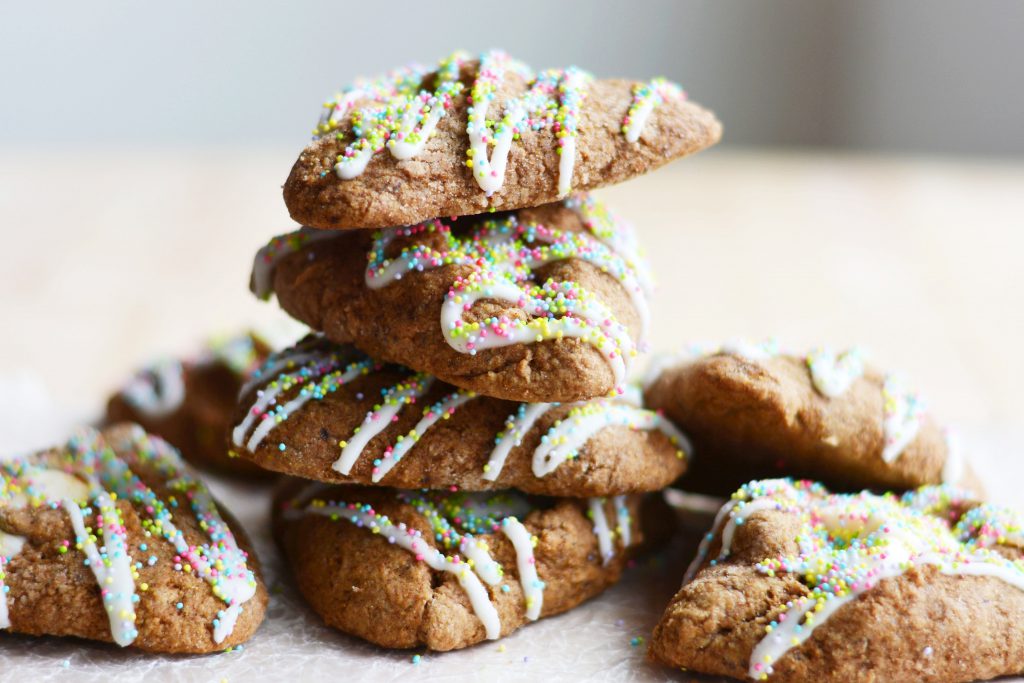 Vegan Marshmallow Unicorn Hamantaschen
Ingredients
flax "egg"
1 tbs ground flax
3 tbs warm water
dry
1½ cups spelt flour + extra for sprinkling
½ cup coconut sugar
1 tsp baking powder
¼ tsp baking soda
⅛ tsp salt
wet
⅓ cup vegan butter (can sub coconut oil)
¼ cup non-dairy milk
1 tsp vanilla extract
toppings
¼ cup coconut butter
sprinkles
Instructions
Preheat the oven to 350°.
Whisk the dry ingredients together in a large bowl. Stir the wet ingredients together in a small bowl. Add the contents of the small bowl to the large and stir until thoroughly mixed (I like to use an electric mixer).
Roll the dough into a ball, cover it and place it in the refrigerator for at least 20 minutes (you can also prep this the day before).
Sprinkle the extra flour on a clean surface. Place the ball of dough on the flour and use a rolling pin to roll it out until it's about ¼"-1/3" thick. Use a 3" circular cookie cutter (a jar lid works well) to cut the dough into circles.
Slice the marshmallows in half. Place one half in the center of each circle of dough.Gently fold the sides in and over the marshmallow to create a triangle and pinch the corners.
Line a baking sheet with parchment paper and place the hamantaschen on the sheet.
Bake for 14-16 minutes, until the edges are slightly golden. Remove from the oven and let the hamantaschen cool completely.
Melt the coconut butter by placing the jar in a bowl of warm water. Drizzle the coconut butter over the hamantaschen, then add sprinkles. Place in the refrigerator for 5 minutes so the coconut butter hardens, then enjoy!