I can't believe my baby girl is already 6 months old! It feels like developments she's been going through lately have been getting bigger and bigger- which makes me simultaneously beyond excited to watch her grow and also wish that I could slow down time/put her back in my belly.
She now loves playing on her stomach (something she used to hate!), she finally takes naps in her crib (a place she used to hate!) AND she's finally sleeping through the night (even though her favorite wake-up time is 5:30 am, ov vey!).
One of the most exciting things lately has been giving her real food. So far she's tried a bunch of my favorites: avocado, banana, oatmeal, carrots and sweet potato. We've found that pureed purple sweet potato (I just blend it with a touch of water and salt) is definitely her favorite. Of course, I'm beyond proud that her favorite food is the most colorful one she's tried but I'm not quite as proud of the purple stains I'm finding all over the apartment.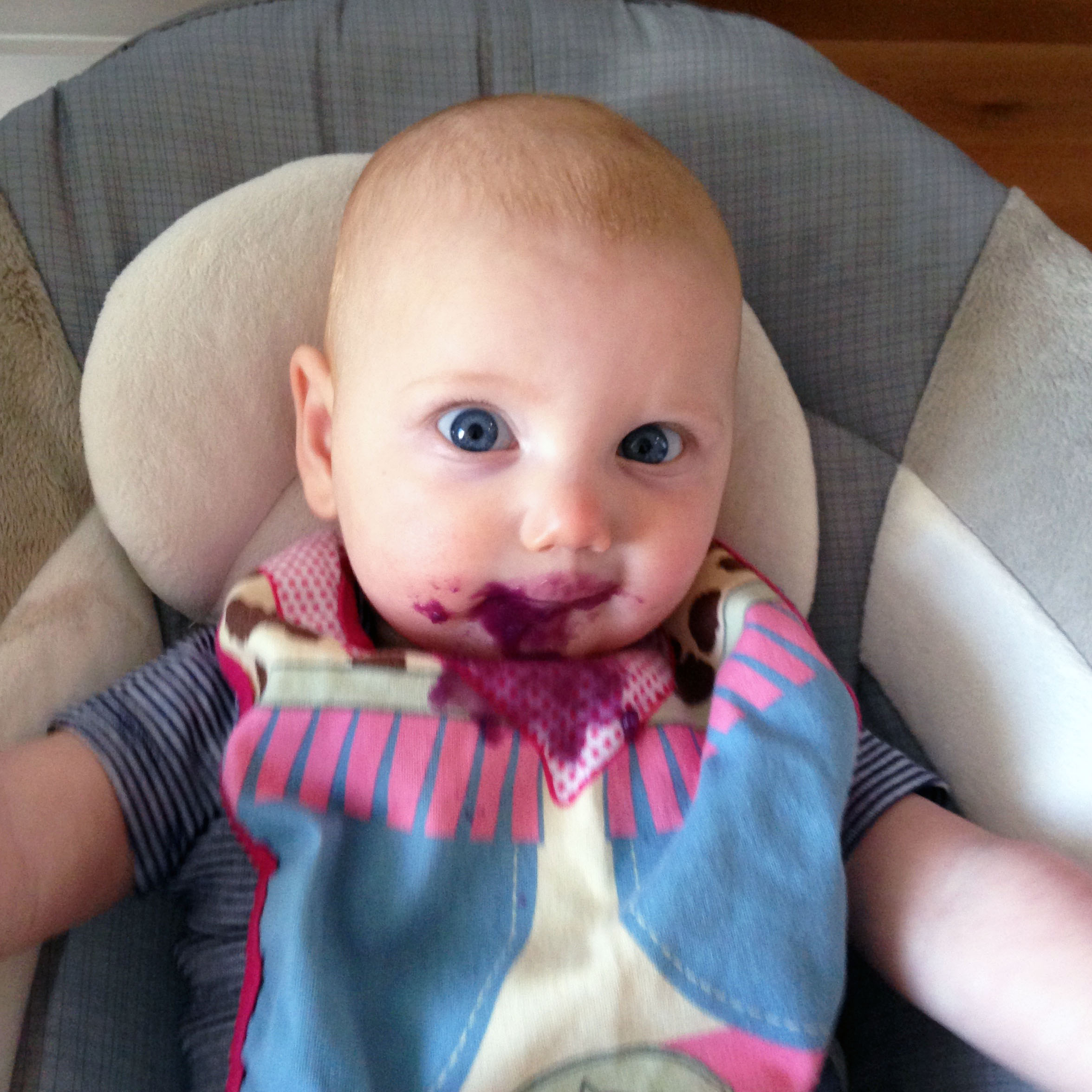 She may not be ready for hummus yet (how old does a baby need to be for hummus?), but her favorite meal did inspire today's new recipe, Vegan, Gluten-Free Pink & Purple Peanut Butter Hummus.
I love this watercolor-esq, tie-dye rainbow snack! Of course it's simple to make (colorful, not complicated-duh!) but extra impressive looking for guests. I mean…I'm assuming it would be impressive for guests, I tried to have my gal Talia over to try it but my baby girl was being a little too fussy for company (oh, the ups and downs of being a baby!).
The ingredient list is a little wacky. I swapped in peanut butter for tahini, orange juice for lemon and almond milk for oil- all of which sounds weird but comes together in such a harmoniously delicious way! I like it best served with fresh orange slices, veggies for dipping and these crackers.
For extra creamy-dreamy hummus, try peeling the skins off the chickpeas before blending them. I know this sounds like a wackadoodle thing to do but if you've got 5 extra minutes it really does make a huge difference in the texture.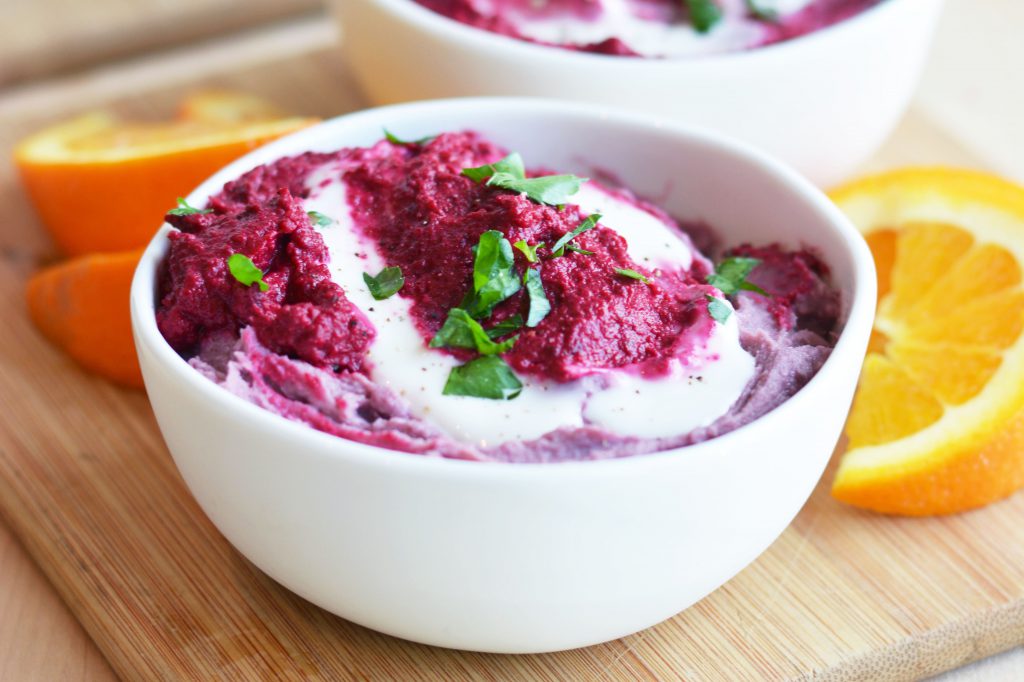 Pink & Purple Peanut Butter Hummus, Vegan & Gluten-Free
Author:
Ilene Godofsky Moreno
Cuisine:
vegan, gluten-free
Ingredients
to roast
1 small sweet potato, scrubbed
1 small beet, peeled and cubed
1 teaspoon olive oil
everything else
1½ cups cooked (or 1 15-oz can) chickpeas *see note above about peeling
¼ cup creamy peanut butter
juice of half an orange
3 tablespoons non-dairy milk (or more, as desired to thin)
salt, to taste
garnish
fresh parsley
black pepper
orange slices
Instructions
Preheat the oven to 400°.
Use a knife to poke a couple holes in the sweet potato and place it on a baking sheet. Toss the beet cubes with the olive oil and spread them out on the baking sheet.
Bake the beet cubes for about 40 minutes (flipping halfway), until tender and roasty. Leave the sweet potato in the oven for 45-60 minutes, until tender when poked with a fork. Let everything cool before using.
Combine all the remaining ingredients (except garnishes) in a blender or food processor until smooth. Scoop out half the hummus and set it aside.
Blend the half that remains with the beet cubes until smooth. Transfer to a bowl and set aside.
Scoop the roasted sweet potato flesh into the blender. Add the other half of the hummus and and blend until smooth.
To serve, swirl the beet and sweet potato hummus in a bowl. Add your choice of garnishes and enjoy!