Reading my favorite childhood books to Baby V has been such a special part of mama-hood. But..like…let's get real…how many times can we read Goodnight Moon and Guess How Much I Love You before we need some new material??
I recently got a library card so we never have to repeat the same book twice (although I'm told that as she gets older she'll request the same book every night- oy vey!). I'm actually so embarrassed to admit that I just recently got a library card and -wow!- the Brooklyn library system is pretty awesome.
In addition to checking out the entire Paddington Bear series, I've been catching up on all the fiction I've been meaning to read and checking out the long list of cookbooks that I've had my eye on.
On the top of that list was Leinana Two Moon's Bacon-ish. As soon as I brought it home from the library I knew that I needed to own a copy for myself (and Ross since he's a big faux-bacon fan). I already had all the ingredients for her coconut bacon (you can find that recipe here too) so I whipped up a  batch right away.
As expected, the coconut bacon was delish on it's own but it was practically begging to be incorporated into that night's dinner. I took inventory in the fridge and used what I had to come up with today's Vegan, Gluten-Free Chickpea Crust Pizza with Leeks, Apple & Coconut Bacon Pizza.
The crust is one of my favorite easy weeknight recipes (you can read all about it here) and the sweet and savory combination of toppings was just perfection. Cheddar (vegan, duh!) and apple has always been a favorite pairing of mine and it's only made tastier with leek, garlic and coconut bacon.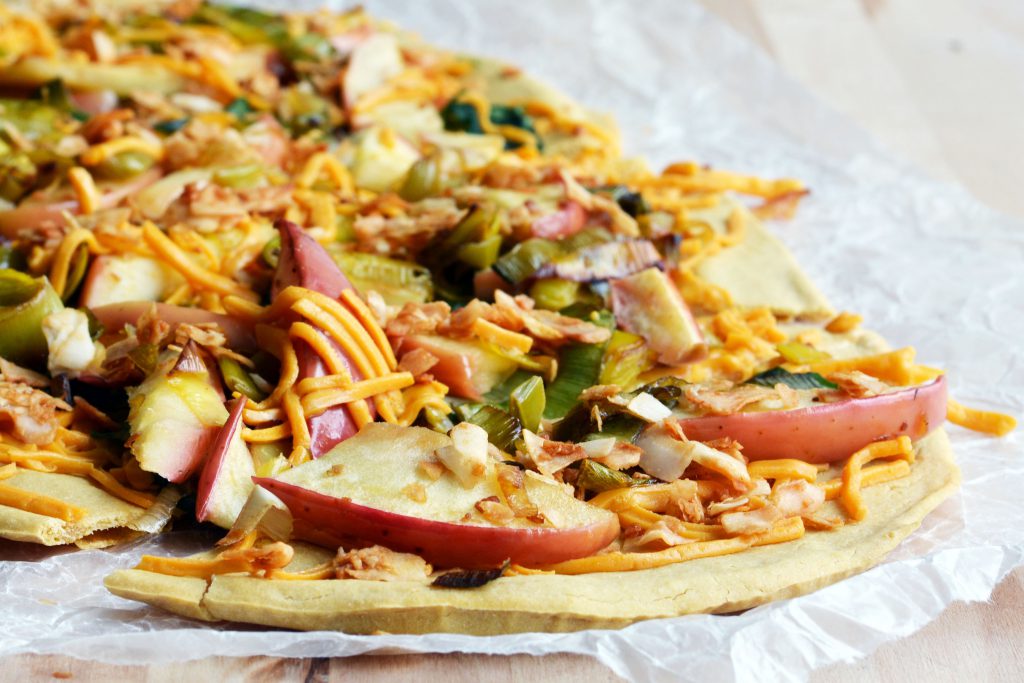 Chickpea Crust Pizza with Leek, Apple & Coconut Bacon- Vegan & Gluten-Free
Author:
Ilene Godofsky Moreno
Recipe type:
entree, pizza
Cuisine:
vegan, gluten-free
Ingredients
chickpea crust
2 cups chickpea flour
1 cup water
1 tablespoon olive oil
⅛ teaspoon salt
toppings
1 tablespoon olive oil
2 cloves garlic, minced
1 cup sliced leek
1 tablespoon water
1 apple, sliced
¾ cup shredded vegan cheddar cheese
¼ cup coconut bacon
salt and pepper, to taste
Instructions
Preheat the oven to 375°. Line a baking sheet with parchment paper.
To prepare the crust, stir all the ingredients together in a medium bowl
Use a spatula to spread the mixture out on the baking sheet in a circular shape until it's about ¼" thick. Bake it in the oven for 18-20 minutes, until the edges are slightly crispy.
While the crust bakes, prepare the topping by heating 1 tablespoon of olive oil at medium-heat in a pan. Add the leeks and garlic and saute for 10 minutes. Add a tablespoon of water and the apple slices and saute for 5 more minutes, until the apple are soft.
Remove crust from oven. Flip the parchment paper and crust over on the baking sheet. Gently pull baking sheet away from crust.
Sprinkle about ½ cup of the cheese over the crust. Layer the leek and apple mixture over the cheese, then sprinkle the rest of the cheese on top.
Return the pizza to the oven and bake until the cheese is melted (about 10 minutes).
Remove the pizza from the oven and sprinkle the coconut bacon, salt and pepper on top. Slice and serve!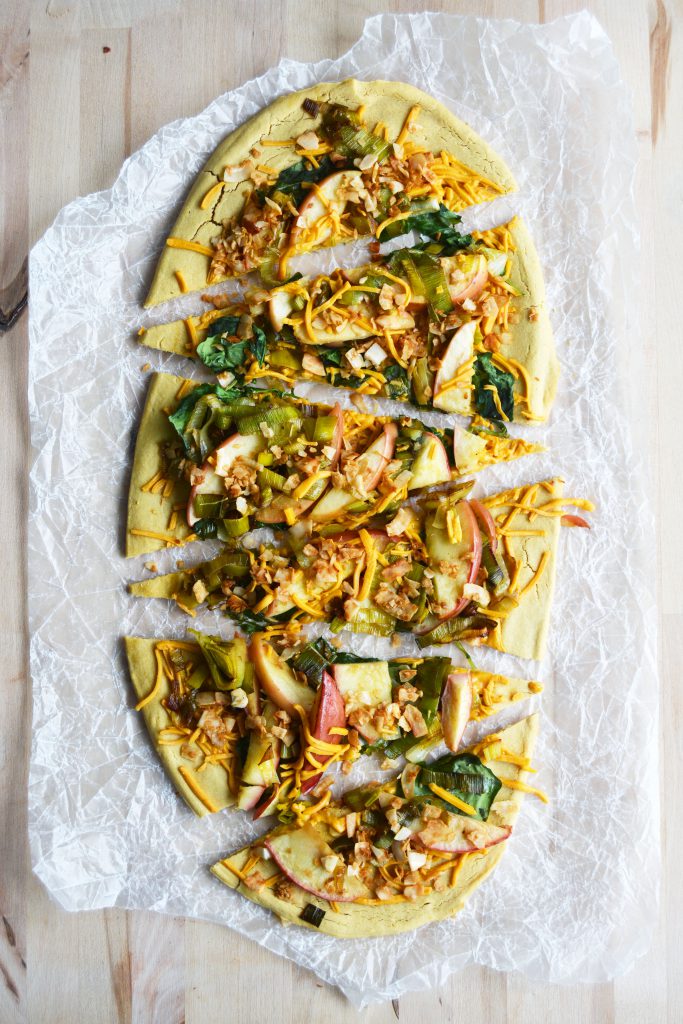 Colorful this week…
The Party in My Plants Podcast My friend Talia started a podcast! She's seriously the funniest and her podcast is great mix of healthy living advice and comedy. I'm a guest in an upcoming episode so stay tuned for more on that!
Shaktibarre Holy crap-  barre is hard! I just started going to Shaktibarre for yoga and barre classes and I'm a little obsessed with the studio. They also have a cute cafe with snacks (matcha lattes!) and the whole space and atmosphere is just so lovely.
Ferment Your Vegetables by Amanda Feifer Holy kraut! I want to try every single recipe in this book.
The Bees by Laline Paull  I just checked this novel out from the library and only half way through but it's so engaging! Have you read it?
Chocolate Chip Cookie Coconut Bliss I just tried this flavor for the first time and it's SO GOOD.