I always feel like a classy lady when I put together a (vegan) cheese board, even if it's just for me and Ross to devour on the couch after Baby V goes to sleep and we try to stay awake for at least half an episode of Game of Thrones.
We often have store-bought vegan cheese in the fridge (Cheezehound, Miyoko's and Treeline are a few favorites) but nothing beats homemade.
Today's Vegan, Gluten-Free Smoky Baked Cashew Cheese is a real show-stopper and will be the centerpiece of any cheeseboard.
I tweaked the method that I used for my Baked Spiced Cashew Cheese recipe to give this version a more solid form and firm "rind". The result is an ultra-savory cheese that's hardened on the outside and silky smooth in the middle.
Spread it on a cracker, pair it with an apple slice or stuff in inside a date. Enjoy it with red wine or kombucha and feel extra classy when you serve it to guests!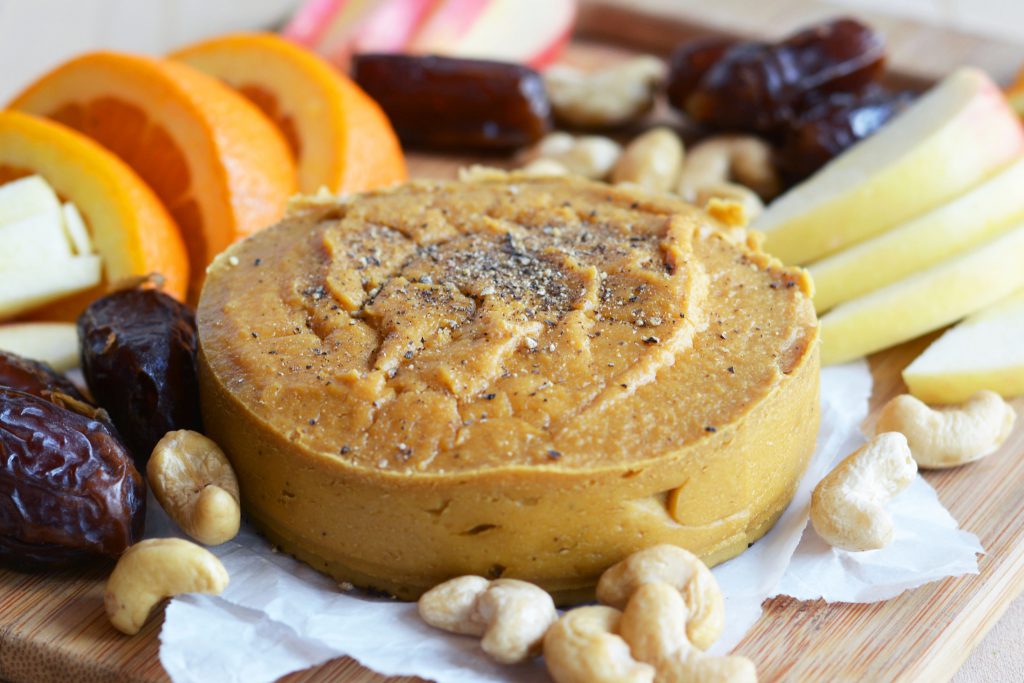 Colorful this week…
Orchard Grocer A new all-vegan grocery store is now open in Manhattan! I popped in before it was officially open and I spotted SO many great products! I actually got overwhelmed and didn't buy anything (I was super full from brunch) but I'm going back soon for a shopping spree.
Adelina's Pizza Speaking of delicious vegan cheese, they make their own cashew mozzarella and it's unreal. We went twice in one week when I was 9 months pregnant.
Go With Your Gut by Robyn Youkilis I know I'm a little late to the game since this book came out a while ago, but I finally read it. What a great reminder of why it's so important to chew your food!
What the Health Have you seen this documentary yet? I've heard it's a must-see! Hopefully I can stay up past 9:00pm this week and watch it (Baby V wakes up at 5:30am so I'm usually in bed by 8:30pm these days).
Smoky Baked Cashew Cheese, Vegan + Gluten-Free
Author:
Ilene Godofsky Moreno
Recipe type:
vegan cheese
Cuisine:
vegan, gluten-free
Ingredients
1 cup raw cashews, soaked in water at least 4 hours
¼ cup nutritional yeast
1 tablespoon tamari
2 teaspoons dijon mustard
½ teaspoon liquid smoke
1 clove garlic, minced
salt, to taste
black pepper, to taste
water, as needed to blend
Instructions
Drain and the rinse cashews, then place them in the blender.
Add all the remaining ingredients (add just enough water to help things blend) and blend until smooth.
Line a strainer with cheesecloth. Pour the cheese mixture over the cheesecloth and place the bowl in the refrigerator to sit overnight. The excess liquid will drain into the bowl and you'll be left with a much firmer cheese.
After the cheese as drained, preheat the oven to 350°. Line a baking sheet with parchment paper.
Transfer the cheese to a mini springform pan and use a small spatula to smooth out the top. Bake for 50 minutes, then take the pan out of the oven and carefully remove the cheese from the springform pan. Place the cheese on the baking sheet and return it to the oven for 10 minutes, until the edges are golden and firm.
Let the cheese cool completely before enjoying.