Is it just me or is spring actually the worst season?
We all know summer and fall are the best- the best for produce, the best for being outdoors, the best wardrobe- and we can deal with winter because it's fun to be cozy for a few months and drink hot cocoa under a blanket on the couch. But what's up with spring? You still need a coat and a scarf to go outside and it's cloudy or rainy more often than not, at least here in New York.
Spring, you trick me every year, but this year I'm fighting back! If the view out my window is going to be a grey drizzle, I might as well stay in cozy winter mode (hygge!) with cookies….and not just cookies, but The BEST Vegan & Gluten-Free Chickpea Chocolate Chip Cookies!
Today's recipe is an updated version of a cookie recipe I posted on the blog way early on. I upgraded the ingredient list a bit, swapping out the agave for maple syrup and adding chickpea flour and coconut oil for a better texture. I'm so in love with the ooey gooey, cookie dough-ish quality of these cookies. I almost titled them "cookie dough cookies" but that sounded a little confusing. The best part is that these cookies are free of refined sugar and flour so they're a bit lighter than my go-to chocolate chip cookies. I suppose that makes them extra perfect for spring, since the weather is bound to warm up and the coats are going to have to come off eventually!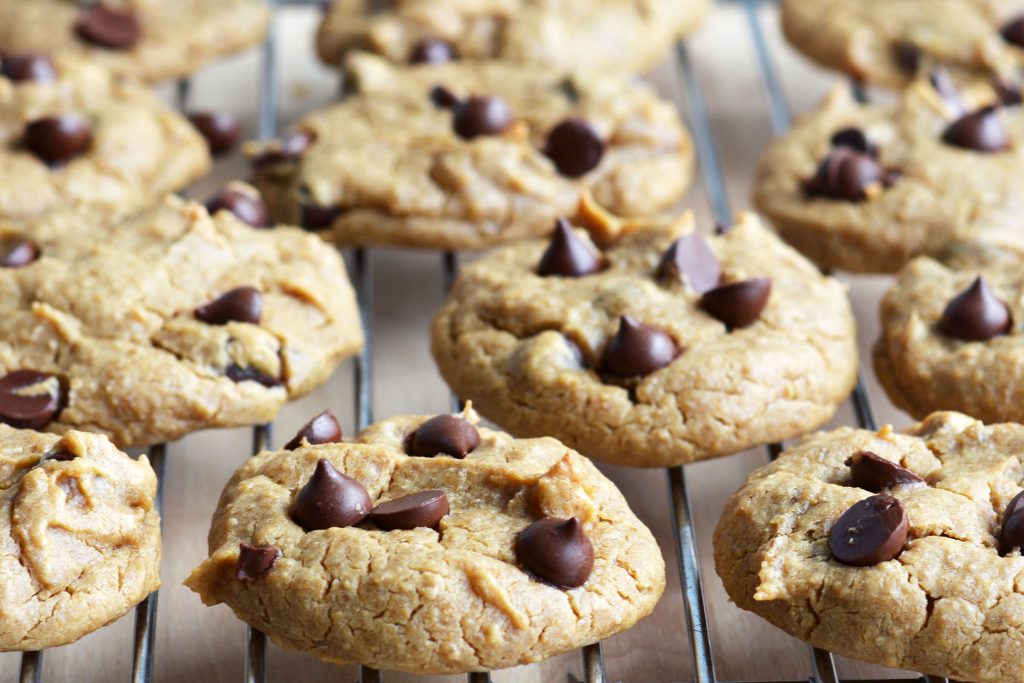 The BEST Chickpea Chocolate Chip Cookies
Author:
Ilene Godofsky Moreno
Recipe type:
dessert, cookies
Cuisine:
vegan, gluten-free
Ingredients
1½ cups cooked (or 1 15-oz can, drained) chickpeas
½ cup creamy peanut butter
3 tablespoons chickpea flour
3 tablespoons coconut sugar
2 tablespoons maple syrup
2 tablespoons coconut oil
2 teaspoons vanilla extract
¼ teaspoon baking soda
¼ teaspoon baking powder
½ teaspoon salt
½ cup chocolate chips
Instructions
Preheat the oven to 350°. Grease a baking sheet or line it with parchment paper.
Place the ingredients (except the chocolate chips) in the blender and blend until smooth. Transfer the batter to a bowl and fold in the chocolate chips.
Scoop a heaping tablespoon of batter onto the baking sheet. Repeat until all the batter is used.
Bake for 18-20 minutes, until the edges of the cookies are slightly firm. Let the cookies cool completely (they'll firm up as they cool) before enjoying.
Colorful this week…
The Little Book of Hygge by Meik Wiking I mentioned hygge above and if you want to learn more about concept this book is a great quick read.
Thai Peanut Tofu & Sweet Potato Bowl from Keepin it Kind How good does this look?! I need to try this recipe this week!
The Homemade Vegan Pantry by Miyoko Schinner Holy moly, this book is so inspiring! I've bought Miyoko's amazing vegan cheeses and cultured butter at the grocery store (I believe the butter is now at Trader Joe's too!) but I'm super excited to try my hand at making them in my kitchen.
City Girl Sarah Ramos (remember her from Parenthood?) wrote this script in 2003 at age 12 and finally produced it. It made me laugh so hard.
Haymaker's Corner Store Williamsburg's own all-vegan grocery store! I've mentioned finding special ingredients there a few times on the blog, but I wanted to shoutout their Sunday marketplace! Every Sunday afternoon they fill the store with vegan vendors like Yeah Dawg and Gone Pie and it's so fun.