If you celebrate Passover, you know that it's not a holiday known for delicious cuisine. Unlike the other Jewish holidays, traditional Passover food is far from colorful; if you don't know what I'm talking about, do a google image search for "gefilite fish"- yikes!
Growing up, one my family's favorite Passover desserts was chocolate-covered matzah. Yes, it's basically just chocolate melted on a cracker but something about it really hits the spot. This year I decided to upgrade our old favorite and came up with today's Vegan Chocolate & Salted Caramel Matzah Bark.
I'm so excited about this recipe. It's sweet, salty, crunchy and creamy and puts traditional plain old chocolate-covered matzah to shame! I think I'll be craving it year round- which is something I've never said about a passover dessert!
Over the last few years it's been exciting to see some upgraded, more health-focused Passover foods hit the grocery store shelves. One of my favorite discoveries has been this spelt matzah, which I used as the base of the bark. I used the same salted caramel* from these no-bake bars for the middle layer, then topped it with chocolate, crunchy cacao nibs and sea salt flakes. OMG those large sea salt flakes really make this dessert next-level!
*Note- the salted caramel contains peanuts, an ingredient that some don't eat during Passover. If you avoid legumes during Passover, try this date caramel sauce instead.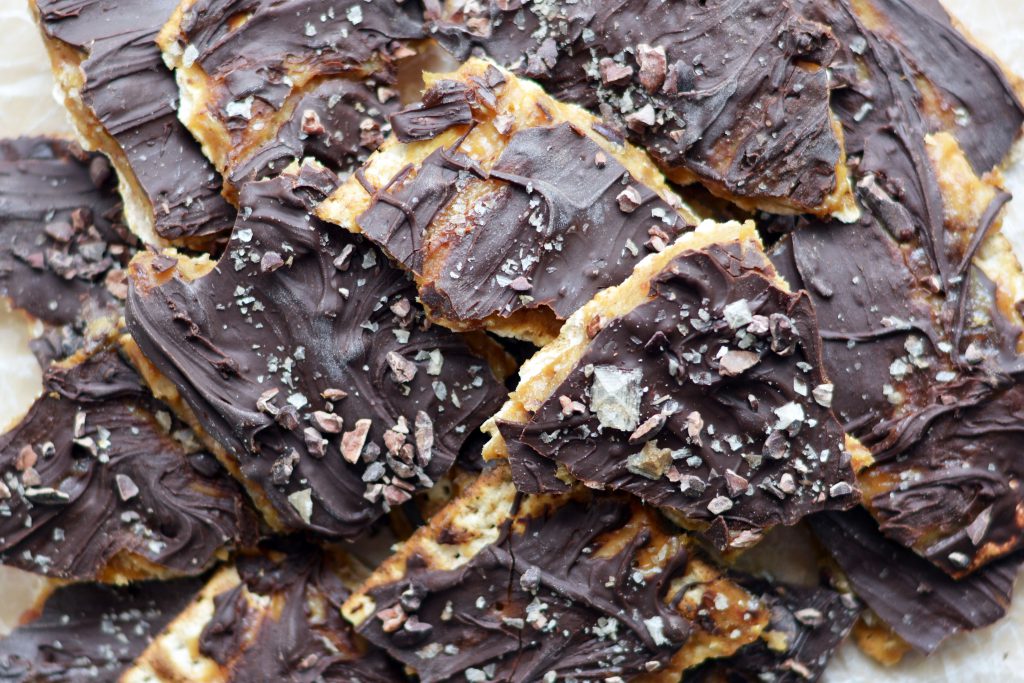 Vegan Chocolate & Salted Caramel Matzah Bark for Passover
Vegan Chocolate & Salted Caramel Matzah. The perfect Passover dessert!
Author:
Ilene Godofsky Moreno
Ingredients
salted caramel
1 cup medjool dates, pitted (soaked in hot water for 30 minutes if not soft)
¼ cup creamy peanut butter
2 tablespoons non-dairy milk
2 tablespoons coconut oil, melted
½ teaspoon salt
everything else
2 pieces of matzah
¾ cup vegan chocolate chips
2 tablespoons cacao nibs
1 teaspoon sea salt flakes
Instructions
Prepare the salted caramel by blending all the ingredients together until smooth (you may have to scrape the sides of the blender down a few times).
Place the matzah on a baking sheet. Use a spatula to spread the salted caramel over the two pieces. Place the baking sheet in the freezer for 10 minutes to firm up the caramel.
In a double boiler (or a small saucepan on the stove at low heat), melt the chocolate chips. Remove the baking sheet with the matzah from the freezer and spread the melted chocolate over the salted caramel layer.
Sprinkle the cacao nibs and sea salt flakes on top. Return the matzah to the freezer for 10 minutes to harden the chocolate. Use your hands to break the each piece of matzah into 8-10 pieces. Enjoy right away or store in the refrigerator.