I've been having major cravings for my Vegan Carrot "Lox" lately. I think I ate my weight in this recipe when I was pregnant with Baby V. After she was born, I took a little break from making it for a few months, but lately I've been craving it's smoky, salty and savory glory.
Usually I enjoy it on toast or a bagel (these are my favorite gluten-free ones) with vegan cream cheese, avocado, tomato, onion and capers. I could probably live off that combination, but I decided to switch things up and take my latest batch of lox to the next level in today's Vegan Tofu & Carrot "Lox" Benedict.
With savory capers, fresh dill and creamy cashew-based hollandaise sauce, this recipe is brunch perfection. Instead of the traditional version's egg, I swapped in circular slices of tofu. I love this trick because it makes the dish look extra fancy, but it secretly took all of 30 seconds to use a jar lid to cut the shapes.
As for the english muffins, I loves these (light and fluffy) spelt ones and these (dense but delicious) gluten-free ones.
So many of you have posted photos on Instagram when you made the carrot "lox" recipe- which I LOVE! Seriously, nothing makes me happier than seeing my recipes come to life in your kitchens. If you try this recipe make sure to share a photo!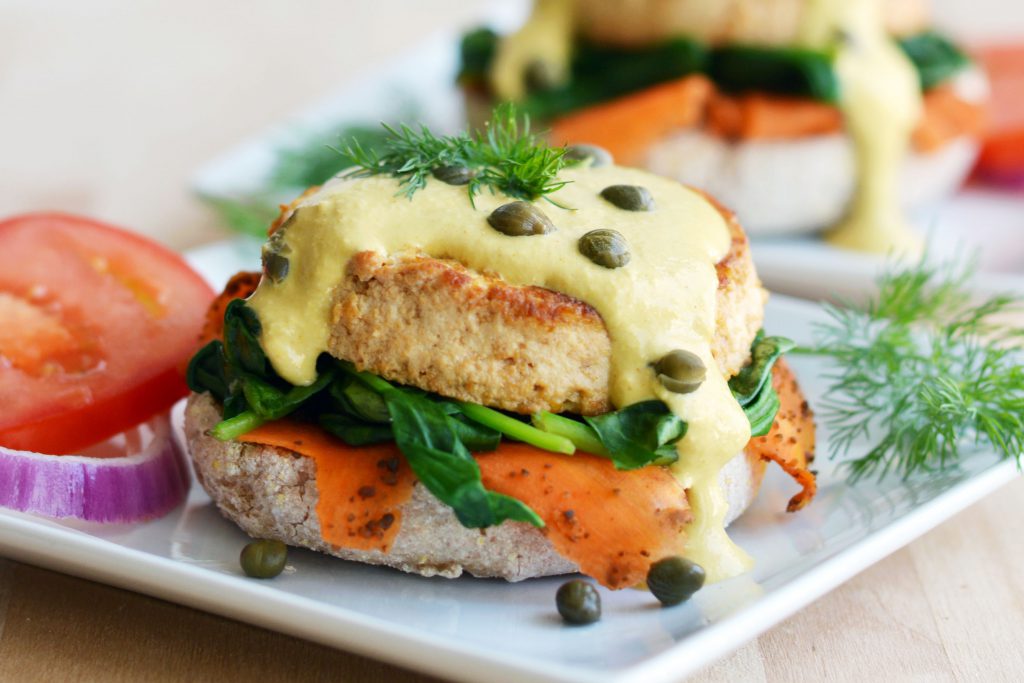 Vegan Tofu & Carrot "Lox" Benedict
Author:
Ilene Godofsky Moreno
Recipe type:
breakfast, brunch
Ingredients
tofu
2 (14-ounce) blocks extra firm tofu
2 tablespoons tamari
2 teaspoons rice vinegar
1-2 tablespoons olive oil
hollandaise sauce
¾ cup raw cashews, soaked in water for 4 hours
3 tablespoons nutritional yeast
juice of 1 lemon
¼ cup non-dairy milk
2 tablespoons olive oil
1 tablespoon tamari
1 teaspoon dijon mustard
1 teaspoon apple cider vinegar
¼ teaspoon ground turmeric (for color)
salt and pepper, to taste
wilted spinach
1 tablespoon water
2 cups baby spinach
everything else
4 english muffins
2 tablespoons vegan butter
1 batch carrot "lox"
2 tablespoons capers
2 tablespoons fresh dill, chopped
salt and pepper, to taste
Instructions
To prepare the tofu, turn each block on it's side so that the long, thin side is facing upwards. From the top, slice each block lengthwise in to 4 pieces. On a cutting board, layer the slices of tofu between paper towels or a clean dish cloth. Place a heavy item (a tea kettle filled with water works great) on top. Let sit for at least 30 minutes. This will remove excess water from the tofu and give it a better texture (alternatively, you can use a tofu press).
Use a jar lid to cut a circle out of each tofu slice. Place the 8 circles on a plate and reserve the rest of the tofu for another use (cut into squares and fry or bake it!). In a small bowl, stir the tamari and rice vinegar together. Pour it over the tofu and let the tofu marinate for at least 30 minutes (the longer the better).
Heat the olive oil in a large pan at medium heat. Fry the tofu circles for 4-5 minutes on each side, until browned.
To prepare the hollandaise sauce, blend all the ingredients together until smooth.
To prepare the wilted spinach, place the water and spinach in a pan and cook on medium heat until wilted (2-3 minutes).
To assemble the benedicts, toast the english muffins. Spread them with vegan butter, then layer the carrot "lox" and wilted spinach on top. Add the fried tofu then pour the hollandaise over everything. Sprinkle the capers, dill, salt and pepper on top. Enjoy fresh.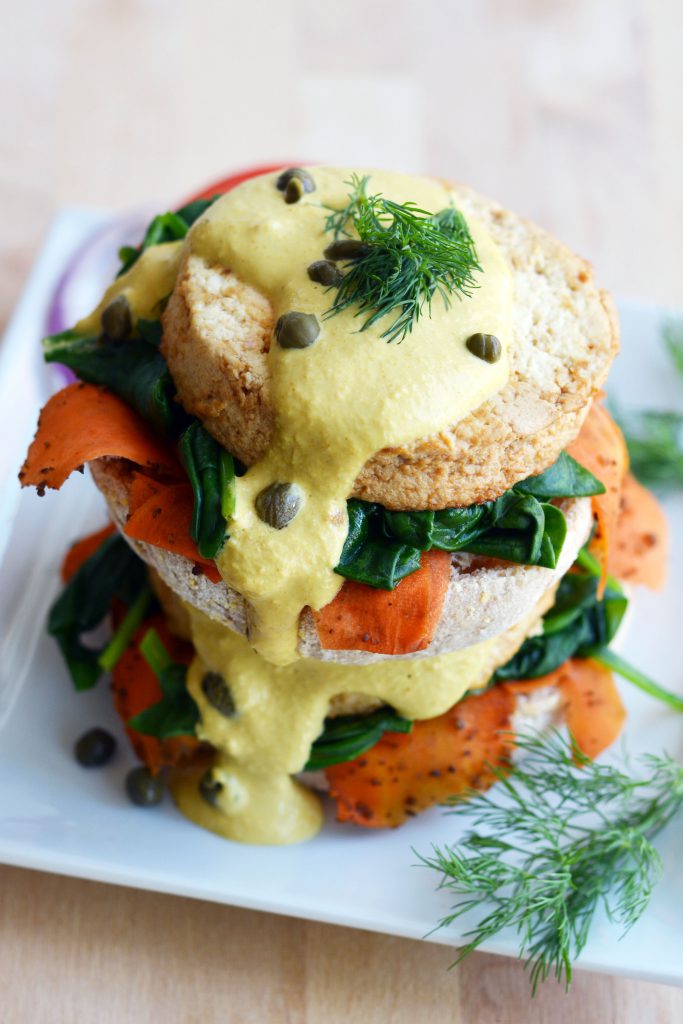 Colorful this week…
Jungle Cafe in Greenpoint, Brooklyn Ross and I had brunch here a few weekends back and it was so good. The menu recently went all vegan and on Sundays they have a brunch buffet. The vibe inside is super laid back and there's plenty of room for strollers (something I'm learning is very important as a parent).
The First Mess Cookbook What a gorgeous cookbook!!
Vegan and Jewish  My carrot "lox" recipe was featured in this article about enjoying traditional Jewish food while vegan!
Lavender Matcha Latte at Union Fare I just went to my cousin's birthday brunch here and had the most delicious matcha latte ever. If you are in Union Square, you must pop into Union Fare for one!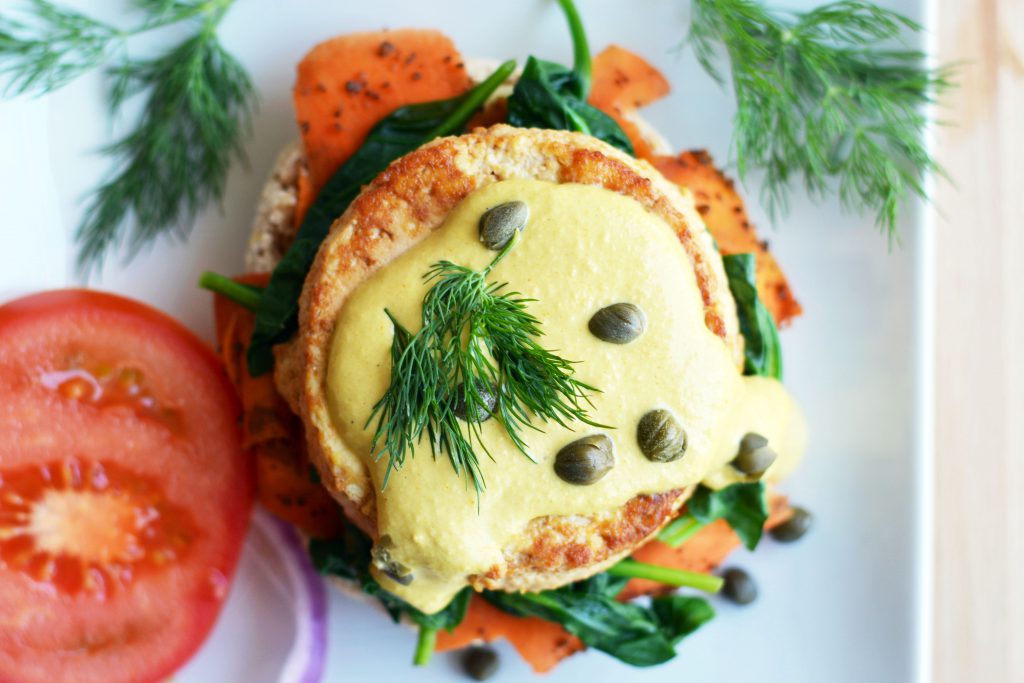 Lastly, here's a photo of my little family at Passover! I hope your Passover and Easter celebrations were lovely- or just your spring, if you don't celebrate either! Baby V is almost 8 months old…can you believe how big she looks?? And yes, we're wearing matching denim shirt dresses.