I've made quite a few varieties of raw or no-bake energy balls in my day. They've been a major pantry staple in my house since I realized how easy they are to make!  Today I'm so excited to share a version that is hands down, the most delicious version I've ever tried.
There are endless ways you can combine nuts, dates, seeds, dried fruit, oats, etc. in a blender and roll out a super easy, tasty batch of energy balls (if you don't know what I'm taking about click here). The version that I'm sharing with you today is extra special because they don't taste like your typical energy balls, in fact, they're so rich, creamy and chocolatey that I think they taste like brownie batter!
Made with only the most wholesome ingredients (no sugar or flour!), I guarantee that today's Vegan & Gluten-Free No-Bake Brownie Bite Energy Balls will knock your socks off and satisfy your sweet tooth.
They might not be much to look at, but these balls are just so darn good. I've been snacking on a couple around 3pm when my energy starts to wain, and I start daydreaming about chocolate chip cookies. They hit the sweet spot, and are filled with fiber, protein and (good) fat to help you power through the rest of the day (sans sugar coma!).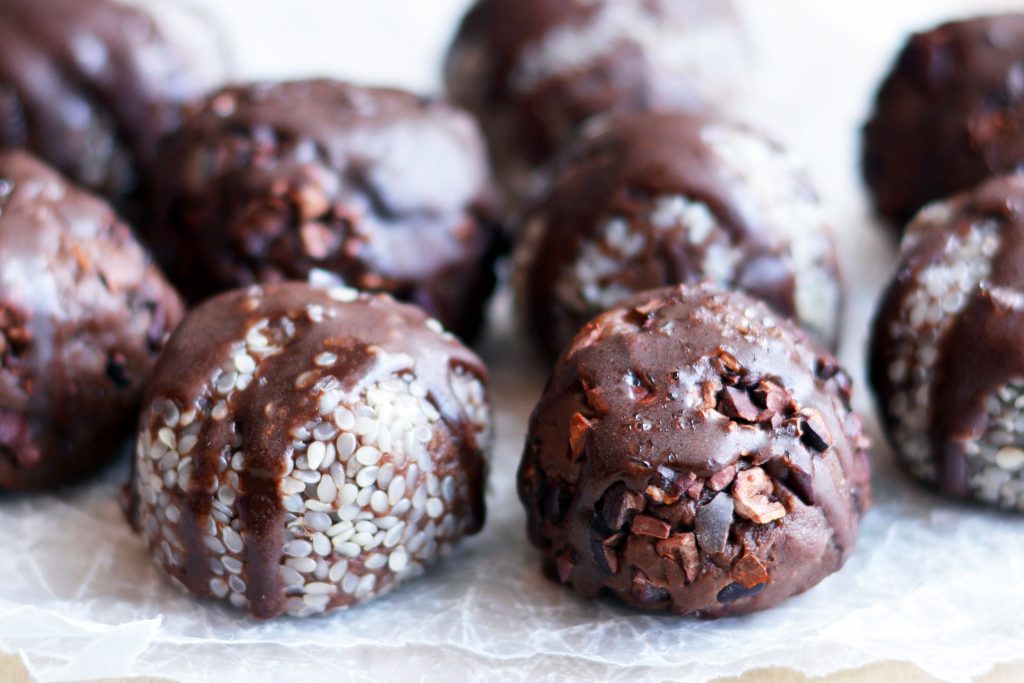 No-Bake Brownie Bite Energy Balls, Vegan & Gluten-Free
Author:
Ilene Godofsky Moreno
Cuisine:
vegan, gluten-free
Ingredients
balls
1 cup pitted dates (soaked in warm water for 30 minutes to soften)
¼ cup tahini
¼ cup oat flour
3 tablespoons cacao powder
2 tablespoons coconut oil
2 tablespoons non-dairy milk
1 teaspoon vanilla extract
⅛ teaspoon salt
toppings
2 tablespoons sesame seeds
2 tablespoons cacao nibs
chocolate drizzle
1 tablespoon coconut oil, melted
1 tablespoon maple syrup
1 tablespoon cacao powder
Instructions
Drain the dates and place them in the blender or food processor. Add the rest of the ball ingredients and blend until smooth (you may need to scrape the sides down a few times).
Line a baking sheet with parchment paper. Prepare the toppings by placing the sesame seed and cacao nibs each on their own place.
Wet your hands, scoop a heaping tablespoon of the batter, and roll it into a ball. Roll the ball around on either the sesame seed or cacao plate to coat it, then place it on the baking sheet. Repeat until all the batter is used.
Place the baking sheet in the refrigerator so that balls can firm up. In the meantime, prepare the chocolate drizzle by stirring all the ingredients together.
Remove the baking sheet from the fridge. Drizzle the chocolate sauce over the balls and sprinkle a little extra salt on top. Return the baking sheet to the fridge so the chocolate can hard (10 minutes). Transfer the balls to an airtight container and store them in the refrigerator until you're ready to enjoy them.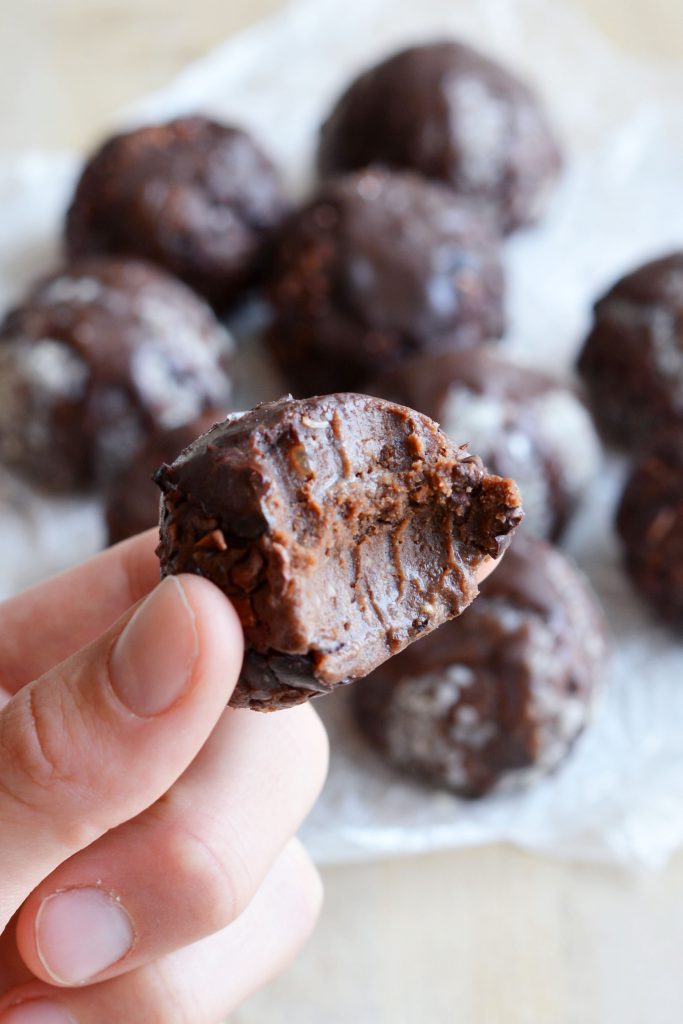 In other news, I joined my friend Talia of Party in My Plants on her podcast this week! We chatted about our favorite New York City restaurants and shared our tips for eating at restaurants when there aren't great plant-based options. Click here to listen to the episode!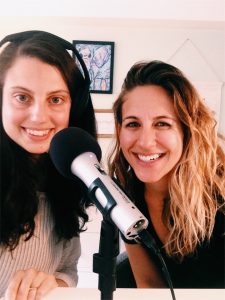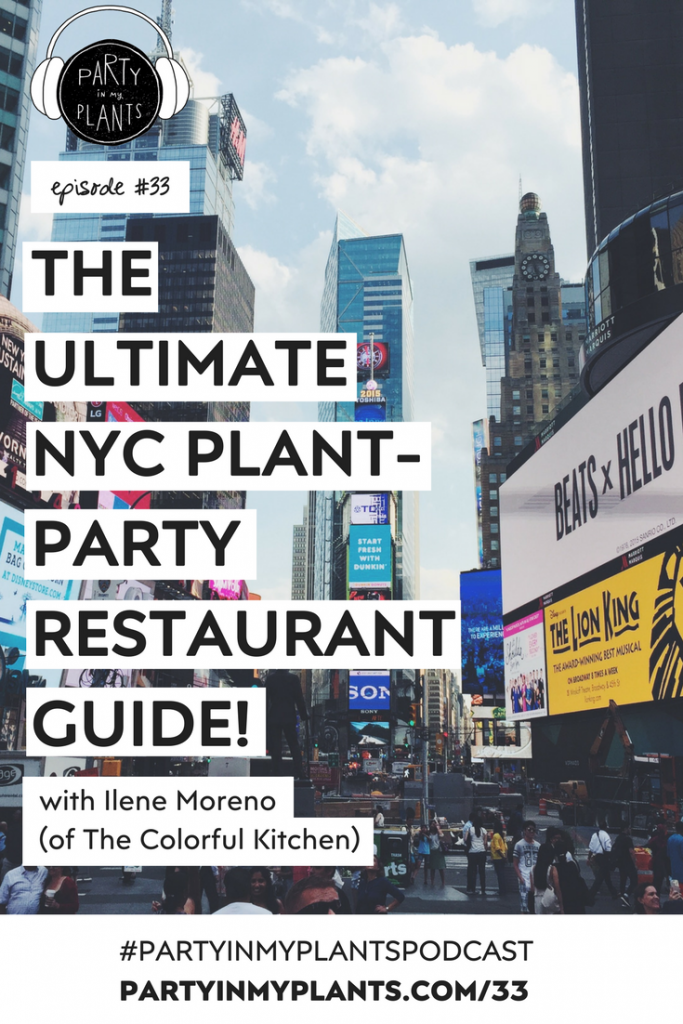 Talia also combined our New York City restaurant recommendations into a handy guide and map! Click on the photo below to grab it from the show notes page!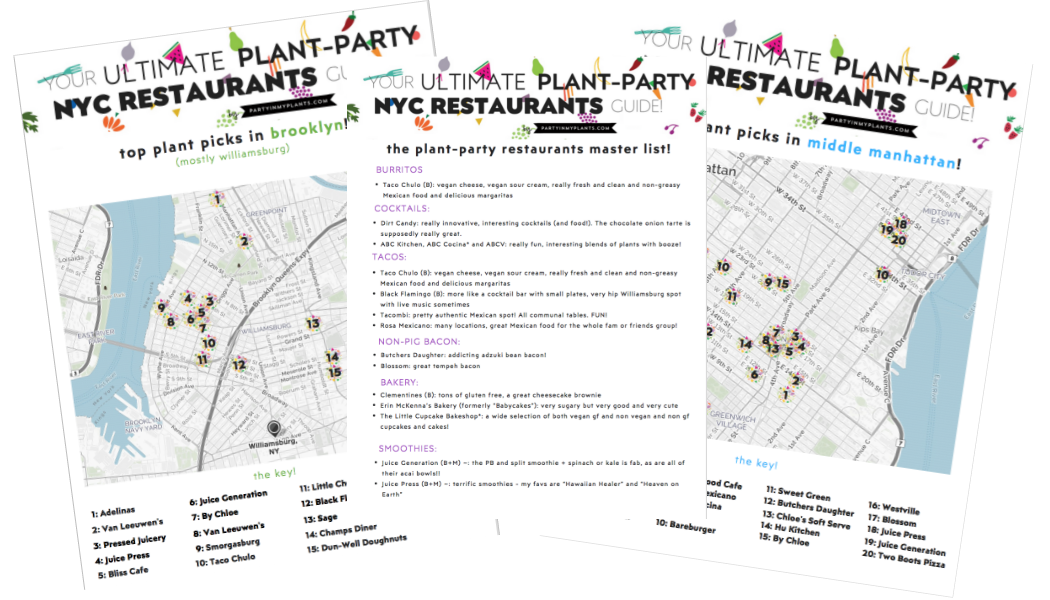 I would love to hear what you think of the episode and our restaurant recommendations! Did we miss any great spots? Let me know in the comments!