Before we get today's recipe, I want to mention that I'm looking for a summer intern! If you live in NYC and love to cook, click here to learn more about the position and apply!
Ok, back to the recipe! Are you a fan of overnight oats? I've always loved oatmeal, but I go back and forth on whether or not I actually like overnight oats.
On one hand, I love that all the prep work is done the night before, so breakfast is practically instant. On the other hand, I'm not especially crazy about the goopy texture and I'm still not sold on the cold temperature.
Recently I decided to experiment with blending the ingredients together (as opposed to just mixing them) to see if a smooth texture was possible. I'm very excited to say that yes- creamy overnight oats are possible! I used my new method in today's Vegan & Gluten-Free Creamy Golden Milk Turmeric Overnight Oats, and I have to say that I'm very pleased with the pudding-like result.
I think this dish is best described as a cross between a golden milk latte, chia pudding and overnight oats. I love the zingy yet comforting flavor of golden milk lattes (and these golden milk cream cups!) so I decided to add a little of that turmeric magic to this recipe.
Because the recipe is so thick and creamy, I think it tastes best with a variety of differently textured toppings. In the photos I added a fluffy dollop of coconut cream, bananas, berries and crunchy hemp seeds, and off-camera I also topped it with some extra crunchy granola, nuts and seeds.
Are there any overnight oat fans (or haters?) in the house? I would love to know what you think about this creamy variation!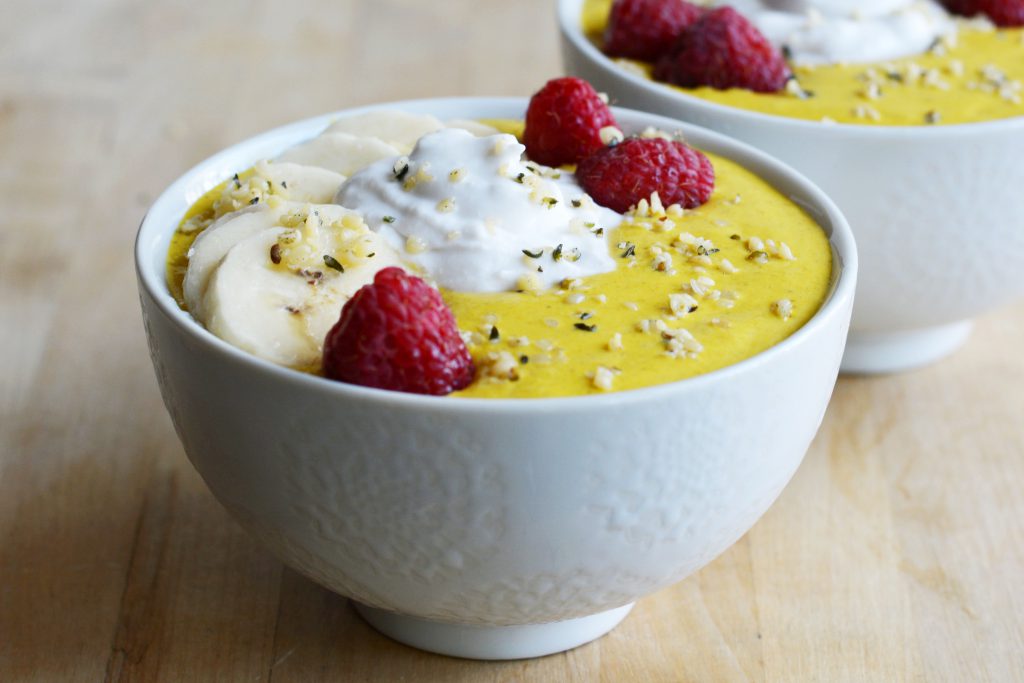 Creamy Golden Milk Turmeric Overnight Oats, Vegan & Gluten-Free
Author:
Ilene Godofsky Moreno
Cuisine:
Vegan, Gluten-Free
Ingredients
overnight oats
1 cup almond milk
1 cup rolled oats
2-3 medjool dates
1 teaspoon ground turmeric
½ teaspoon vanilla extract
⅛ teaspoon cinnamon
pinch of salt
toppings
fresh berries
hemp seeds
banana slices
granola
nuts
Instructions
Place all the overnight oat ingredients in the blender and blend until completely smooth.
Transfer the mixture to an airtight container, and let it sit in the refrigerator overnight.
To serve in the morning, transfer the overnight oats into 2 or 3 bowls. Add your favorite toppings and enjoy.