Life with an eight month old baby is hectic (that might be the understatement of the century), and Baby V is mostly a bundle of sunshine, but even at my best, I'm still a little cranky, tired and hungry all day, every day. I've come to accept this is just a part of being a new parent, and as all the mamas who have been here before have told me, this too shall pass.
In addition to seeking advice from everyone/anyone who has a baby older than V, one of the biggest things that has helped me maintain my sanity (and keep my tendency to get super hangry at bay) has been prepping my meals ahead of time. If you keep up with me on Instagram, you know that I love my macro bowls. If you're a fellow mama, you might be wondering how on earth I have time to sit around drizzling tahini on everything when I've got a baby on my boob and/or crying and/or getting into something she shouldn't. Well, mamas (and everyone else!)- the secret is meal prepping!
Each week I usually spend 2-3 hours preparing my ingredients, so I have all the components on hand to whip easy macro bowl lunches and dinner throughout the week. Today's Vegan & Gluten-Free Roasted Sweet Potato Macro Bowl with Lemon-Tahini Sauce is one of my favorite, super easy, prep-ahead meals.
The instructions below are written out for preparing one meal with four servings. If I'm preparing this recipe ahead of time, I'll roast the sweet potatoes, cook the lentils, and stir the sauce together, then store all of that in the refrigerator. When I'm ready for lunch, I'll heat the sweet potato and lentils up (or enjoy them cold), and simply saute the kale, slice the avocado, scoop the kraut, and drizzle the sauce and- voila!- lunch a super colorful and nourishing is ready in five minutes.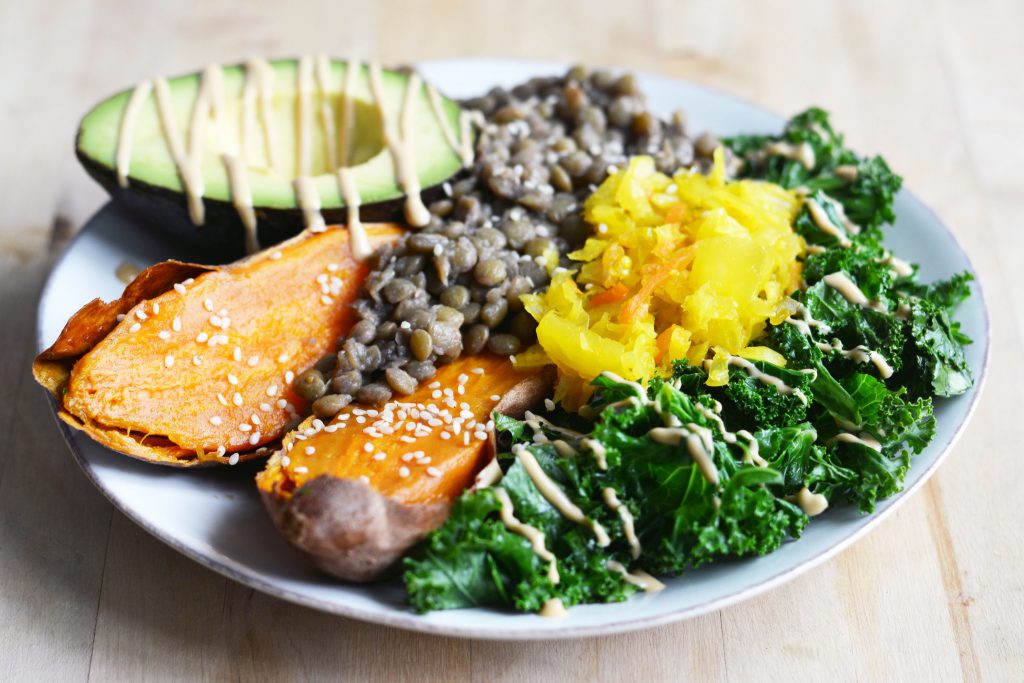 Roasted Sweet Potato Macro Plate with Lemon-Tahini Sauce, Vegan & Gluten-Free
Author:
Ilene Godofsky Moreno
Cuisine:
vegan, gluten-free
Ingredients
macro bowl
4 medium sweet potatoes
3 cups vegetable broth
1 cup dried green lentils
2 tablespoons coconut oil, divided
1 bunch kale, chopped
2 avocados, cut in half
½ cup sauerkraut
2 teaspoons sesame seeds
salt and pepper
lemon-tahini sauce
¼ cup tahini
juice of 1 lemon
4 teaspoons tamari
water, added as needed to thin
Instructions
To prepare the sweet potatoes, preheat the oven to 400°. Scrub the sweet potatoes and use a knife to pierce the center of each one. Place them on a baking sheet, and bake for 45-60 minutes, until tender.
To prepare the lentils, bring the vegetable broth to a boil. Add the lentils and a pinch of salt, lower the heat, and simmer the liquid is absorbed and the lentils are soft (about 30 minutes).
While the sweet potatoes and lentils cook, prepare the lemon-tahini sauce by stirring all the ingredients together. Set aside.
To prepare the sauteed kale, heat 1 tablespoon of coconut oil at medium-heat in a pan. Add the kale and saute until it wilts (2-3 minutes).
To assemble the macro plates, slice the roasted sweet potatoes lengthwise and one on each plate. Top each half with a smear of coconut oil.
Next, transfer the lentils and kale to the plates. Add half an avocado to each plate, and a spoonful of sauerkraut. Drizzle the sauce over everything, then sprinkle the sesame seeds, salt and pepper on top before enjoying.