Hi friends! Remember last week when I chatted about my thoughts on sugar, gave you 10 sugar-free dessert recipes, and told you my plan to cut back on how much refined sugar I've been eating? Well, after that post went up, we went to Florida for a week to visit my family…and I ate a whole bunch of desserts.
In my defense, mom is really great at stocking her fridge for visitors and she's been known to go a little wild at Whole Foods! She also knows exactly what kind of snacks I love, so there were tons of vegan and gluten-free brownies, cookies and fancy chocolates laying around.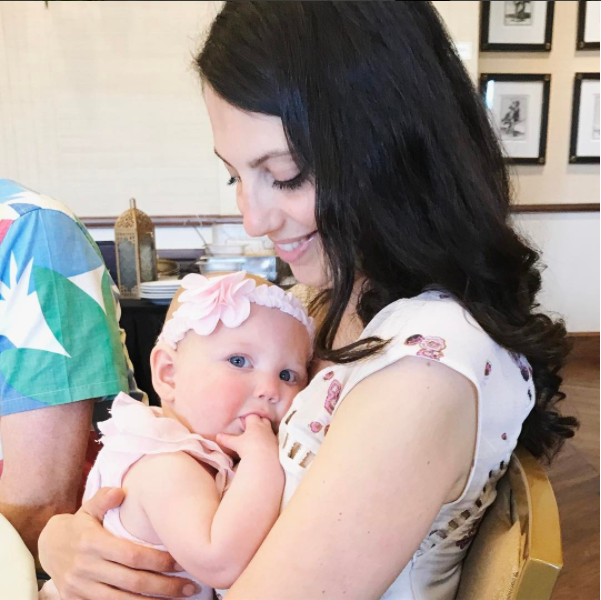 So now that I'm back in my own kitchen, I'm hopping back on the slightly less sugar train. Now, that definitely does not mean less desserts! It just means desserts with less sugar, like today's Vegan & Gluten-Free Raw Chocolate, Peanut Butter & Strawberry Cups.
I love these cups because you would never guess that the ingredient list is so clean! They're reminiscent of Reese's peanut butter cups, but more with a more interesting texture because of the chocolate cookie and strawberry layers. Unlike other chocolate cup recipes that I've shared, the chocolate layer isn't just melted chocolate chips, it's raw chocolate that's simply made from coconut oil, cacao and maple syrup.
After almost 5 years of eating together, Ross has gotten pretty adept at identifying which desserts have a secretly wholesome ingredient list, and he'll be the first one to say if something doesn't taste "real" (for example, as much as I LOVE chickpea cookies, he says they taste too "healthy"), but these cups totally flew under his radar! He had no idea that they were sugar-free, so I recommend sneaking these cups into your dessert rotation if your family is scared of "healthy" treats too!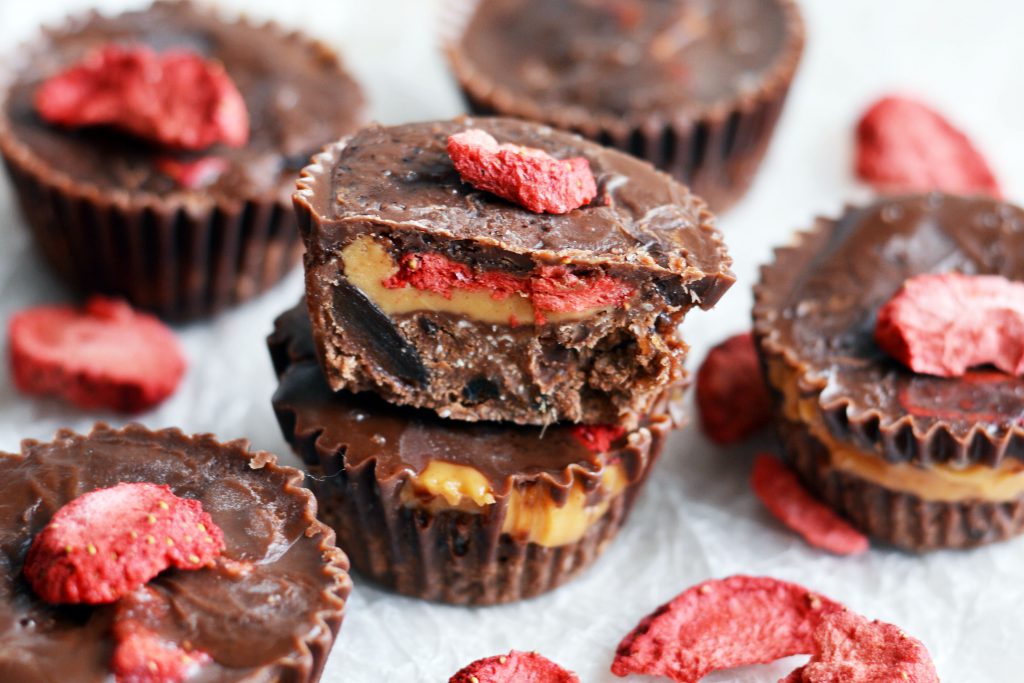 Raw Chocolate, Peanut Butter & Strawberry Cups, Vegan & Gluten-Free
Author:
Ilene Godofsky Moreno
Ingredients
chocolate cookie layer
½ cup rolled oats
¼ cup dates (soaked in hot water for 30 minutes if not soft)
2 tbs cacao powder
2 tablespoons coconut oil, melted
1 tablespoon maple syrup
pinch of salt
splash of non-dairy milk (if needed to blend)
peanut butter and strawberry layer
chocolate topping
¼ cup coconut oil, melted
2 tablespoons cacao powder
2 tablespoons maple syrup
¼ teaspoon salt
Instructions
Line a 12-cup mini muffin pan with baking cups.
To prepare the chocolate cookie layer, add the oats to the blender and blend until a flour is formed. Add the rest of the chocolate cookie layer ingredients and blend until mostly smooth (you'll need to scrape the sides of the blender down a few times).
Scoop the mixture out of the blender, and divide it up into the 12 baking cups. Use your fingers to press the mixture evenly down into the bottom of the cups.
Spoon about 1 teaspoon of peanut butter on top of the cookie layer in each cup. Top the peanut butter with a freeze dried strawberry.
To prepare the chocolate topping, stir all the ingredients together in a small bowl until smooth. Pour this mixture into the baking cups, filling them up. Sprinkle salt on top.
Place the pan in the refrigerator for at least an hour, so the cups can harden. Once they harden, transfer them to an airtight container and store in the refrigerator until you're ready to enjoy them.