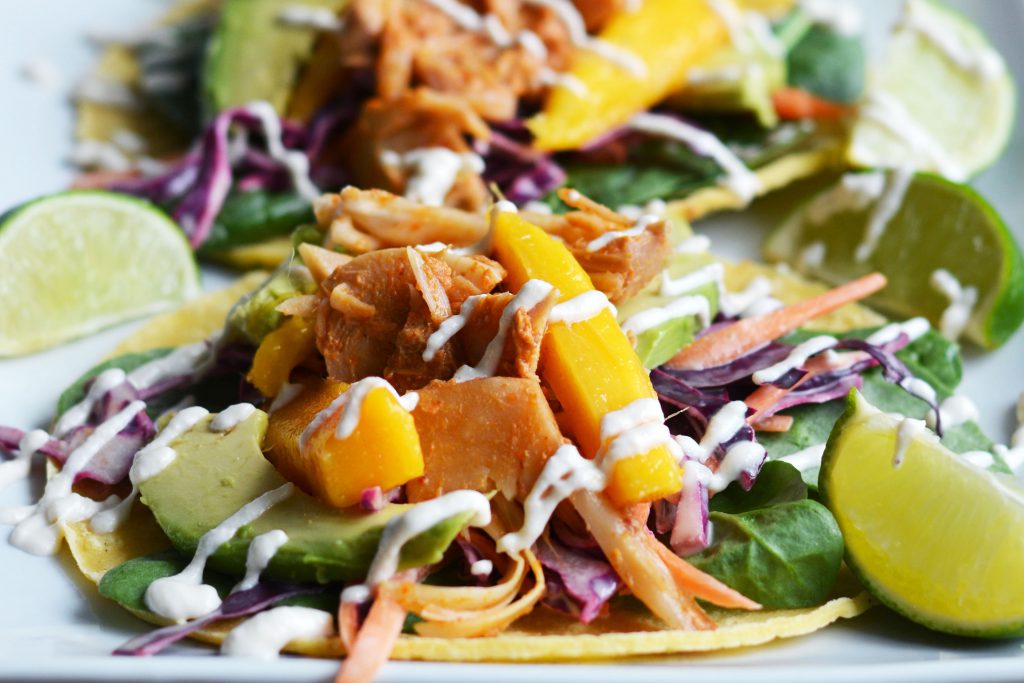 With Memorial Day under our belts, summer has unofficially started! I mean…here in NYC it's still drizzly, grey, sweatpants weather, but I'm not going to let that put a damper on today's very summery recipe.
These Vegan & Gluten-Free Thai Curry Jackfruit Tacos are like sunshine on a corn tortilla. I LOVE this combination of textures and flavors- crunchy slaw and silky smooth cashew cream, plus fresh mango, avocado, and lime to balance out the slightly spicy curry flavor of the jackfruit.
Every time we have jackfruit at a restaurant or I use it in a recipe, Ross reacts in the same (hilarious) way, with something along the lines of, "ARE YOU SURE THIS ISN'T MEAT?!?" After 12 years of not eating meat, I'm pretty sure I would know if I used it in a recipe, but I can't blame his reaction since texture of jackfruit is very similar pulled pork and it's way heartier than any other fruit.
For the jackfruit in this recipe, I made things super simple and used Upton's Natural Thai Curry Jackfruit, which is already seasoned. I added a homemade cashew lime sour cream and lime slaw (both recipes are below), and overall this dish is incredibly easy to make (plus seriously fun to eat).
For an extra festive Taco Tuesday, also blend up a few batches of my Frozen Watermelon Margaritas!

Thai Curry Jackfruit Tacos, Vegan & Gluten-Free
Author:
Ilene Godofsky Moreno
Cuisine:
vegan, gluten-free
Ingredients
cashew lime sour cream
1 cup raw cashews, soaked in water at least 4 hours
2 tablespoons non-dairy milk (plus more if needed to blend)
1 tablespoon coconut oil
juice of 1 lime
lime slaw
1½ cup shredded cabbage
½ cup shredded carrot
2 tablespoon vegan mayo
juice of 1 lime
everything else
6 corn tortillas
1 package thai curry jackfruit (about 1½ cups)
1 packed cup baby spinach
1 medium mango, sliced
1 avocado, sliced
salt and pepper, to taste
Instructions
To prepare the cashew lime sour cream, drain and rinse the cashews, then place them in a blender. Add the rest of the sour cream ingredients and blend until smooth. Transfer to a container and store in the refrigerator until you're ready to serve the tacos.
To prepare the lime slaw, toss all the ingredients together in a small bowl. Place it in the refrigerator until you're ready to serve the tacos.
Heat the jackfruit in a small pan over medium-low heat until warm (about 5 minutes).
To assemble the tacos, lay out the tortillas and spread a tablespoon of the cashew lime sour cream over each. Then layer a few pieces of spinach, about 2 tablespoons of the lime slaw, about 3 tablespoons of jackfruit and a few slices of mango and avocado on each tortilla. Drizzle extra sour cream on top, sprinkle with salt and pepper, and enjoy!