I think teff is one of the most underrated grains.
You may have encountered teff in an Ethiopian restaurant, either in a stew or in injera (delicious sourdough flatbread). Teff is a gluten-free grain that's high in fiber and protein. When it's not being fermented for sourdough bread, you might find it in a sweet porridge with dates and nuts. I love using it this way (and plan to share a recipe soon!), which is how I happened upon a discovery that led to today's recipe.
One day I made a teff porridge and accidentally left the half we didn't finish in the pot for a few hours. By the time I realized it, the porridge had completely cooled down, and it had firmed up like polenta. I decided to see if I could slice and bake it, like polenta fries, and the result was an amazing batch of crispy-on-the-outside, creamy-on-the-inside teff bites!
I refined that method a bit for today's recipe, Vegan & Gluten-Free Garlic Teff Croutons. I know that a recipe for croutons doesn't sound that exciting, but this recipe is guaranteed to rock your (salad) world! Not only do they add a more complex texture and flavor to any dish, but they add a punch of protein and fiber that can take a salad from wimpy side dish to filling entree.
For the recipe, I've paired the croutons with a sweet and savory salad that I love in the summer. With mango, avocado, raisins, tomatoes, chickpeas and lemon-tahini dressing, this dish gives salad a good name!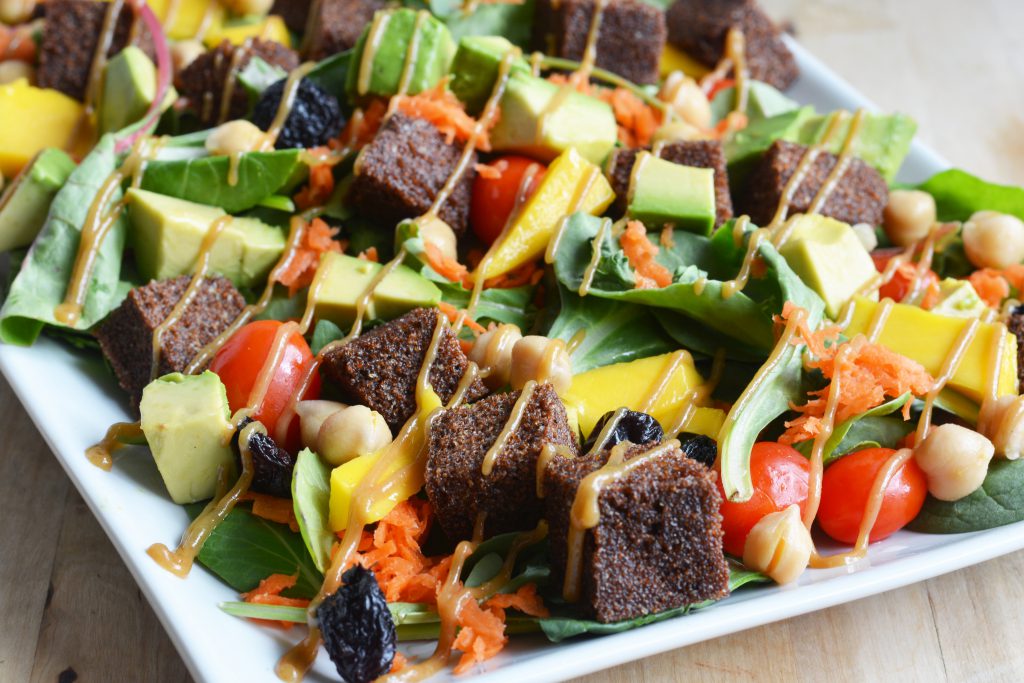 Garlic Teff Croutons, Vegan & Gluten-Free
Author:
Ilene Godofsky Moreno
Cuisine:
vegan, gluten-free
Ingredients
garlic teff croutons
3 cups vegetable broth
1 cup teff
1 tablespoon and 1 teaspoon olive oil, divided
½ teaspoon garlic powder
salt and pepper, to taste
salad
6 cups mixed greens
1 avocado, diced
1 cup cherry tomatoes
1½ cups cooked chickpeas (1 15-ounce can)
1 mango, diced
½ cup shredded carrot
¼ cup raisins
1 batch lemon-tahini dressing
Instructions
To prepare the croutons, bring the vegetable broth to boil in a pot on the stove. Add the teff and lower the heat to simmer. Simmer for 15-20 minutes (until the liquid is absorbed), stirring every 5 minutes.
When all of the liquid is absorbed, turn the heat off and stir in one teaspoon of olive oil, garlic powder, salt and pepper. Transfer the mixture to a 8" x 8" baking dish, using a spatula to smooth out the top. Place the dish in the refrigerator to firm up (about 2 hours).
Preheat the oven to 400°.
When the mixture is firm, place the baking dish upside down on a cutting board to gently remove the teff. Slice the block into cubes.
Place the cubes in a bowl and toss them with the olive oil. Spread the cubes out on a baking sheet and bake for 30 minutes, flipping the croutons halfway. They should be crispy when done.
To prepare the salad, toss all the ingredients (including the croutons) and serve!