Lately I've been trying to make as much of our food as I can ahead of time. With Baby V in the house (and hungry at the kitchen table) it's become really crucial for me to have ready-to-go ingredients in the fridge. The only thing worse than a hungry screaming baby is a hungry screaming baby AND a hungry nursing mama!
We've talked about meal prep before and today I'm excited to share a recipe that I included in this week's meal prep, Vegan & Gluten-Free Golden Turmeric Chickpea Fritters.
Everyone in out house loved these little guys- even Baby V! They're reminiscent of falafel but with a spicy turmeric tang and hint of sweetness from the raisins.
My favorite thing about these fritters is how versatile they are (below are a few photos of different ways we enjoyed them). We mostly ate them as part of a macro bowl and on top of salads, but I think they would be great in a sandwich with hummus too.
Baby V enjoyed hers straight-up but I think they're best with a little sauce on top. A drizzle of tahini or lemon-tahini sauce will definitely do the trick. I also had a cashew yogurt dill sauce (shown in the two bottom photos) in the fridge which went really well with the fritters. The simple recipe is just 1/4 cup cashew yogurt, juice of 1/2 lemon, 1 tablespoon tahini and 1 tablespoon fresh dill.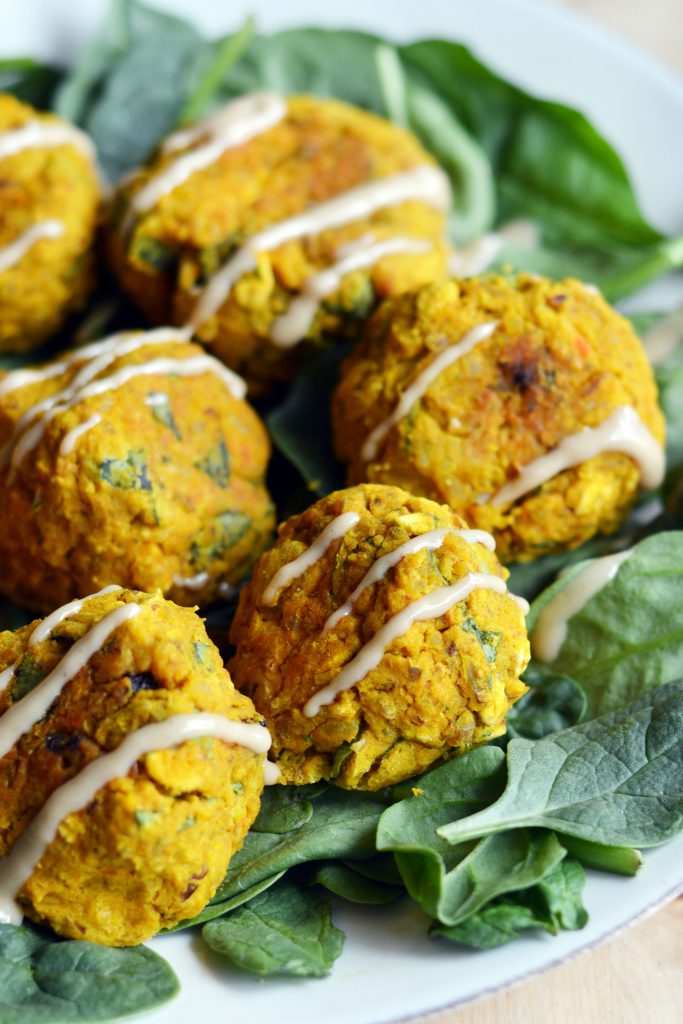 Golden Turmeric Chickpea Fritters, Vegan & Gluten-Free
Author:
Ilene Godofsky Moreno
Cuisine:
vegan, gluten-free
Ingredients
flax "egg"
1 tablespoon ground flaxseed
3 tablespoons warm water
blend
1½ cups cooked (1 15-ounce can) chickpeas
1 cup cooked rice
¼ cup sweet potato puree (about ½ small sweet potato)
1 tablespoon olive oil
2 gloves garlic, minced
1 tsp lemon juice
½ teaspoon turmeric
stir in
1 cup spinach, chopped
½ cup rolled oats
2 tablespoon raisins
salt and pepper, to taste
Instructions
Preheat the oven to 350°. Grease a baking sheet.
Prepare the flax "egg" by stirring the ground flaxseed and water together in a small bowl. Let sit for 10 minutes before using.
In a blender or food processor, blend the chickpeas, rice, sweet potato puree, olive oil, garlic, lemon juice and turmeric together until mostly smooth.
Transfer the mixture to a large bowl. Stir in the spinach, rolled oats, raisins, salt and pepper.
Wet your hands and roll a heaping tablespoon of the mixture into a ball and place it on the baking sheet. Repeat until all the mixture is used.
Bake for 20 minutes, then use a spatula to flip the balls. Return to the oven and bake for 15 minutes more. Serve warm!
Here's this week's full meal prep spread….the fritters were the star!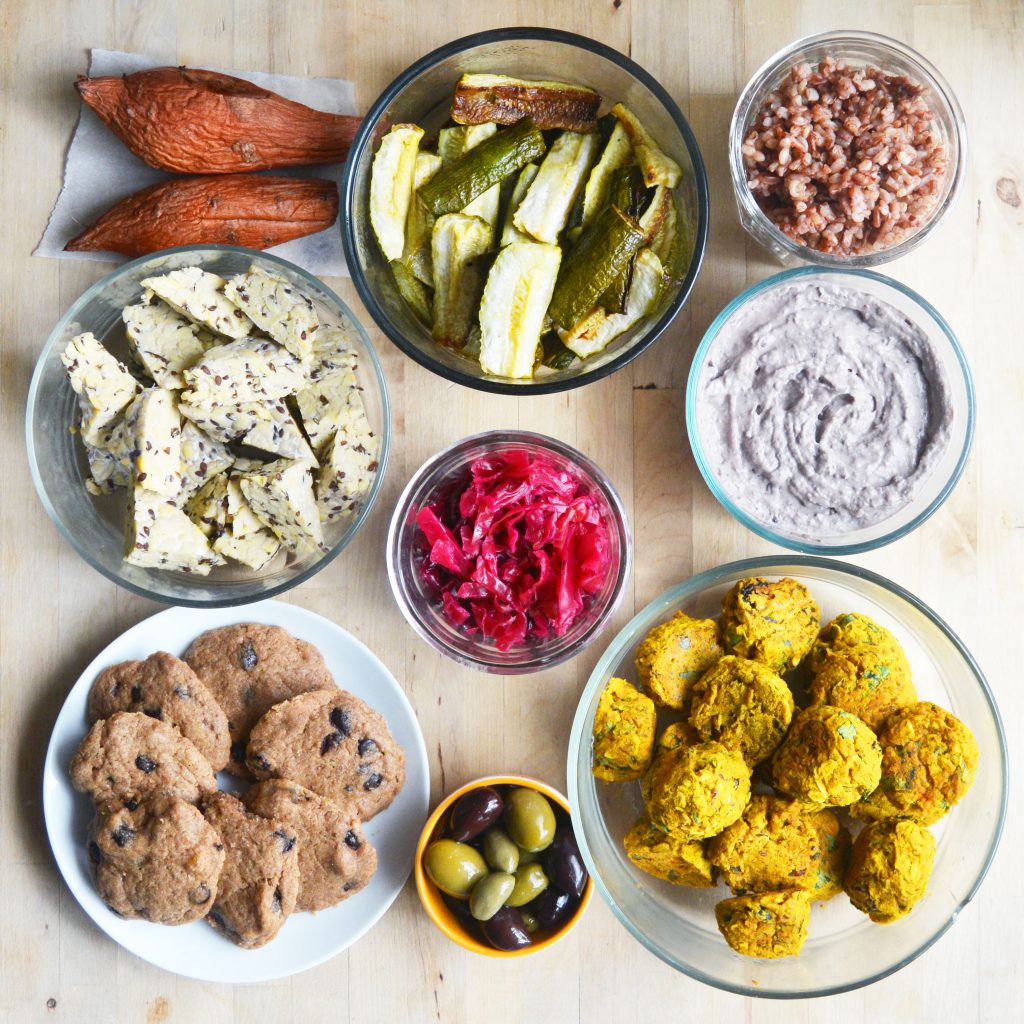 This macro bowl was perfection. Fritters with sautéed kale and broccoli, roasted zucchini, avocado, pickled beets, kraut and cashew yogurt dill sauce.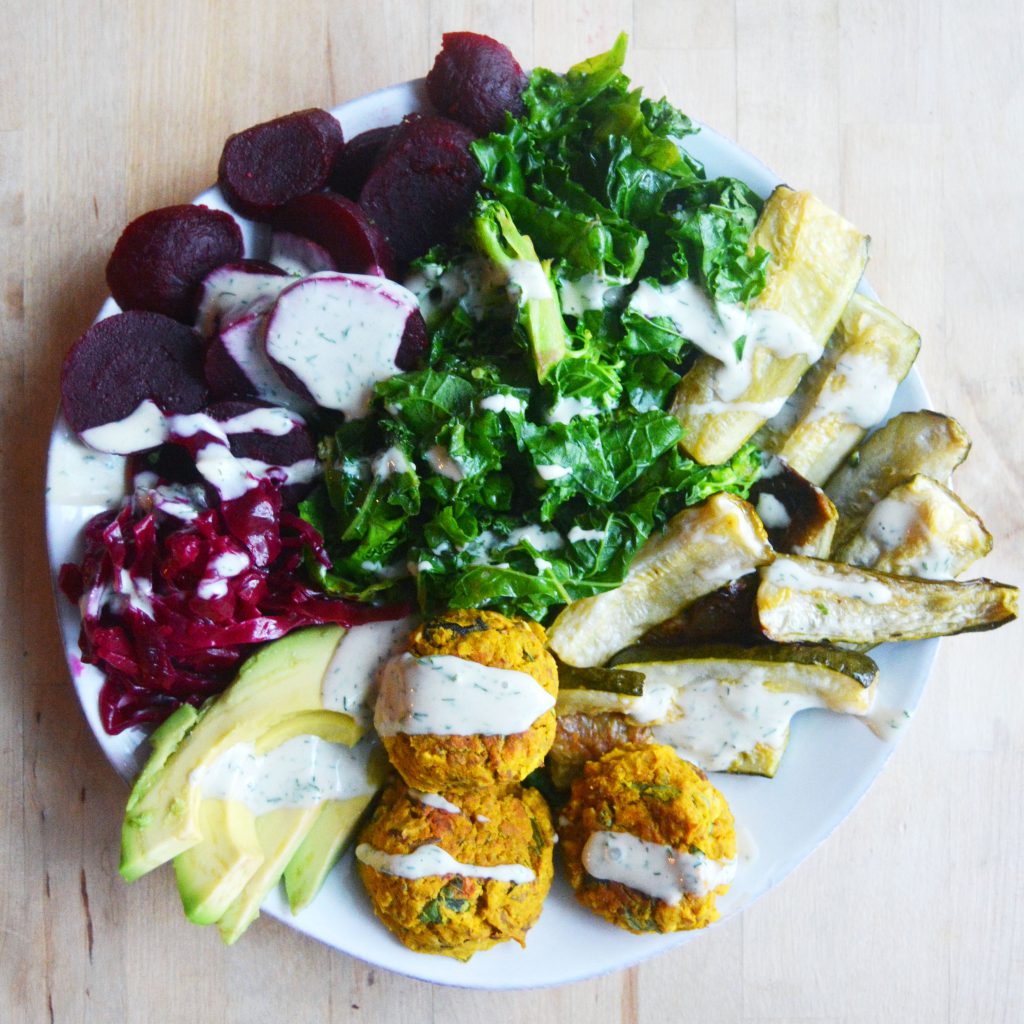 This was a funky combination but it was just so good! Sweet potato soup topped with fritters, kraut, steamed broccoli, avocado and cashew yogurt dill sauce. YUM!