I know, it's super old news that obsessed with tahini. I love it in savory dishes, sweet treats and drizzled all over everything (which you definitely know if you see my daily eats on Instagram).
So it should come as no surprise that I recently found myself craving Tahini Hot Chocolate, a treat I made almost every single day this winter. The problem is that it was 90 degrees outside and the idea of warming up a hot beverage on the stove really didn't feel right.
I decided to make a seasonally appropriate treat inspired by the flavors of my favorite winter beverage, that didn't require heating of any kind. The result was today's Vegan & Gluten-Free Tahini-Chocolate Freezer Fudge Cups and I'm SO excited to share this one with you!
The beauty of these fudge cups is that all you have to do is use a blender and pop them in the freezer. There's no baking or melting involved, plus the end result is a frozen treat that's somewhere between a raw ball and ice cream- perfect for summer!
I chose to alternate the order of the chocolate and tahini layers in the cups, but that's purely aesthetic and you can skip that step to save a little time. The prep time says 2 hours, but that's mostly for soaking the dates and freezing the cups- the actual work is quite quick and easy. The cups will start to melt when they're left out at room temperature so make sure to keep them in freezer until you're ready to enjoy them!
ps- I almost forgot to mention that they're refined sugar-free and only sweetened with maple syrup and dates!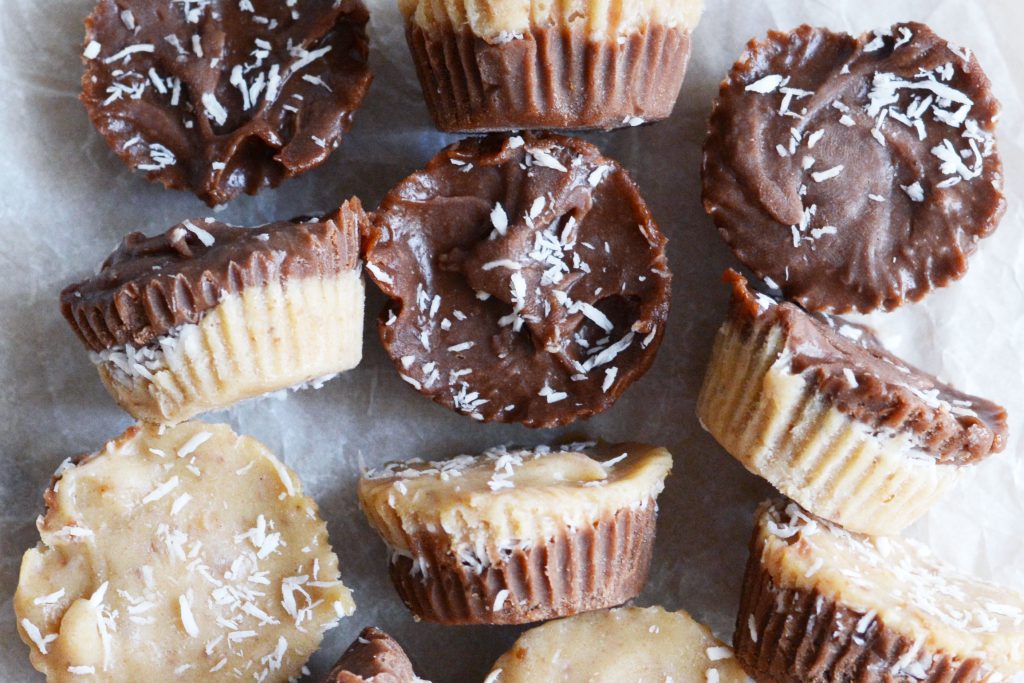 Tahini-Chocolate Freezer Fudge Cups, Vegan & Gluten-Free
Author:
Ilene Godofsky Moreno
Ingredients
6 big medjool dates, pitted and soaked in water for 30 minutes
½ cup tahini
¼ cup coconut oil, softened
2 tablespoons maple syrup
1 tsp vanilla extract
dash of salt
2 tablespoons cacao powder
¼ cup shredded coconut
Instructions
Line a mini muffin tin with baking cups.
Drain the dates and place them in a blender. Add the tahini, coconut oil, maple syrup, vanilla extract and salt. Blend until smooth.
Transfer half of the mixture to a bowl and set it aside.
Add the cacao powder to the mixture in the blender and blend until smooth.
Spoon a little less than a tablespoon of the chocolate mixture into the bottom of half the baking cups. Sprinkle a little shredded coconut over the mixture and use your fingers to the mixture down. Spoon a little less than a tablespoon of the tahini mixture on top, use your fingers to press it down and sprinkle a little shredded coconut on top.
Repeat the process for the other half of the cups, this time with the tahini layer on bottom and the chocolate layer on top.
Place the tray in the freezer so the cups will firm cup (at least 1 hour). Keep the cups in the freezer until you're ready to enjoy them.