I really can't believe it, but pumpkin spice latte season is here!
Ok, it might still feel like summer outside and you probably think I'm crazy for posting this recipe while we're still wearing shorts and tank tops, but Starbucks just brought the Pumpkin Spice Latte back to their menu yesterday, so I guess it's officially Fall.
Two years ago, I told you how my mom, Lynne, is a devoted pumpkin spice latte fan. She used to assume that since she opted for soy milk the drink couldn't be "that bad" and maybe it was even…healthy? Needless to say, when I showed her the ingredient list and nutritional info in her beloved PSL she was heartbroken, so I came up with this healthy vegan version for her.
It was a huge hit with her, as well as on the blog (yay!), so the following year I whipped up an even more decadent chocolate version for her, and today I'm very excited to share this year's installment, the Healthy Vegan Salted Caramel Pumpkin Spice Latte.
One of my favorite sneaky-healthy tricks is to make salted caramel from dates. It's so, so easy and rivals any traditional butter and sugar-filled caramel sauce. For this recipe, I took my original PSL and swapped out the maple syrup for date caramel, which not only sweetens it, but gives it an extra rich and creamy taste.
The recipe below makes about 1 cup of date caramel, which is more than you'll need for 2 lattes, but it will stay good in the fridge for about a week and there's SO much you can do with it. I like to add a scoop to my morning oatmeal, drizzle it over vanilla coconut milk ice cream or layer it in a peanut butter sandwich. Basically it's all-purpose amazing and I'm pretty sure you'll find a bunch of super yummy ways to use it all up.
One last note- I like to top my lattes with a bit of frothed almond milk. It's totally unnecessary but I have a milk frother and love how it makes everything look extra cozy.
So, let's all go sip our lattes and welcome in fall!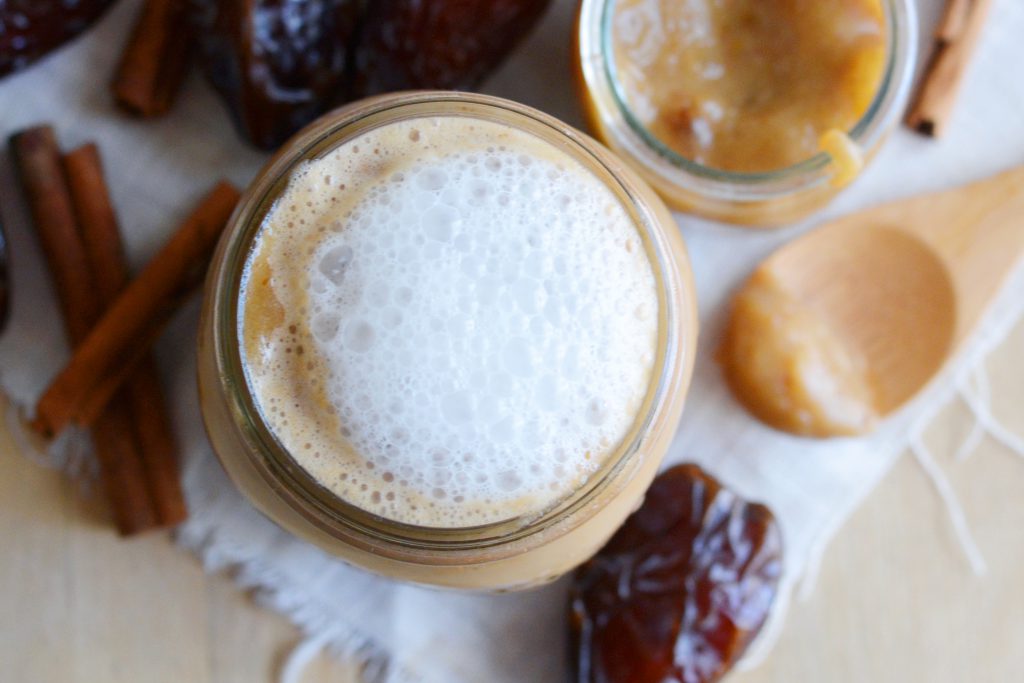 Healthy Vegan Salted Caramel Pumpkin Spice Latte
Author:
Ilene Godofsky Moreno
Ingredients
date caramel
1 cup medjool dates, pitted
1 cup almond milk
¼ teaspoon salt
latte
1 cup freshly brewed coffee
2 tablespoons pumpkin puree
2 tablespoons nondairy milk
½ teaspoon vanilla extract
¼ teaspoon pumpkin pie spice
Instructions
To prepare the date caramel, soak the dates in a bowl of hot water for 15 minutes to soften them. If they're already super soft you can skip this step.
Drain the dates, then place them in a blender with the almond milk and salt. Blend until smooth, then transfer to an airtight container and store it in the refrigerator until you're ready to use it.
To prepare the latte, combine all the ingredients in small saucepan on the stove. Stir until everything is mixed and heated to desired warmth. Starting with 2 tablespoons, stir in as much date caramel as you would like to sweeten the latte.
Transfer to mugs and serve with extra date caramel on the side.