Let's talk about getting hangry for a minute.
If you aren't familiar with the word, hangry is when you get hungry + angry. I've always been the kind of person who needs a snack between meals, which makes me especially prone to hanger if snack time is missed. Over the years I've learned that the best way to avoid hanger is to always keep snacks on hand.
Today's recipe kills two birds with one stone because not only does it make the perfect hanger-preventing snack, but it uses leftover almond milk pulp (!!!). A couple of weeks ago I shared my woes about feeling wasteful when I make almond milk because I never know what to do with the pulp. I was able to resolve my worries with a batch of Almond Milk Pulp Chocolate Chunk Cookies, but I usually make 1-2 batches of almond milk per week so I've been dreaming up other ways to use the pulp because that is way too many cookies, even for me.
These Vegan + Gluten-Free Almond Milk Pulp Chocolate-Coconut Balls were solution #2 to the pulp problem! The almond pulp is combined with coconut and dates to make energy balls (like these!) but with cacao nibs on the inside and chocolate and coconut butter on the outside, they taste more like a cookies than a "healthy snack."
I've LOVED having these little babies in the fridge as a hanger-fighting treat, and the batch definitely disappeared a little too quickly. I usually start to crave something sweet around 3pm when my energy starts to dip, and these balls totally satisfy that craving (even though they're only sweetened with dates and maple syrup!), plus they provide a protein and healthy fat boost to help me power through the afternoon.
So now that I've got energy balls and cookies on my leftover almond milk pulp roster, I need to come up with a savory dish to use the pulp in! Maybe bread or crackers? Let me know if you have any ideas for me in the comments!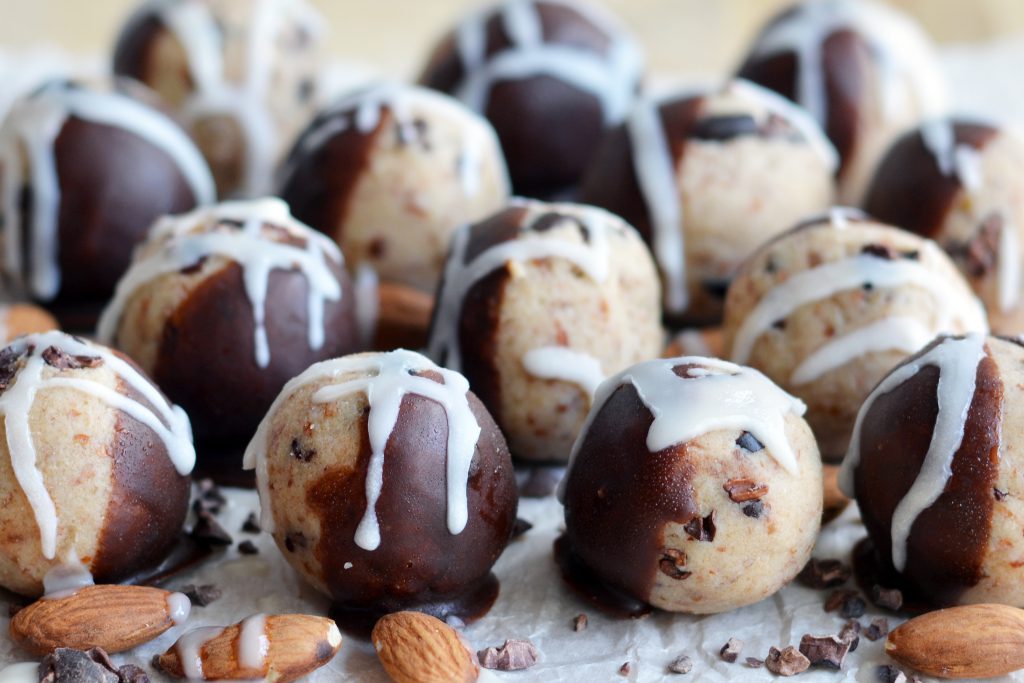 Almond Milk Pulp Chocolate-Coconut Balls, Vegan + Gluten-Free
Author:
Ilene Godofsky Moreno
Cuisine:
vegan, gluten-free
Ingredients
balls
1 cup medjool dates, pitted (soaked in warm water for 30 minutes if not soft)
1 cup almond milk pulp
¼ cup coconut butter, softened
2 tablespoons coconut oil, softened
2 tablespoons non-dairy milk
1 teaspoon vanilla extract
⅛ teaspoon salt
fold-in
chocolate dip
2 tablespoons coconut oil, melted
2 tablespoons maple syrup
2 tablespoons cacao powder
drizzle
1 tablespoons coconut butter, melted
Instructions
Line a baking sheet with parchment paper.
To prepare the balls, drain the dates and place them in the blender. Add the remaining ball ingredients and blend until mostly smooth.
Transfer the mixture to a bowl and fold-in the cacao nibs.
Use your hands to roll a heaping tablespoon of the mixture into a ball. Place the ball on the baking sheet and repeat until all of the mixture is used. Place the baking sheet in the refrigerator while you prepare the chocolate dip.
To prepare the chocolate dip, stir all the ingredients together in a bowl. Remove the baking sheet from the fridge. Dip each ball halfway in the chocolate, then place it back on the baking sheet.
Drizzle the coconut butter over the balls. Place the the baking sheet in the refrigerator so the balls can harden up (about 1 hour).
When the balls are hardened, transfer them to an airtight container and store them in the fridge.