I've been on such a pasta kick lately.
It's just so easy to boil up a bag after Baby V goes to sleep, throw in a few veggies and sauce, and call it a night. With that basic three-part template, the options are endless.
Today I'm excited to share one of my favorite new combinations that Ross and I have been having for dinner at least once a week. This Vegan & Gluten-Free Pasta with Easy Cashew Lemon Sauce is one of the easiest, warm and coziest, and most delicious weeknight dinners around. I love how the broccoli and kale really soak up the sauce, making each bite so full of flavor. It almost reminds me of the microwaveable packets of frozen broccoli covered in cheese sauce that my mom used to make when I was a kid (anyone else??). It's so funny to think back on it now, but that was one of the only "vegetables" I used to actually eat!
Anyways, let's get back to this much, much healthier and yummier dish. For the pasta I used Go Quinoa  Fusili Supergrains Pasta. The pasta is gluten-free and made from sorghum, quinoa, amaranth and chia seeds- so just like the name says, super grains! I've tried many a gluten-free pasta in my day and I have to tell you, they have not all been winners. Sometimes the texture is just off- too hard or too mushy- but I have to say that GoGo Quinoa pasta has one of the best textures that I've tried (they sponsored this post, but this is my 100% honest opinion

). Plus, since it's made from a blend of grains it's full of iron, fiber and protein, which is always a win for me!
You can find GoGo Quinoa Fusili Supergrains Pasta at Costco in California and it's coming to stores in New York in January (yay for me!).
Ok, so back to this delicious recipe. Not only have Ross and I been devouring it, but it turns out Baby V LOVES this dish too! She eats it by the handful, so it's a giant mess (like almost every meal) but it's worth having to mop the floors and hose her down after dinner to see her happily eating her veggies and whole grains!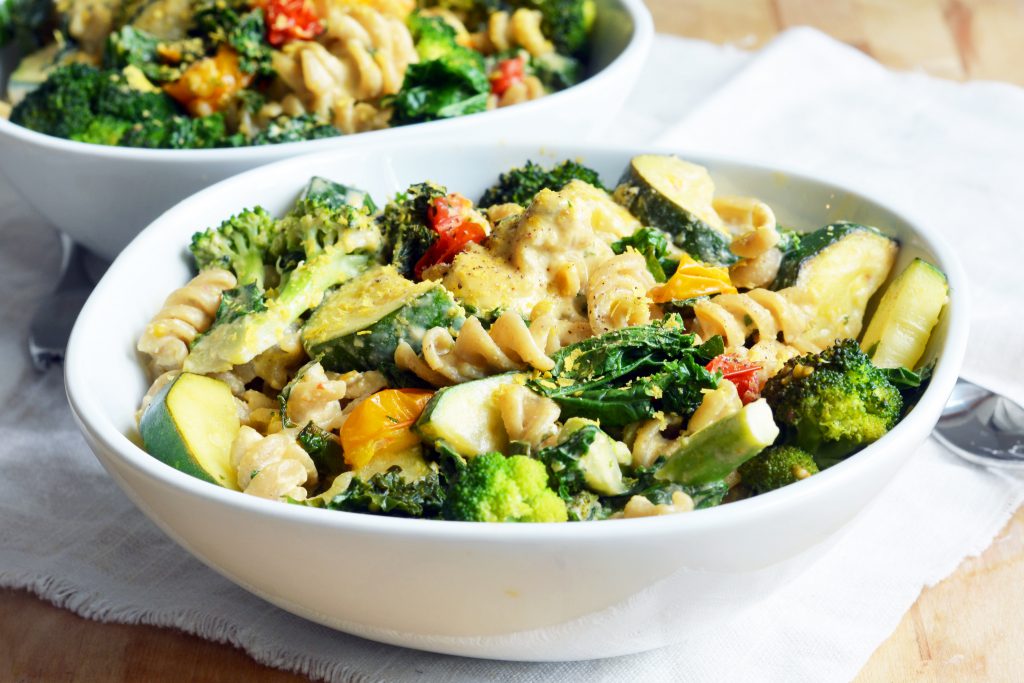 Pasta with Easy Cashew Lemon Sauce, Vegan + Gluten-Free
Author:
Ilene Godofsky Moreno
Cuisine:
vegan gluten-free
Ingredients
cashew lemon sauce
½ cup cashews, soaked in warm water for 2 hours
½ cup water unsweetened nondairy milk
¼ cup nutritional yeast
2 tablespoons water
2 tablespoons olive oil
juice of ½ lemon
2 garlic cloves
salt and pepper, to taste
everything else
4 servings GoGo Quinoa Fusili Supergrains Pasta
1 tablespoon olive oil
2 medium zucchinis, sliced into ¼" thick rounds
2 cups broccoli florets
1 cup cherry tomatoes, sliced in half
1 packed cup chopped kale
Instructions
To prepare the cashew lemon sauce, drain and rinse the cashews, then place them in a blender. Add the rest of the sauce ingredients, and blend until smooth. Set the sauce aside.
To prepare the pasta, bring 3-4 liters of water to a boil in a large pot. Add salt if desired. When the water is boiling, add the pasta and cook for 9 minutes for an Al Dente texture while stirring occasionally. Drain and rinse the pasta with cold water. Return the pasta to the pot, so it's ready when the vegetables are sauce are ready to be added.
In a medium pan, heat the olive oil at medium heat. Add the zucchini and broccoli, and saute until tender (10-12 minutes).
Add the cherry tomatoes and saute for another 3 minutes, then add the kale and continue to cook for another 2 minutes, until the kale wilts.
Add the sauteed vegetables to the pot with the pasta. Stir the sauce in and heat everything to desired warmth, then serve!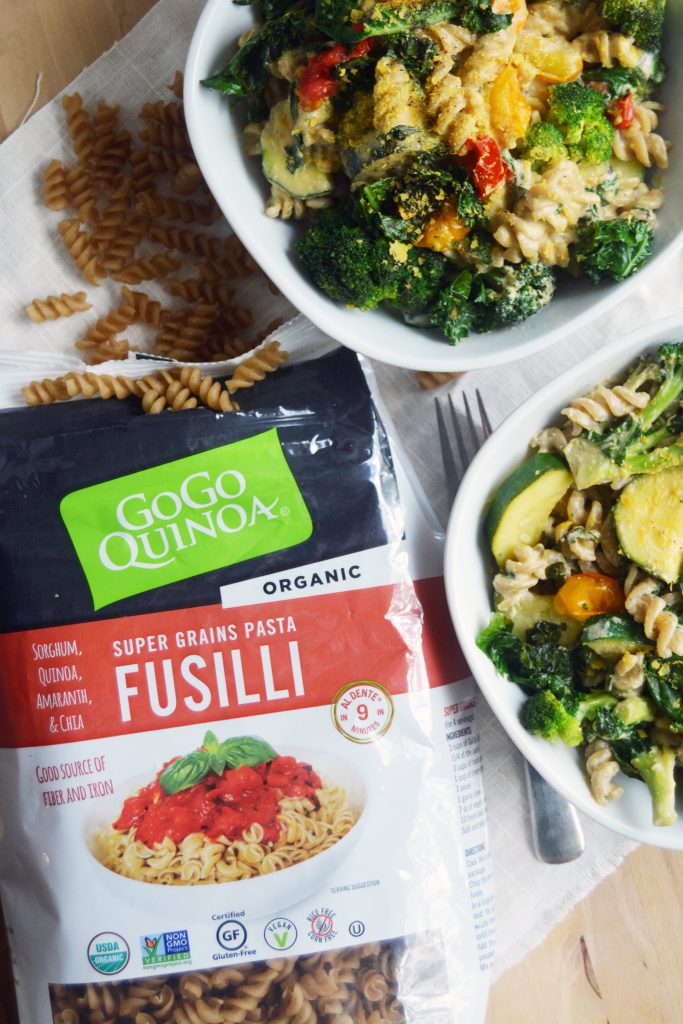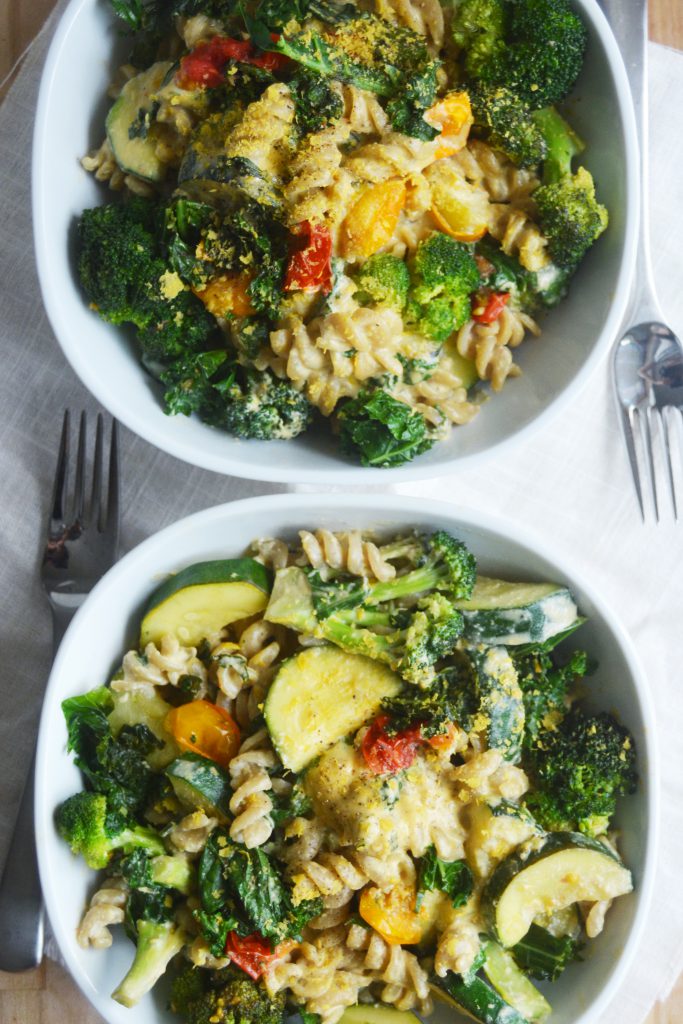 This post was sponsored by GoGo Quinoa. All opinions expressed are my own.