I think I've made it pretty clear that I'm a fall-fanatic. All year round, I'm obsessed with food that's comfy and cozy, but when fall finally shows up I pretty much lose it.
I just can't help making pumpkin spice versions of all my favorite recipes! One of my favorite recipes (and possibly the most popular among readers) of the year so far is my No-Bake Amazing Everything Bars. Of course, when I decided to whip up a fresh batch last week, I had to pumpkinize them!
These Vegan & Gluten-FreeNo-Bake Chocolate Pumpkin Everything Bars are the fall dessert of my dreams. I tweaked the original bar recipe just a tiny bit by swapping out the peanut butter caramel layer for a pumpkin spice layer, and the result is pretty magical.
The best thing about this dessert (other than it's incredible yumminess) is that it's totally refined-sugar free! It's sweetened with just maple syrup and dates so it's a little easier on the stomach and less likely to induce a sugar coma. I think the bars are best enjoyed alongside a Healthy Vegan Pumpkin Spice Latte.
For the other fall lovers out there- have you checked out my Holiday Season ebook yet? It's a free bonus gift when you preorder my cookbook and it's filled with all my favorite recipes for Halloween, Thanksgiving, Chanukah and Christmas!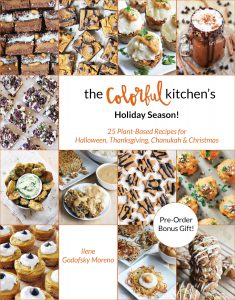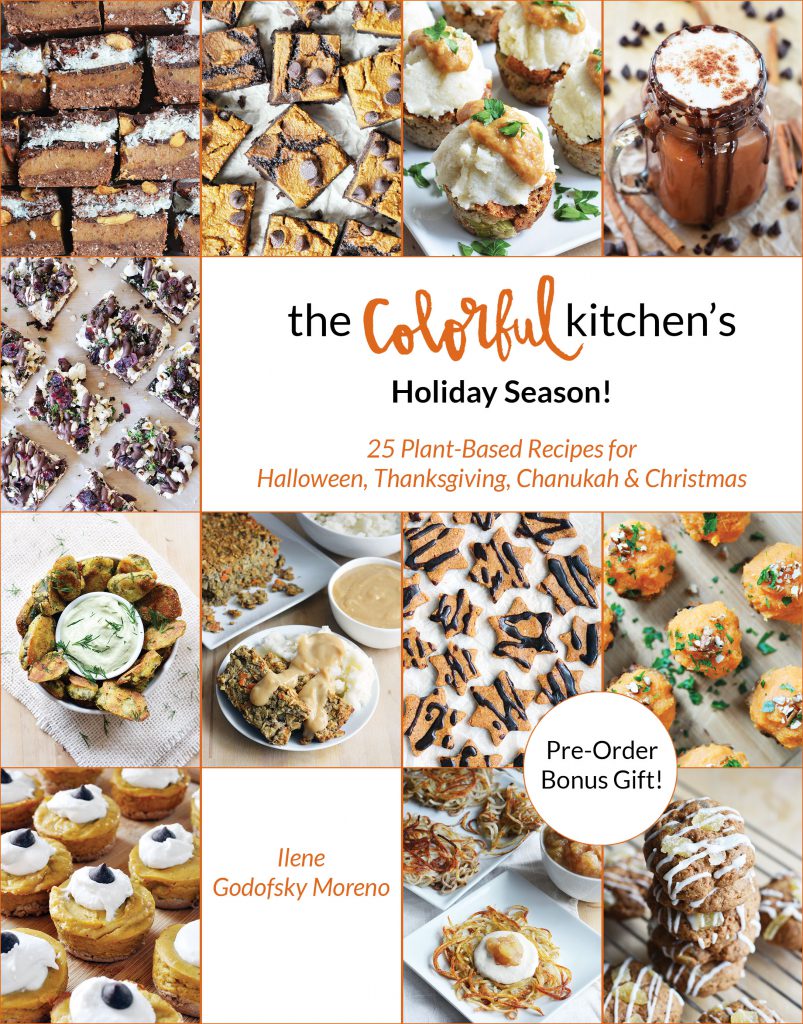 Ok, let's get on to the bar recipe!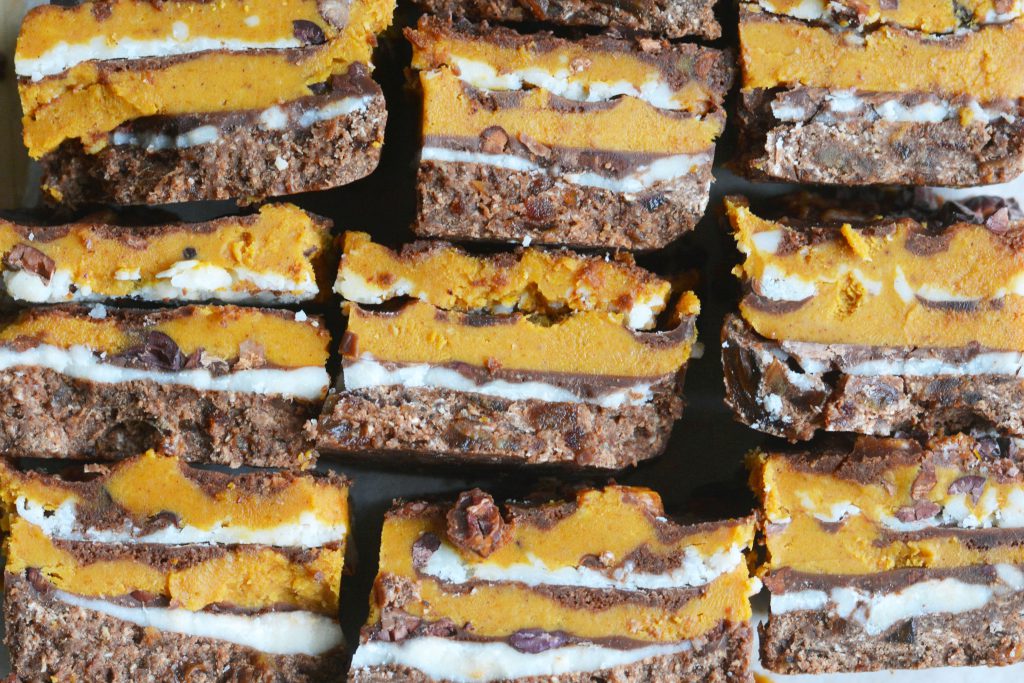 No-Bake Chocolate Pumpkin Everything Halloween Bars, Vegan+ Gluten-Free
Author:
Ilene Godofsky Moreno
Recipe type:
Halloween dessert
Cuisine:
vegan, gluten-free
Ingredients
crust
¾ cup rolled oats
¼ cup dates, pitted (soaked in hot water for 30 minutes if not soft)
2 tablespoons cacao powder
2 tablespoons coconut oil, melted
1 tablespoon maple
pinch of salt
crunchy coconut layer
¼ cup coconut butter, melted
2 tablespoons cacao nibs
chocolate layer
¼ cup coconut oil, melted
2 tablespoons cacao powder
2 tablespoons maple syrup
pumpkin layer
2 tablespoons coconut oil, melted
½ cup pumpkin puree
3 tablespoons peanut butter
2 tablespoons maple syrup
½ teaspoon pumpkin pie spice
dash of salt
Instructions
Line a 9" x 5" loaf pan with parchment paper. This will help the bars come out easily.
To prepare the crust, pulse the oats in a blender or food processor until flour is formed. Add all the other crust ingredients, then pulse until a mostly smooth texture is formed. Scoop the mixture out and press it into the bottom of the pan.
For the first crunchy coconut layer, spread 2 tablespoons of the coconut butter over the crust. Sprinkle 1 tablespoon of cacao nibs on top.
To prepare the chocolate layer, in a small cup, stir all ingredients together until smooth. Pour over ⅓ of the mixture over the crunchy coconut layer. Place the pan in the freezer so this layer can harden (about 15 minutes).
To prepare the pumpkin layer, stir all the ingredients together in a small bowl, until smooth. Spread half of the mixture over the chocolate layer. Place the pan back in the freezer so this layer can harden.
Repeat the process with another crunchy coconut layer, chocolate, pumpkin and a third chocolate layer on top.
Place the pan in the refrigerator so everything can set, until the top is firm. Remove the pan and gently tug on the parchment paper to remove hardened piece. Use a knife to slice into bars and store in an airtight container in the fridge.