When Well+Good asked me to create a healthy recipe for their readers using Everything Bagel Seasoning, the first thing that came to mind mind was WAFFLES! Don't ask me why, but I instantly knew I had to try the savory seasoning on crispy, fresh waffles.
Let me tell you, the combination was absolute perfection. Topped with a schmear of vegan cream cheese, carrot "lox", onion slices, capers and fresh dill, the combination immediately brought me back to the many, many hours I spent in Jewish delis with my grandparents. It was pure, delicious nostalgia on a waffle! And everything tastes better on a waffle, right?
Let's chat about the ingredients for a second. If you haven't tried my carrot lox, you're in for a treat! I used plain Kite Hill vegan cream cheese, but I'm also a huge fan of their chive flavor. If you don't have access to a Trader Joe's for the Everything but the Bagel Seasoning and don't want to wait for Amazon to deliver it, here's a super simple DIY recipe I found.
One last thing before we get to brunch! I'm so thrilled that so many of you have preordered my cookbook and gotten your bonus Holiday Season ebook!! Thank you from the very bottom of my heart for supporting The Colorful Kitchen! If you haven't gotten yours yet, click here.
And Click here to see the full article on Well+Good! Now let's all go eat some waffles…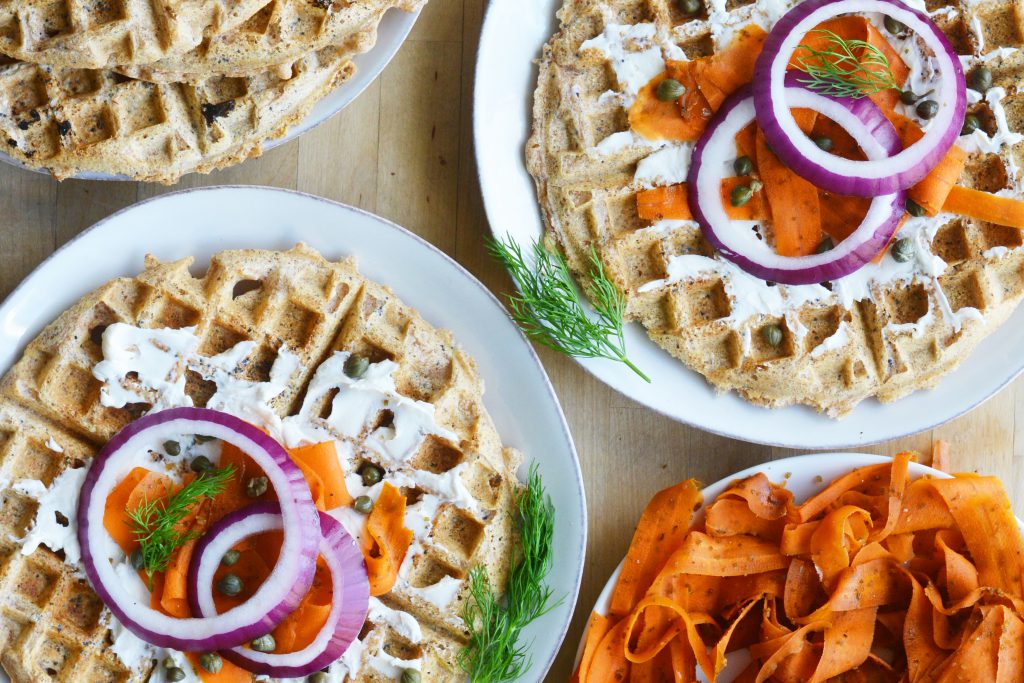 Vegan Everything Bagel WAFFLES with Carrot "Lox"
Author:
Ilene Godofsky Moreno
Ingredients
dry
2 cups spelt flour
2 tablespoons everything bagel seasoning, divided
1½ tablespoons baking powder
wet
1½ cup nondairy milk
¼ cup coconut oil, melted
2 tablespoons maple syrup
1 teaspoon apple cider vinegar
serve with
vegan cream cheese
red onion slices
capers
fresh dill
Instructions
Preheat the waffle iron.
In a large bowl, whisk the spelt flour, 1 tablespoon of the everything bagel seasoning and baking powder together.
In a small bowl, stir the nondairy milk, coconut oil, maple syrup and apple cider vinegar together.
Stir the contents of the small bowl into the large bowl, and mix until the batter is smooth.
Grease the waffle iron (with coconut oil or nonstick spray). Pour some of the batter into the waffle iron and sprinkle extra everything bagel seasoning on top. Cook until the waffle is golden and slightly crispy. The amount of batter and cooking time will vary depending on your waffle iron. Repeat, until all the batter is used.
To serve, spread vegan cream cheese on the waffles and top them with carrot "lox", red onion slices, capers and fresh dill.