Today I'm taking a tiny break from pumpkin-spice-everything to share a recipe that's quickly become my new favorite breakfast. If you love the flavors of mocha, coffee and chocolate- this one is for you!
Today's 
Vegan & Gluten-Free Mocha Protein Power Granola Parfait
 is way more exciting than your average granola-over-yogurt breakfast. I'm super excited to share the recipe with you since it's incredibly easy to make, and it packs an extra protein punch thanks to the secret ingredient- 
Sunwarrior Illumin8 Organic Meal
!
Sunwarrior
 has been my protein powder of choice for a few years, but I've just recently discovered the 
Illumin8 Organic Meal
 (specifically the mocha flavor) and it's totally changed my breakfast game. It's a super easy way to get in a bunch protein and vitamins, but most importantly I love the chocolate+ coffee magic of the mocha flavor.
Ok so let's talk about this granola. If you haven't made granola at home before, this is a really great recipe to start with since you basically just mix everything together, throw it in the oven and viola!- you've got better-than-storebought granola! It's definitely delicious to munch on it by the handful, but my favorite way to enjoy it is a nondairy yogurt (I used this
cashew
 yogurt in the photos) parfait, fully loaded with cacao nibs, shredded coconut, banana, peanut butter and chocolate sauce.
Even though the parfait looks and tastes like a decadent dessert, the ingredient list is super simple and clean, plus there's no sugar! I've found that when I have this parfait for breakfast (which has been every day this week), I stay feeling full till lunch without feeling too weighed down.
I'm not always a coffee drinker, but I love, love, love the way this meal tastes alongside a cup of coffee. It's a must-try! I also sprinkled some of the granola over coconut milk ice cream for dessert and it was pure heaven.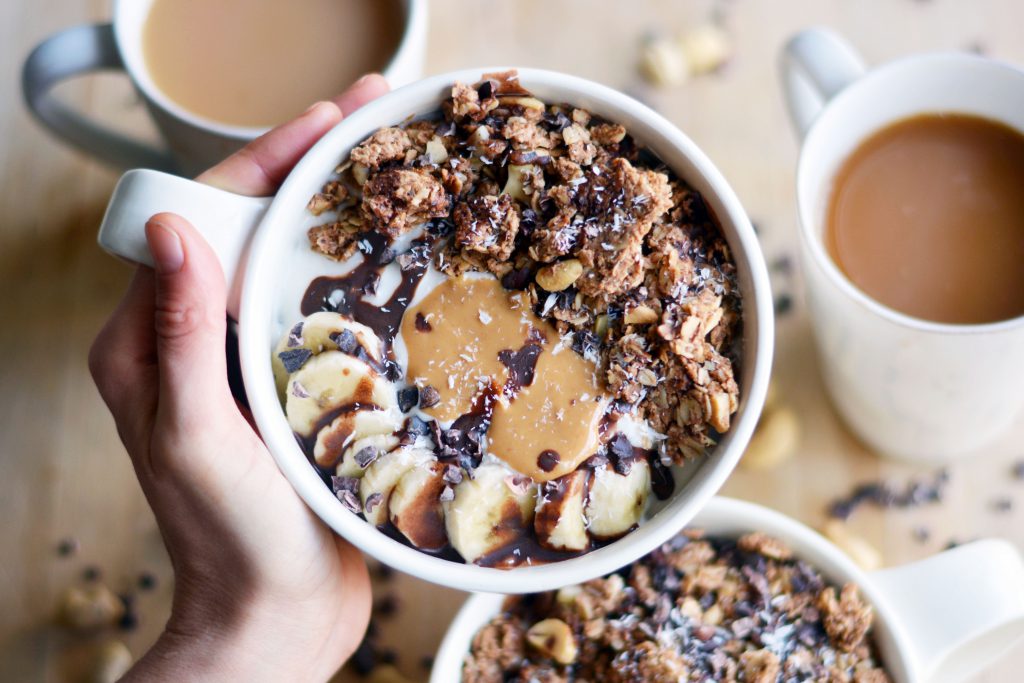 Mocha Protein Power Granola Parfait, Vegan & Gluten-Free
Author:
Ilene Godofsky Moreno
Recipe type:
breakfast, brunch
Cuisine:
vegan, gluten-free
Ingredients
dry
2 cups rolled oats
½ cup chopped nuts
¼ cup shredded coconut
2 tablespoons ground flaxseed
¼ teaspoon salt
wet
¼ cup creamy peanut butter
¼ cup maple syrup
¼ cup coconut oil
1 teaspoon vanilla extract
parfait
2 cups nondairy yogurt
2 tablespoons peanut butter
2 bananas, sliced
2 tablespoons chocolate sauce
Instructions
Preheat the oven to 325°F.
In a large bowl, whisk the dry ingredients together.
In a small bowl, stir the wet ingredients together until smooth. Add the contents of the small bowl to the large and stir until everything is mixed.
Use a spatula to spread the mixture out on a baking sheet. Bake for 15 minutes, then remove the baking sheet from the oven and use the spatula to mix the granola. Return to the oven and bake for another 10 minutes.
Remove from the oven, and let the granola cool completely, allowing it to crisp up. Once it's completely cool, enjoy or store in an airtight container for 5-6 days.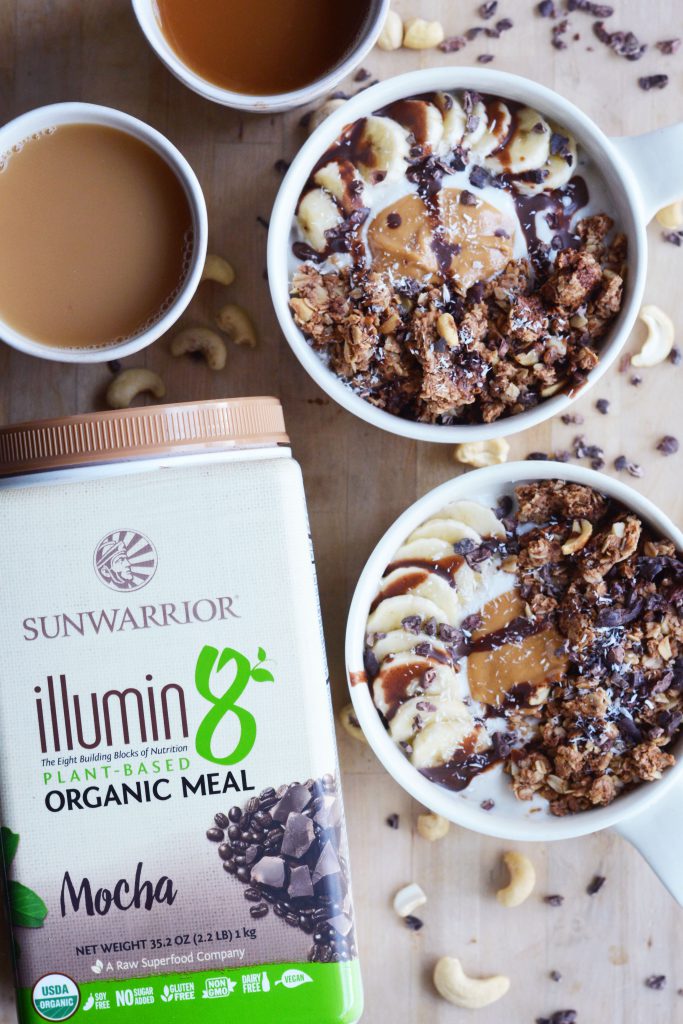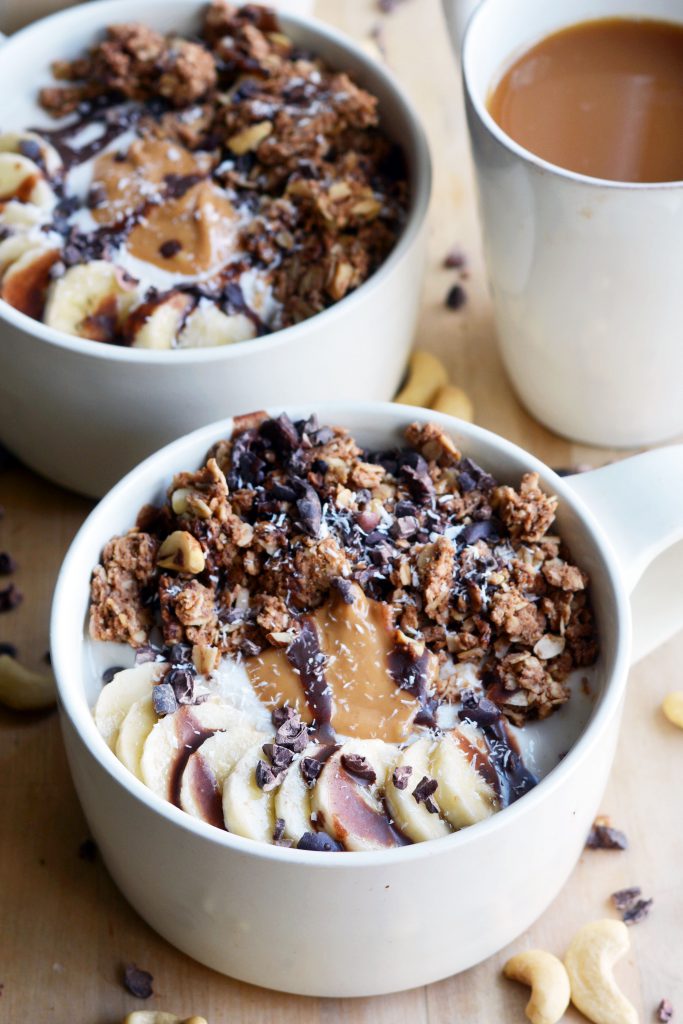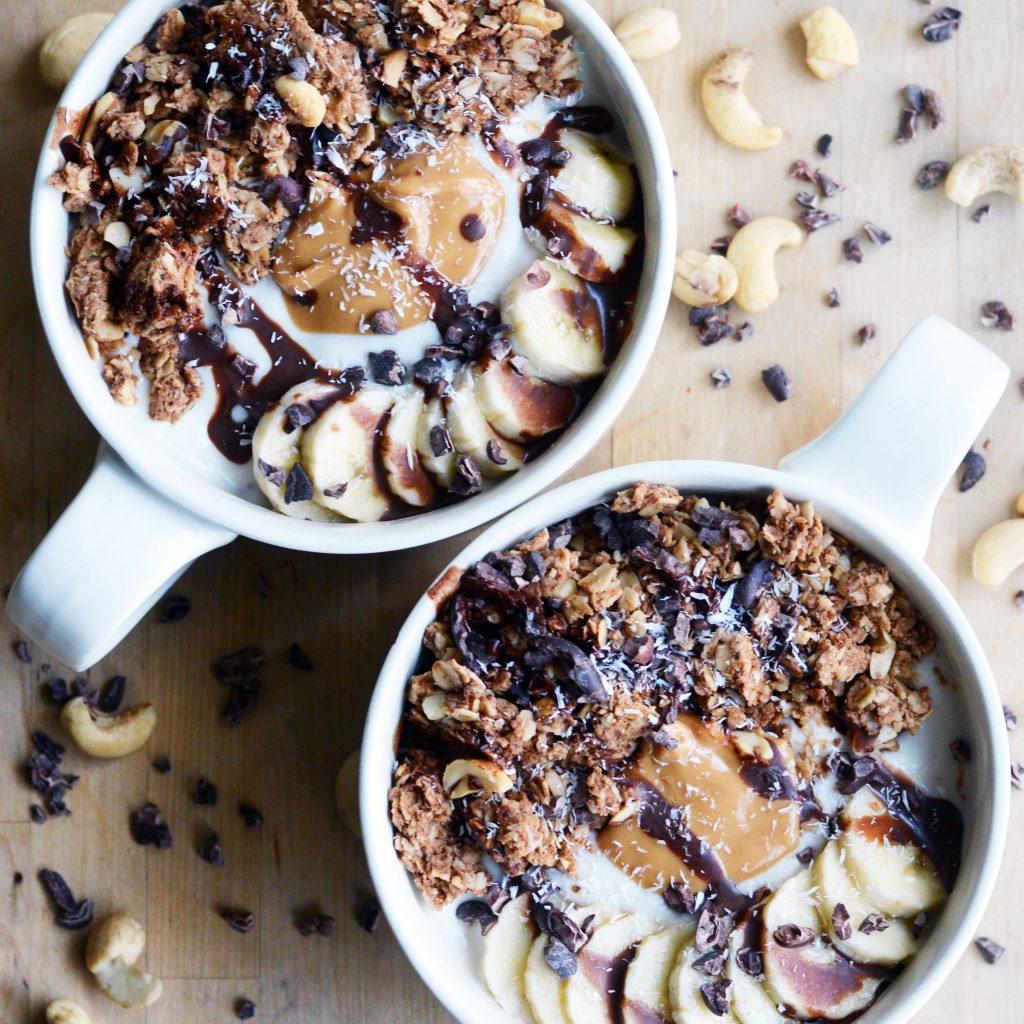 This post was sponsored by Sunwarrior. All opinions expressed are my own.