With Thanksgiving right around the corner, I'm in full-on holiday hostess mode these days!
Ok, I've never actually hosted our family Thanksgiving in my own home (our tiny NYC dining table barely fits 2.5 people), but I love the cozy flavors of the season so much that I like to invite friends over to cram into our kitchen to eat Thanksgiving food all month long. And of course, even though our family gathers at my Aunt and Uncle's house in Connecticut for T-day, I usually pack a cooler full of dishes because clearly I'm a Thanksgivingaholic.
If you share my passion for all things autumn, you're going love today's new recipe! This Vegan Chipotle Tempeh & Vegetable Pot Pie makes a super impressive Thanksgiving (or Thanksgiving adjacent) table centerpiece. With a crispy crust and an ooey gooey center, it reminds me of the chicken pot pie of my childhood- without any of the funky ingredients!
The chipotle flavor comes from Sir Kensington's Chipotle Fabanaise. You've probably heard me talk about their fabanaise before since it's a major staple in my kitchen. It's my favorite vegan mayo to use in sandwiches and wraps, and Ross has been known to eat it by the spoonful. Seriously.
Unlike other vegan mayos, it's made from aquafaba (chickpea brine! how cool is that?) and the ingredients are all non-GMO and super clean. If you haven't already tried it, you can find all of Sir Kensington's condiments (I also love their dijon mustard) at Whole Foods and other natural food stores.
In this pot pie recipe, the Chipotle Fabanaise adds a slightly smokey and spicy flavor that will seriously make you go back for seconds. It also makes the filling super creamy without the milk and butter of a traditional pot pie (yay!).
You'll notice the ingredient list calls for mixed frozen vegetables. Normally I tend to steer clear of frozen veggies and opt for fresh, but there's something really nostalgic about the mixed bags of peas, carrots and corn that feels appropriate for such a cozy dish.
Now let's talk about the elephant in the room- the decorative crust. If you're feeling really intimated by the double whammy of a lattice crust and decorative leaves, I'm here to tell you that it's so much easier to make then you would think! If you haven't made a lattice crust before, I recommend checking out this tutorial. And the leaves are truly a breeze to make with these pie crust cutters. Of course, you can also skip the decorative crust entirely and easily go with a classic double pie crust (see the instructions in the recipe).
ps- get my full vegan Thanksgiving menu as part of my bonus Holiday Season ebook when you preorder my cookbook!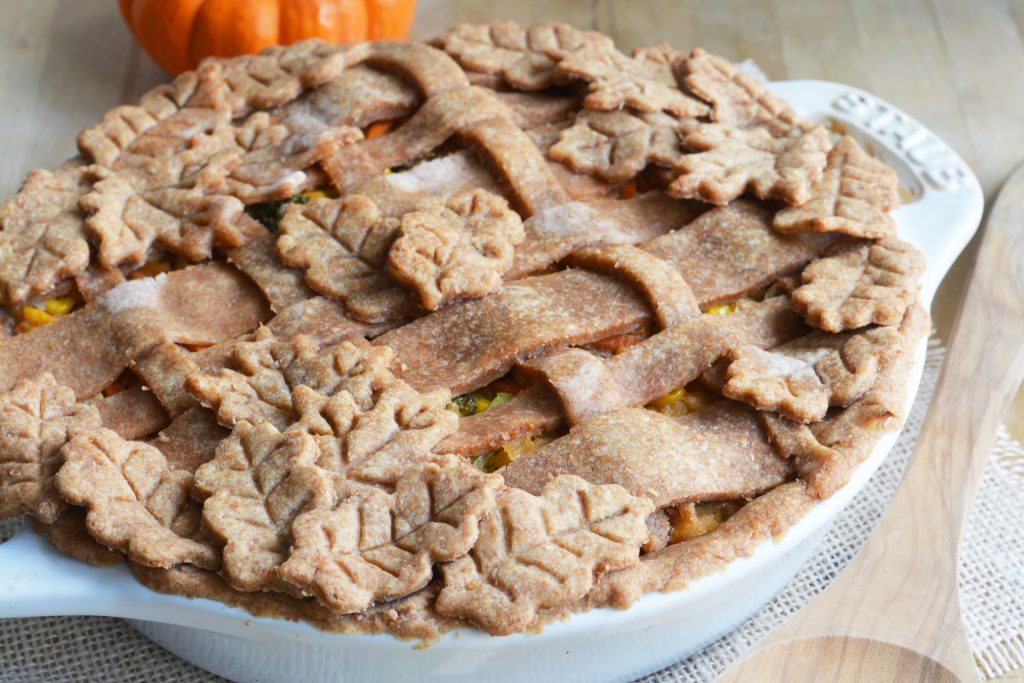 Vegan Chipotle Tempeh & Vegetable Pot Pie
Author:
Ilene Godofsky Moreno
Cuisine:
Thanksgiving, holiday
Ingredients
crust
2 cups spelt flour + extra for sprinkling
⅔ cups vegan butter
¼ cup cold water
dash of salt
filling
1 tablespoon olive oil
1 medium onion, diced
2 cloves garlic, minced
2 cups vegetable broth
3 cups mixed frozen vegetables (see note above)
1 8-ounce package tempeh, crumbled
¼ cup cornstarch
salt and pepper, to taste
Instructions
To prepare the crust, pulse all the ingredients together in a blender or food processor until thoroughly mixed. Roll the dough into a ball, cover it with a towel or plastic wrap, and place it in the refrigerator to chill for at least 20 minutes.
Preheat the oven to 400°. Grease a 9-inch pie dish.
To prepare the filling, heat the olive oil at medium-high in a large pot. Add the onion and garlic, and saute for 5 minutes.
Add the vegetable broth and bring the pot to simmer. Stir in the mixed frozen vegetables, tempeh, Chipotle Fabanaise and cornstarch, and simmer for 10 minutes, stirring occasionally. Season with salt and pepper. Turn the heat off and let the pot sit while you work on the pie crust.
Remove the dough from the refrigerator. Cut the ball in half. Sprinkle extra flour on a clean surface, then use a rolling pin to roll half of the dough out into a circle that's about ⅓" thick. Gently transfer the the rolled out dough to the pie dish. Use your fingers to press it into the dish, removing any extra from the edges.
Gently pour the filling from the pot into the pie dish over the crust. Use a spatula to spread it out evenly.
For the top layer of crust, on a clean surface sprinkled with flour, roll the dough out so it's a ⅓" thick circle. Either use this piece to create a decorative crust (see info above in post) or place the entire piece over the pie, using your fingers to pinch the edges together with the bottom crust and removing excess dough. Use a fork to poke a few holes in the top.
Bake for 25-30 minutes, until the crust is golden brown. Serve warm!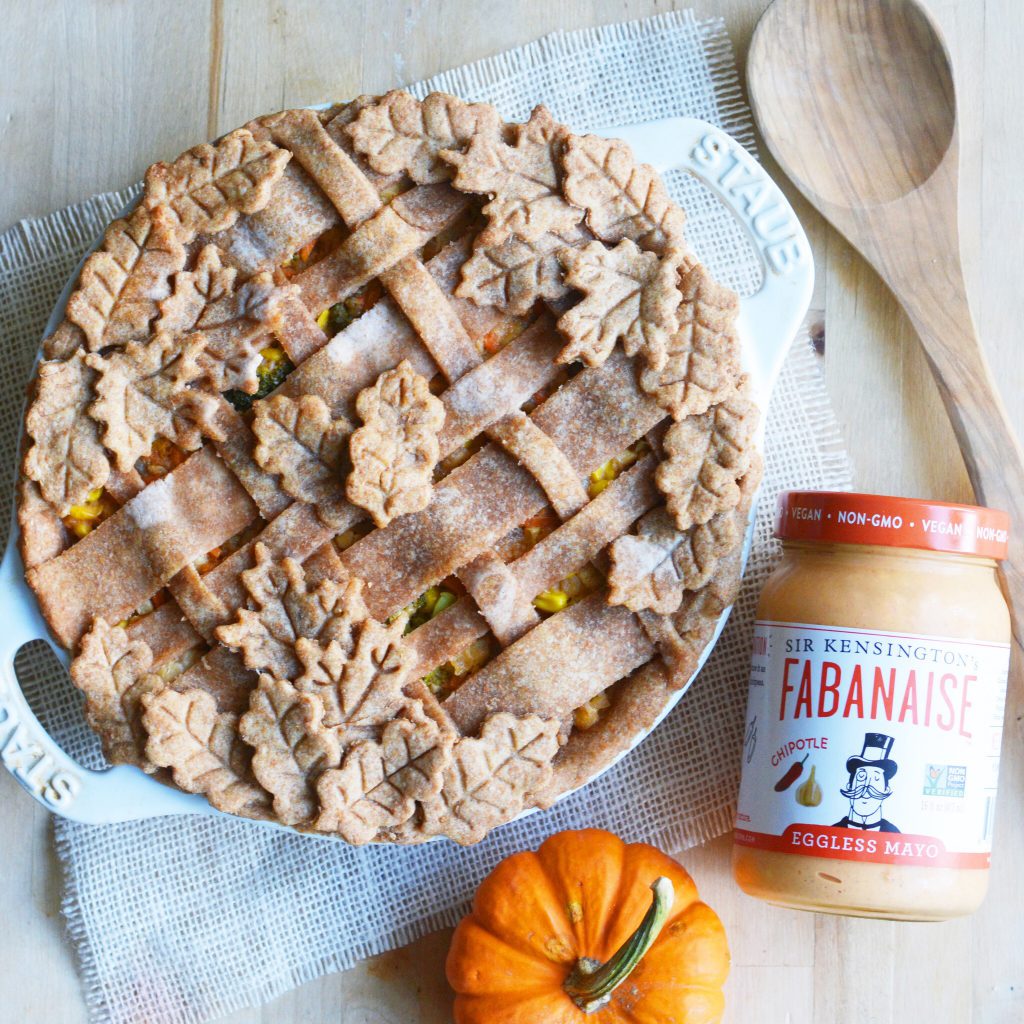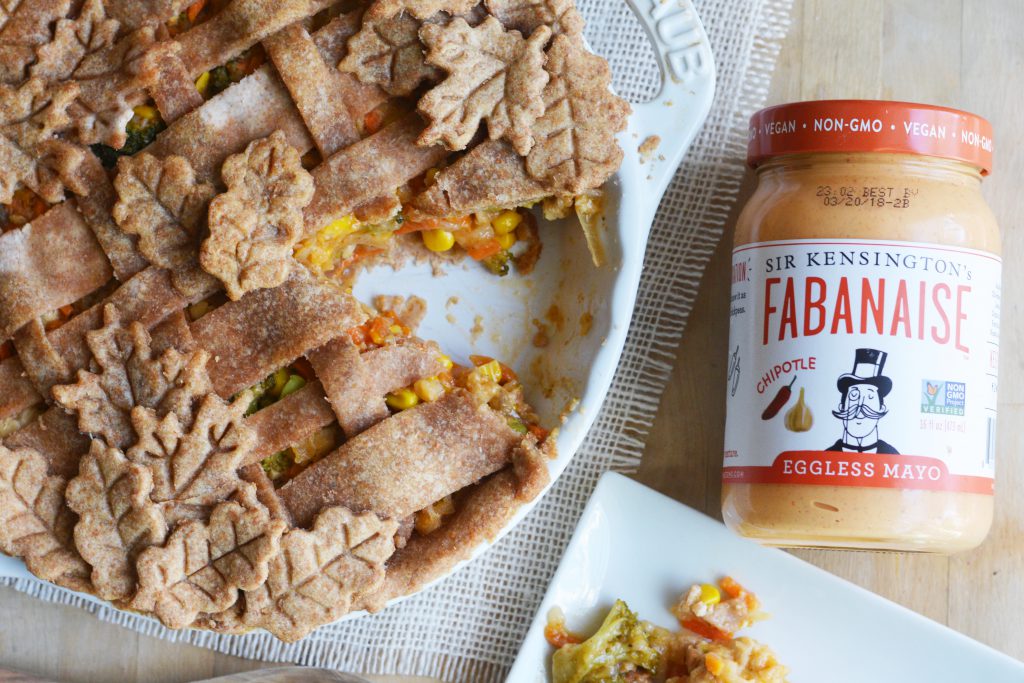 This post was sponsored by Sir Kensington's. All opinions expressed are my own.