Something beyond exciting happened this week. The early copies of my cookbook arrived!! After two years of working on the book, it's totally surreal to finally be able to flip through the pages.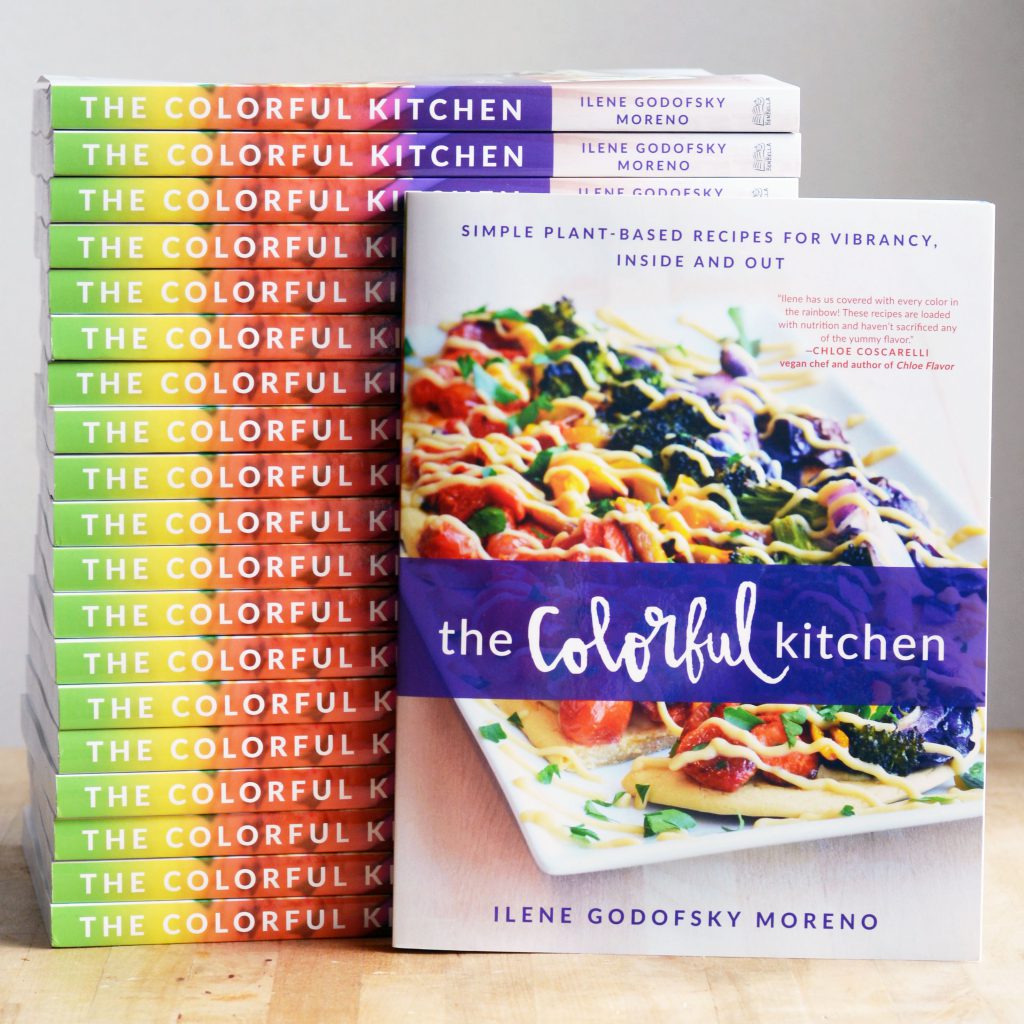 I'm so excited for you to have it in your hands and kitchen, and have the recipes in your bellies in just a few short weeks.
It officially comes out December 12th, but if you preorder it now it will probably be in your mailbox a few days before then and you'll get my holiday recipe ebook (fill out this form after you place your order and the ebook will arrive in your inbox) as a bonus!
Ok, now let's get to today's new recipe, Vegan & Gluten-Free Butternut Squash Oatmeal Cookie Sandwiches. This time of the year, I simply cannot stop putting pumpkin, sweet potato and/or squash in every single think I cook! But really…why would I want to?
What I love about this recipe is how simple and clean the ingredients list is. The roasted butternut squash puree provides so much natural sweetness that the whole batch of cookies is only sweetened with 2 tablespoons of maple syrup! Yes, I did add raisins and chocolate chips which have sugar, but it's a pretty small amount so this recipe still counts as low-in-sugar in my book!
Let me just say that the cookies are fantastic on their own, with or without sandwich cream filling. We actually ate an entire batch before I had the idea to make them into cookie sandwiches, which I only thought of because I happened to have coconut whipped cream in my fridge.
That said, I think turning them into sandwiches makes them extra special for holiday parties, Thanksgiving, Friendsgiving, or Friday night on your couch while watching Netflix.
For the sandwich filling, I used Whole Foods 365 Coconut Whipped Cream (I can't find a link to it, but you'll find it in the dairy aisle at the store!), but I also think cashew cream (blend soaked cashews with a touch of maple syrup) or homemade coconut whipped cream would be super delicious filling options.
One note about the ingredients- the recipe calls for a cup of butternut squash puree. For a quick option, you can use canned, but it's so, so easy to make your own! Simply slice a butternut squash in half, lengthwise, scoop out the seeds, and place it on a baking sheet, flesh side up. Use a fork to poke a few holes in the flesh, then spread a tablespoon of olive oil over everything. Bake at 400°F for 40-60 minutes, until tender. Once it's cool enough to handle, scoop out the flesh and blend it until it's smooth.
Now let's bake these cozy cookies!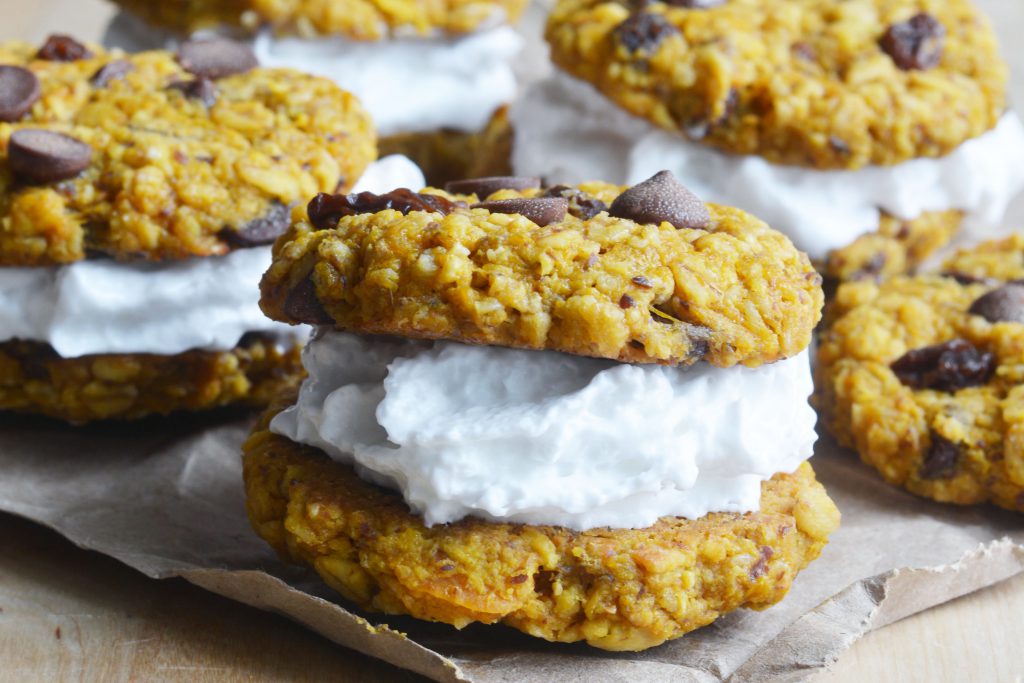 Butternut Squash Oatmeal Cookie Sandwiches, Vegan & Gluten-Free
Author:
Ilene Godofsky Moreno
Cuisine:
vegan, gluten-free
Ingredients
flax "egg"
1 tablespoon ground flaxseed
3 tablespoons warm water
dry
1 cup rolled oats
2 tsp baking powder
½ tsp cinnamon
⅛ teaspoon salt
wet
1 cup butternut squash puree (see note above)
¼ cup coconut oil, melted
2 tablespoons maple syrup
1 teaspoon vanilla extract
fold-in
¼ cup raisins
¼ cup vegan chocolate chips
sandwich filling
vegan whipped cream, cashew cream or coconut cream of your choice
Instructions
Preheat the oven to 350°F. Grease a baking sheet.
Prepare the flax "egg" by stirring the ground flaxseed and water together in a small bowl. Let it sit for 10 minutes before using.
In a large bowl, whisk all the dry ingredients together.
In a small bowl, stir all the wet ingredients together.
Add the contents of the small bowl to the large and stir until everything is mixed. Fold in the raisins and chocolate chips.
Wet your hands and roll 1 heaping tablespoon of batter in a ball. Place the ball on the baking sheet, then use your hands to slightly flatten it. Repeat, until all the batter is used.
Bake for about 18 minutes, until the cookies are golden and the edges are firm.
Remove the cookies from the oven. Transfer them to a cooling rack and let the cool completely.
Once the cookies are cool, layer them with your filling of choice to make sandwiches