With just a little over a week until Thanksgiving, it's time to start figuring out our T-day menus, friends!
Perhaps you're one of those people who starts pinning holiday recipes in October and you already know exactly what you'll be making. Or if you're anything like me, you think about it for months and months but don't actually narrow down the exact menu until right before the big day, leading to tons of stress at the grocery store. OR maybe Thanksgiving hasn't been on your radar at all, and right now you're thinking, "geez, Ilene! I'm just going to grab a tofurky at Whole Foods and call it a day!"
Whichever category you land in, I think you should definitely add today's Vegan & Gluten-Free Roasted Vegetable Stuffed Squash with Maple-Tahini Sauce to your Thanksgiving feast!
The beauty of this recipe is that it is so, so simple, but the presentation makes look incredibly elegant. It follows the perfect fall color palette, and I think it makes the absolute perfect T-day table centerpiece.
All of my favorite fall vegetables are represented in this dish: squash, carrots, beets, brussels sprouts and apples. The apples add such a nice sweetness that perfectly balances the slight bitterness of the brussels.
Since these vegetables are all so naturally full of flavor, I decided to keep things really simple and season them with just salt and pepper. You can also easily add rosemary, thyme and/or sage to amp up the fall flavor (and make your kitchen smell heavenly while everything cooks).
For the rest of your holiday spread, have you gotten your copy of my Holiday Season ebook yet? It's a totally free bonus that will be sent straight to your inbox (simply fill out this form) when you preorder my cookbook!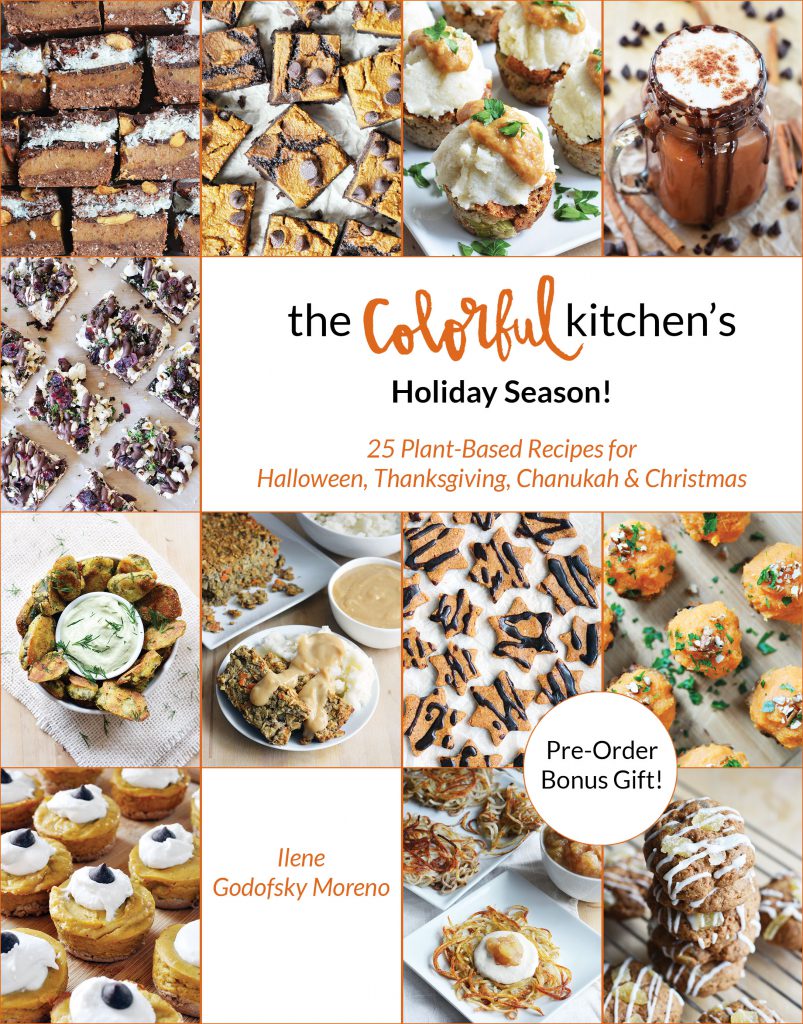 Inside the ebook you'll find all these Thanksgiving recipes:
Healthy Vegan Chocolate Pumpkin Spice Latte
Rosemary Skillet Cornbread
Smoky Maple Roasted Brussels Sprouts
Stuffing Muffins
Easy Mashed Potatoes
5-Minute Gravy
Apple-Cranberry Stuffing Muffins
Harvest Butternut Squash & Apple Burgers
Pumpkin Pie Bites
Click here to preorder The Colorful Kitchen and get the bonus Holiday Season ebook.
Now that we've got the rest of our menu, let's get to the stuffed squash recipe!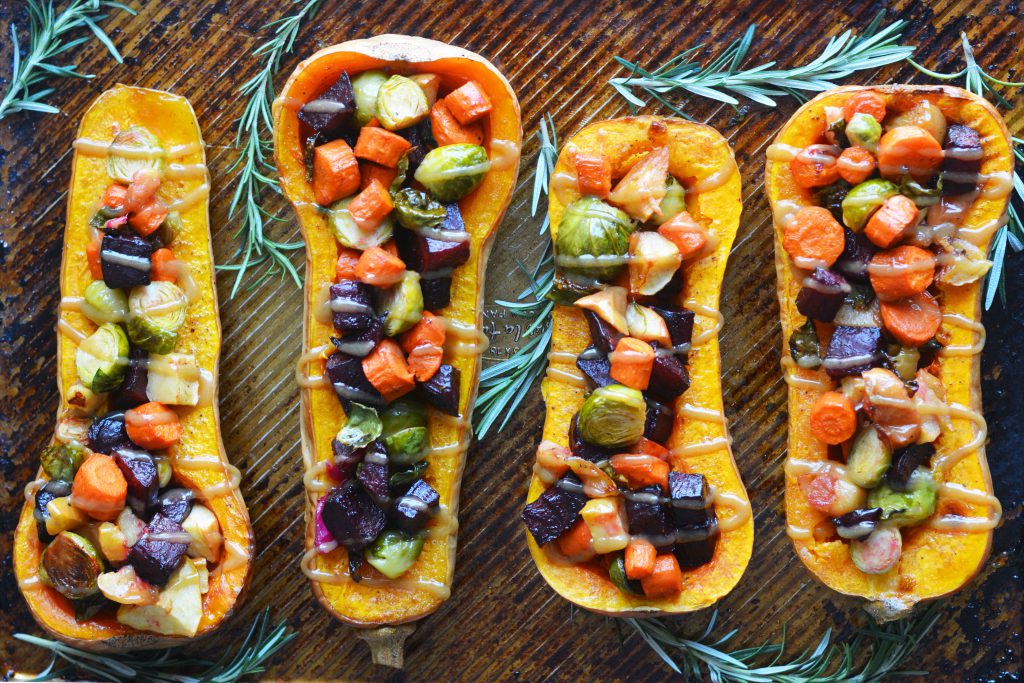 Roasted Vegetable Stuffed Squash with Maple-Tahini Sauce, Vegan & Gluten-Free Thanksgiving
Author:
Ilene Godofsky Moreno
Cuisine:
vegan, gluten-free
Ingredients
vegetables
2 medium butternut squashes
2 tablespoons olive oil, divided
2 beets, peeled and cut into ½" cubes
2 apples, cut into ½" cubes
2 cups carrots, chopped into ½" pieces
2 cups brussels sprouts, ends trimmed off and sliced in half
salt and pepper, to taste
maple-tahini sauce
2 tablespoons maple syrup
2 tablespoons tahini
water, added as needed to thin
Instructions
Preheat the oven to 400°F. Set out two baking sheets.
To prepare the squash, slice them in half and scoop out the seeds. Place the halves on a baking sheet, flesh side up, and use a fork to poke a few holes in each. Drizzle 1 tablespoon of olive oil on top. Bake for 40-60 minutes, until very tender.
Once the squash is in the oven, prepare the rest of the vegetables by placing them in a large bowl and tossing them with 1 tablespoon of olive oil and salt and pepper, to taste. Spread the vegetables out on the second baking sheet. Bake for 40 minutes, using a spatula to flip the veggies halfway.
While the vegetable cook, prepare the sauce by stirring the maple syrup and tahini together in a small bowl or cup. If needed, add a teaspoon or two of water to thin. Set aside.
When the squash is done roasting, use a spoon to scoop out some of the center flesh, so that a border about ½" - 1" remains. Save the scooped out flesh for another use (maybe these cookies?).
To serve, fill the scooped out squash halves with the roasted vegetables. Drizzle the maple-tahini sauce on top and enjoy!