Lately, I've been adding butternut squash to just about everything.
I'm a fan of all types of squash, and I've always said that kabocha is my favorite variety, but something about butternut seems very Thanksgiving-y to me. And these days, Thanksgiving is the name of the game!
Today's Vegan & Gluten-Free Butternut Squash Pizza is a seasonal sweet and savory dish that's simple enough for a weeknight dinner, but delicious (and fun) enough to earn a spot on your Thanksgiving spread.
I'm all about the variety of textures in this pizza, from the creamy pureed squash "sauce" to the crunchy walnuts and melty mozzarella. There's also such a nice balance between the sweet squash, slightly spicy arugula and tangy/sweet balsamic glaze.
For simplicity's sake, I used this gluten-free pizza crust mix for the crust. For the cheese, I used this shredded vegan mozzarella but I also think this fresh vegan mozzarella would be amazing. I usually make my own balsamic glaze but this time I used store-bought (have I mentioned how crazy life is with a 14-month old in the house?).
For the pureed butternut squash, you can definitely use canned, but it's so, so easy to make your own! Simply slice a butternut squash in half, lengthwise, scoop out the seeds, and place it on a baking sheet, flesh side up. Use a fork to poke a few holes in the flesh, then spread a tablespoon of olive oil over everything. Bake at 400°F for 40-60 minutes, until tender. Once it's cool enough to handle, scoop out the flesh and blend it until it's smooth.
Vegan & Gluten-Free Butternut Squash Pizza
Author:
Ilene Godofsky Moreno
Cuisine:
vegan, gluten-free
Ingredients
pizza crust of your choice (about 16")
squash mash
1 cup butternut squash puree
1 tablespoon olive oil
salt and pepper, to taste
toppings
1 tablespoon olive oil
1 medium red onion, sliced
2 cloves garlic, minced
1 cup arugula
½ cup shredded vegan mozzarella cheese
garnish
2 tablespoons chopped walnuts
2 tablespoons balsamic glaze
salt and pepper, to taste
Instructions
If your crust of choice requires it, pre-bake the crust.
Preheat the oven to 400°F.
Prepare the butternut squash layer by stirring the squash puree together with the olive oil, salt and pepper in a small bowl. Set aside.
Prepare the onions and garlic by heating 1 tablespoon of olive oil in a medium-sized pan at medium-high heat. Add the onion and garlic, and sautee until lightly browned, about 5-7 minutes.
Use a spatula or spoon to spread the squash over the crust. Add the sauteed onion and garlic on top, then sprinkle the cheese over everything.
Bake for about 10 minutes, until the cheese is melted.
Remove the pizza from the oven and top with walnuts, drizzle the balsamic glaze on top, and sprinkle with salt and pepper. Slice and serve hot!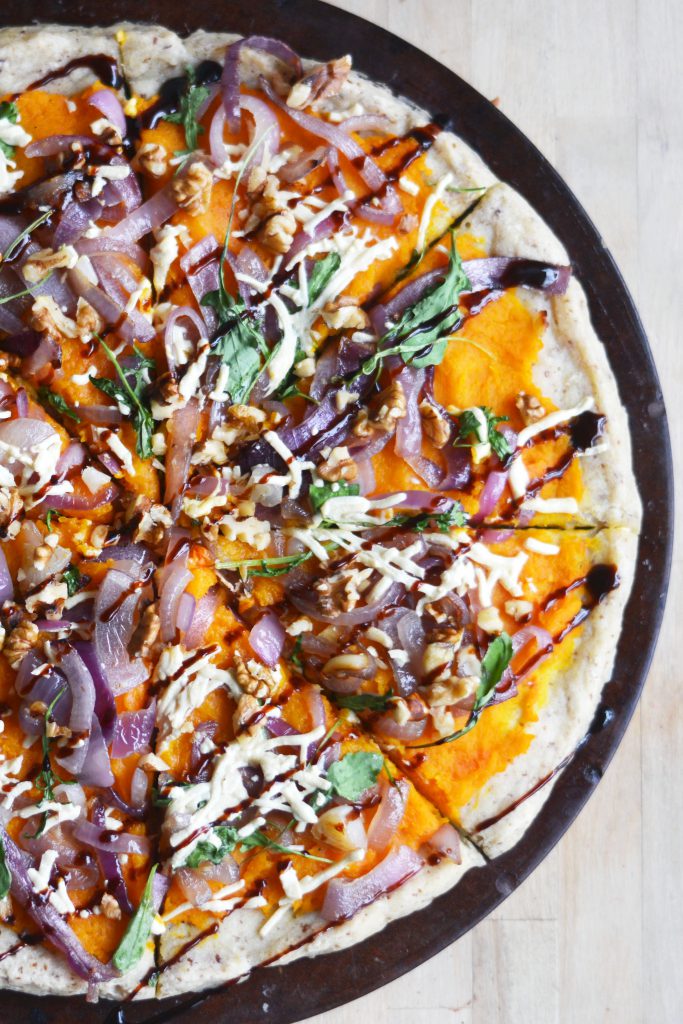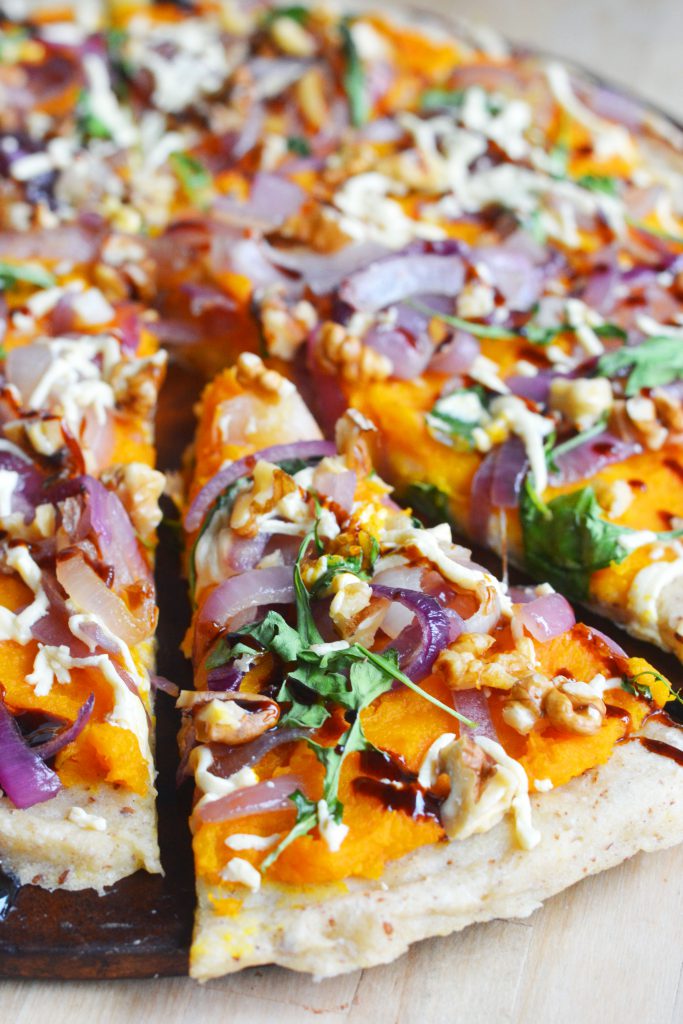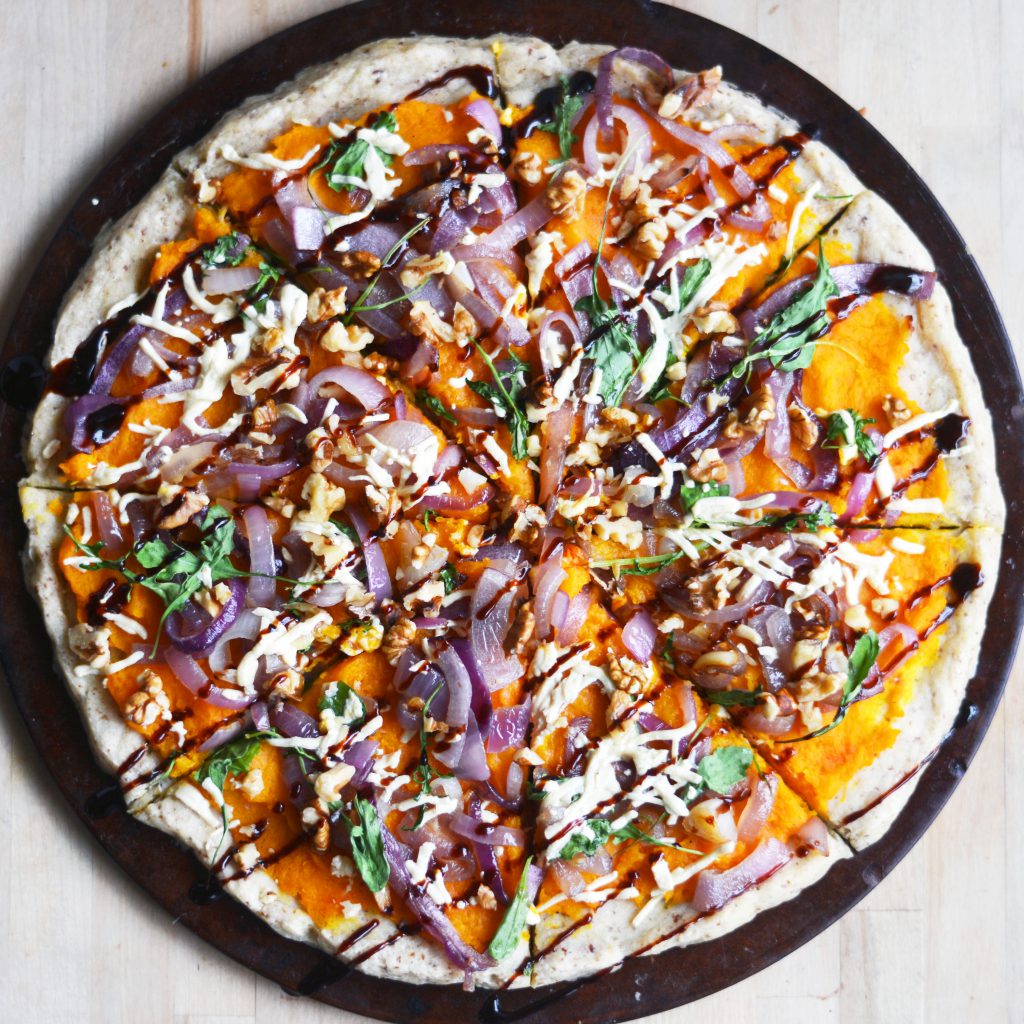 Have you gotten your copy of my Holiday Season ebook yet? It's a totally free bonus that will be sent straight to your inbox (simply fill out this form) when you preorder my cookbook!