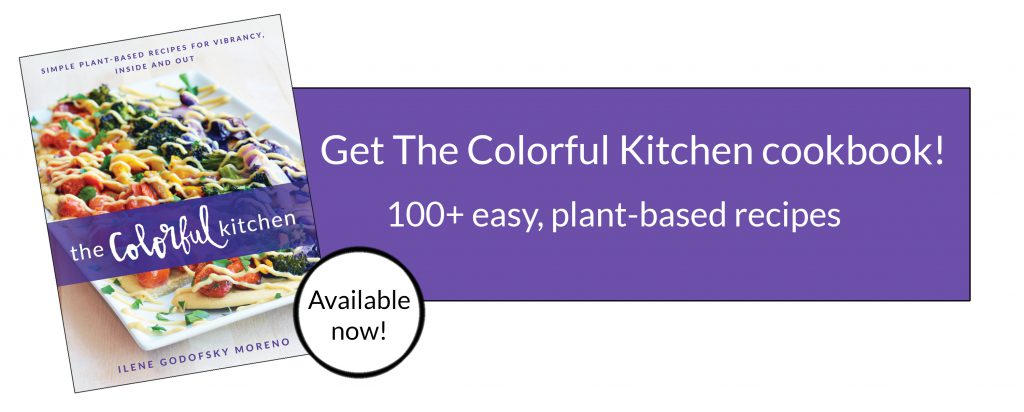 Lately, I've been receiving a ton of questions about Baby V's diet. She's now 16-months-old (how the time flies!), and while I'm certainly no expert in baby and toddler eating (really, who is? Their tastes change so frequently!), I think that sharing our experiences as parents is so valuable. Today's post will cover how we introduced Baby V to solid food, what she currently eats as a toddler and I'll address the question I receive most frequently: Is Baby V vegan?
*The following is not intended as medical or nutritional advice. My intention is simply to share what works for our family! It's also definitely not meant to be judgmental towards families who consume animal products. Vegans and omnivores alike can all benefit from eating more plants!*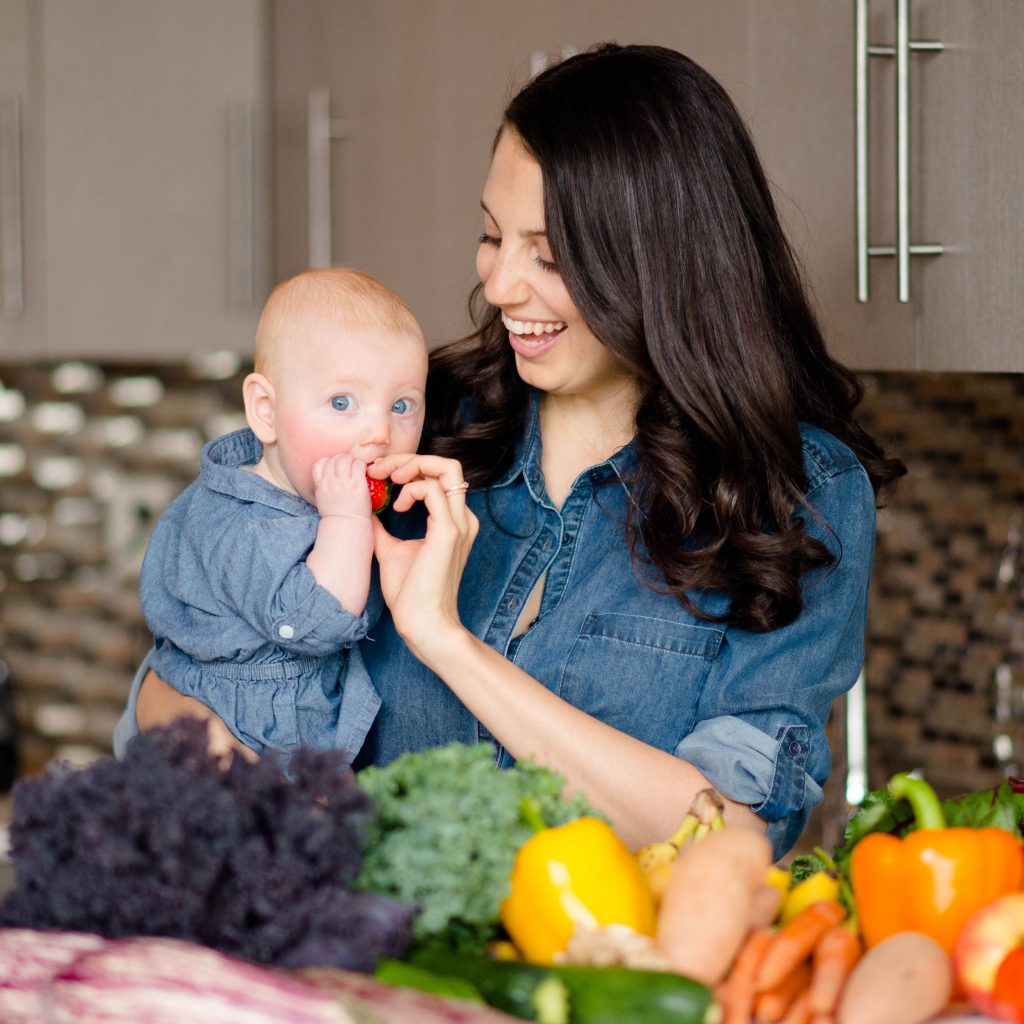 ---
Is Baby V Vegan?
This is the top question that Ross and I get from friends, family members and blog readers. A lot of people seem to be looking for a scandalous answer, but the simple truth is that V eats what we eat…and we eat vegan food! As she gets older, I plan to explain to her why I choose not to eat animal products (there are so many great resources out there like this cute book) and let her make her own decisions about what she wants to eat.
I certainly hope she'll want to join me in following a plant-based diet, but I'll be accepting of her decisions no matter what. I never want her to feel shame around food or feel like she needs to lie to me. I want to do everything I can to help her foster a healthy relationship with food.
Another question I often receive is how I handle other people's opinions of my family's plant-based diet. Many people have told me that they have family members who are concerned about the health of their baby or insist that babies need meat or cow's milk.
Well, I've been plant-based for over a decade now so most of the people close to me are more than used to the way I eat, and I'm really fortunate to have a great support system. I actually haven't received much first hand criticism about Baby V's diet, but I definitely have been on the received end of uneducated negative comments about how a baby simply will not grow without eating cheese or yogurt or meatballs or whatever that person thinks babies need. When comments like this come my way, I simply say, take a look at us! We're healthy, Baby V's pediatrician agrees that she's healthy and is in complete support of our diet, and Baby V is clearly growing and developing normally.
One of the most important things we did was choose a pediatrician who understands what a plant-based diet actually entails and is supportive of it. It's 2018, people! There's so much science-based evidence about the health benefits of a plant-based diet, but somehow many medical professionals still seem to be stuck in the dark ages. When we see our pediatrician, she asks informed questions about V's diet, like if she's eating protein-rich foods like lentils, beans and nuts, etc. Having that support has been essential.
---
So she doesn't drink cow's milk?
The second most common question I receive is what do we give her instead of cow's milk? Well, I'm of the opinion that cow's milk is for baby cows, not baby humans.
At 16 months, Baby V is still breastfeeding and she gets many nutrients that way. The reason that babies and toddlers are given cow's milk is that it's an easy way to get calcium, Vitamin D, protein and fat in, but a plant-filled, balanced diet can easily provide all of those nutrients.
Baby V drinks various plant-based milks in a sippy cup (almond is her favorite), and I think it's become somewhat of a comfort thing as she begins to nurse less and eat more. I make homemade almond milk and also give her vitamin-fortified almond, cashew and coconut milk.
---
Baby V's First Foods
Seeing the world through 
my
 Baby V's eyes has been one of the most magical, eye-opening experiences…especially when it comes to food! Around the time she turned six months old, 
Baby
 V started becoming fascinated with 
what
 was on Ross's and 
my
 plates, and we knew she was ready to start trying solid foods.
During the first month, I spent hours and hours reading theories on 
what
 a 
baby
's first food should be (there are many schools of thought), and much time pureeing bland concoctions that she often refused. Between doing this, breastfeeding her, and cooking for 
my
 husband and myself, I felt like I was catering an all-day event, every single day.
Eventually a lightbulb went off in 
my
 head- since she's always the most interested in 
what
 we're eating, shouldn't she just eat 
what
 we eat? There's a concept called "
baby
 led weaning" which basically means that you introduce your 
baby
 to solids by letting them self-feed with finger foods, as opposed to spoon-feeding them purees. The intuitive nature of this method really intrigued me.
Instead of blending and mashing her food at every meal, I started giving 
Baby
 V bite-size pieces of soft foods, like sweet potato, banana and avocado, and she immediately loved it. At first, most of the food ended up on the floor, but with more and more practice, her fine motor skills started to improve. Every meal was still a mess, but more is started ending up in her belly and she started getting such a proud look on her face when she finished a meal!
By giving her finger foods, she learned to chew (something that many adults don't do properly!), and she has control over of the pace of the meal and how much she 
eats
. My hope is that by giving her autonomy over 
what
 she 
eats
 at a young age, she'll naturally learn to listen to her body, know when she's hungry and full, and develop a healthy relationship with food.
---
Her Daily Meals as a Toddler
If there's one thing I've learned as a mama, it's that as soon as you think you have something figured out, the baby will go ahead and switch things up. This applies to her sleep and nap schedule, the toys she likes, the games she thinks are funny and of course, food.
The following is a list of foods that are in Baby V's usual rotation. Like I said above, she eats what we eat so if we're having a stew that I'm recipe testing- so is she! I do like to keep things simple with a few staple meals, and the food you see below reflects that.
Breakfast
Lunch
Dinner
Snacks
I also want to note that Baby V is as fickle as the next toddler. Some days it seems like she's a bottomless pit and eats more food than I do, and other days she refuses all of her meals and only wants to breastfeed. I try my to stay in tune with what she wants, and not stress or get frustrated if she doesn't want to eat. Every day is truly different with her!
---
I hope this list helped give you some ideas! I'm always looking for new foods for her to try, so please leave a comment with  your toddler's favorite food below!
And if you have any further questions or things you'd like me to include in a follow up post, please let me know!