If you follow me on Instagram, you know that I'm a big fan of grilled sandwiches.
I even have a little tradition called "Saturday stacks", which is when I go to the gym on Saturday morning then come back super hungry and make giant sandwiches for myself and Ross.
Even though I post photos of my sammies all the time, I haven't shared many sandwich recipes here on the blog. Usually my sandwiches are some variation of the template outlined in this post, but every once in a while I come up with a combination I just can't get enough of.
Today's Vegan Balsamic Grilled Cheese Sandwich is exactly that.
I believe the magic of this sandwich lies in it's sweet+ salty nature. The roasted sweet potatoes and balsamic reduction are perfectly balanced out by the salty cheese and slightly bitter greens. Made with only a handful of ingredients, biting into it is basically pure heaven.
To make lunch a breeze, I like to roast a big batch of the sweet potato slices ahead of time when I happen to have the oven on for something else I'm cooking. Then I'll keep the slices in the fridge for 5ish days, so I have an easy lunch option ready to be grilled up. Don't be intimidated by the long cooking time in the recipe. If your sweet potatoes are prepped it only takes 5-10 minutes to make!
The recipe says to use a panini press to grill the sandwich. I'll admit, I don't actually have a real panini press, but I do have an old Foreman Grill that I found in my Uncle's basement that gets the job done just fine. I did list this panini press in my gift guide, and even marked it with a "wink wink" for Ross, but sadly there was no panini press for me under the Chanukah tree this year.
You can also easily grill up this sandwich in a pan on the stove. Simply place a heavy object (like a tea kettle) to weigh it down.
Ok, let's get grilling!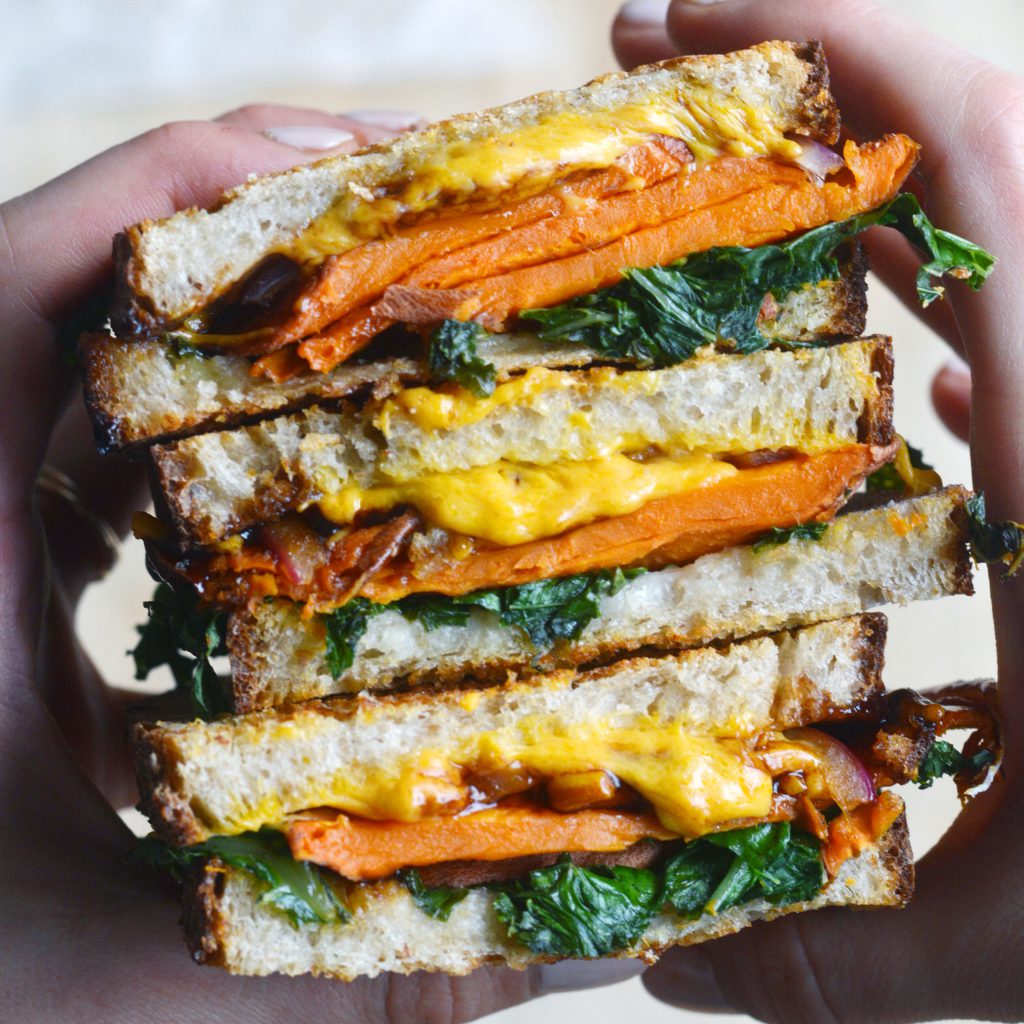 Vegan Balsamic Sweet Potato Grilled Cheese
Author:
Ilene Godofsky Moreno
Ingredients
1 medium sweet potato
2 teaspoons coconut oil, melted
4 slices bread of your choice
2 tablespoons vegan mayonaise
handful of greens
½ red onion, sliced
2 tablespoons balsamic reduction
¼ cup shredded vegan cheddar
Instructions
Preheat the oven to 400°.
Scrub the sweet potato, then use a knife to cut thin slices that are ¼"- ½" thick. In a large bowl, toss the slices with the coconut oil. Spread the slices out on a baking sheet. Bake for 30-40 minutes (flipping halfway), until the slices are lightly browned.
Preheat the panini press (see above for alternatives).
To assemble the sandwiches, lay four slices of bread out on a cutting board. Spread the vegan mayo on the bread. Add greens to two of the pieces of bread.
Layer the sweet potato slices over the greens. Next, add the and red onion. Drizzle the balsamic reduction over everything. Sprinkle the vegan cheese on top, then top with the other two slices of bread.
Gently transfer the sandwiches to the panini press. Grill until the cheese is melted. Transfer the sandwiches back to the cutting board and slice them in half before serving.