If you keep up with me on Instagram, chances are you've heard me talk about my favorite takeout meal.
Sage, a Thai restaurant in my neighborhood, makes a dish that's been my go-to delivery order for years. I can't totally explain what it is about their Coconut Curry Noodle Soup, that I love so much, but I think the magic is in the broth, which is super rich but also packed with flavor and spice. Plus it's loaded with fresh veggies, tofu rice noodles, so it's even though it's hearty, it still feels light.
Every time I post a photo of the soup on Instagram, I get messages from bunch of folks saying that they've tried the soup and love it too (yay!), and a bunch of folks saying they'd love to try to soup but don't live in New York. A few people have actually requested that I share a homemade replica recipe of the soup, which I'm finally doing today!
I'm super excited to share my Vegan & Gluten-Free Coconut Curry Noodle Soup Takeout Copycat recipe. I'm definitely no expert in Thai cuisine, but my spin on this dish has all the comfy, cozy qualities of the original  soup, but with a surprisingly simple ingredient list.
It's the perfect meal to make for nights when you want something easy and fresh that's still filling and warming. I kept my broth really simple and used a combination of full-fat coconut milk, vegetable broth and red curry paste, which doesn't take exactly like Sage's original broth, but it's super easy to make, plus it's pretty darn delicious.
For the vegetables, I used carrots, broccoli, and baby bok choy because they're in the original dish. You definitely don't have to stick to these veggies though! I think mushrooms, zucchini, potatoes and eggplant would all be perfect in the soup. Feel free to get creative with what vegetables you add, and let me know what combinations you come up with that I should try!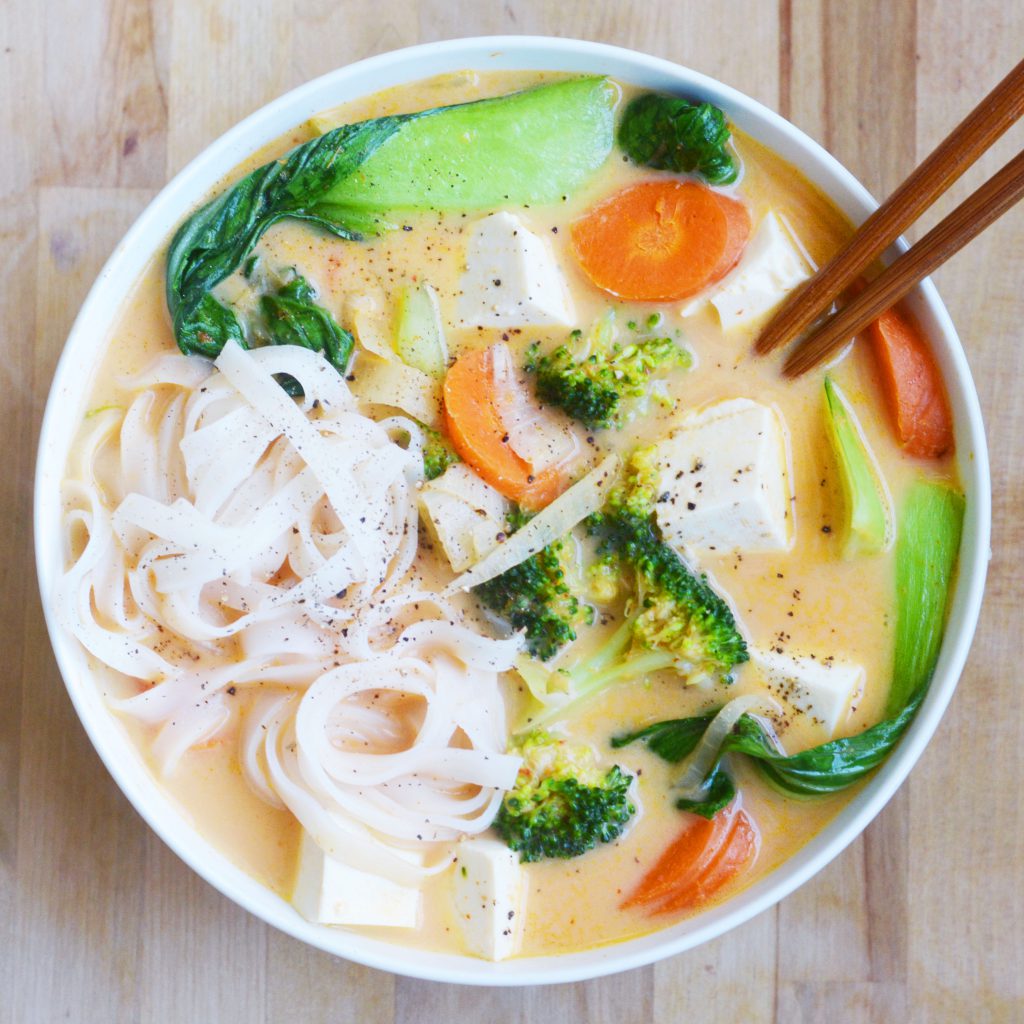 Coconut Curry Noodle Soup- My Favorite Takeout Copycat! Vegan + Gluten-Free
Author:
Ilene Godofsky Moreno
Recipe type:
soup, entree
Cuisine:
vegan, gluten-free
Ingredients
4 portions of rice noodles of your choice
1 tablespoon coconut oil
1 medium yellow onion, sliced
3 cloves garlic, minced
1 tablespoon minced ginger
1(13.5 oz) can full-fat coconut milk
2 cups vegetable broth
2 tablespoons red curry paste
2 large carrots, sliced into thin rounds
2 bunches baby bok choy
2 cups broccoli florets
1 (14-oz) block extra firm tofu, cubed
tamari, to taste
salt and pepper to taste
Instructions
Prepare the noodles according to instructions on package.
In a large pot, heat the coconut oil at medium-high. Add the onion, garlic and ginger and sauté until the onions are translucent (about 5-7 minutes).
Add the coconut milk and vegetable broth and bring to a boil. Stir in the curry paste.
Add the carrots and simmer for 5 minutes. Add broccoli, and simmer another 3 minutes. Add the bok choy and tofu, and simmer for 2 more minutes.
Season with the tamari, salt and pepper, to taste.
Transfer to bowls, add a serving of noodles to each bowl, and enjoy!