Is there anything better than the perfect fluffy pancake? Maybe the perfect fluffy pancake stuffed with chocolate and topped with maple peanut butter syrup.
This year for Valentine's Day, I'm foregoing the traditional heart-shaped chocolates in honor of what I'm really craving- pancakes!
Today's Vegan Spelt Fluffy Chocolate Chunk Pancakes with Maple Peanut Butter Syrup seriously taste as delicious as they look. I think they make the perfect Valentine's breakfast-in-bed meal (hi, Ross!) or as part of a Galentine's Day breakfast-for-dinner/slumber party night in.
The recipe is super simple, and while it does call for chocolate chunks (which I love because the chocolate is really in-you-face, in a good way), you can easily swap in regular chocolate chips or even fruit if you're not feeling the chocolate vibe. The maple peanut butter syrup also couldn't be simpler- it's just equal parts maple syrup and peanut butter! If you haven't mixed the two together, you need to give it a try ASAP. It's magical!
I've been working on the perfect spelt pancake recipe for a while, and I'm really excited to hear what you think about it!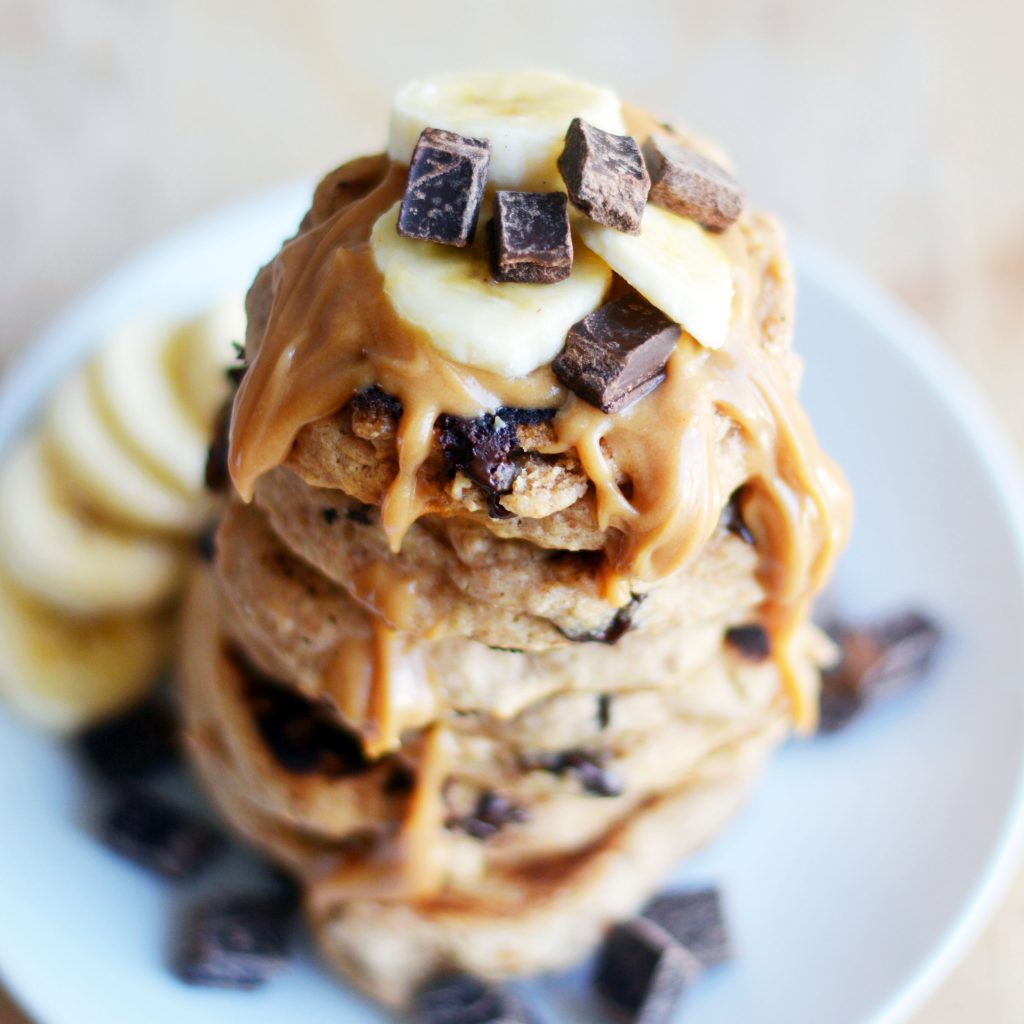 Vegan Spelt Fluffy Chocolate Chunk Pancakes with Maple Peanut Butter Syrup
Author:
Ilene Godofsky Moreno
Recipe type:
breakfast, brunch
Ingredients
dry
2 cups spelt flour
1½ tablespoons baking powder
⅛ teaspoon salt
wet
1½ cup nondairy milk
¼ cup coconut oil, melted + plus extra for griddle
2 tablespoons coconut sugar
1 teaspoon apple cider vinegar
fold-in
handful of chocolate chunks
Maple Peanut Butter Sauce
¼ cup maple syrup
¼ cup creamy peanut butter
Instructions
In a large bowl, whisk together the spelt flour, baking powder and salt.
All of the wet ingredients and stir until smooth. Fold in the chocolate chips.
Heat a griddle on the stove at medium-heat. Add enough coconut oil to coat (start a teaspoon), then spoon ¼ cup of batter onto griddle (the amount of pancakes you can cook at once will vary depending on the size of your griddle).
Cook until the middle of the pancakes start to bubble and the bottoms are lightly browned. Use a spatula to flip the pancakes, then continue to cook until both sides are lightly browned. Repeat until all the batter is used.
While the pancakes cook, make the maple peanut butter syrup by stirring the maple syrup and peanut butter together in a small bowl until smooth.
Serve warm, with the maple peanut butter sauce drizzled over the pancakes.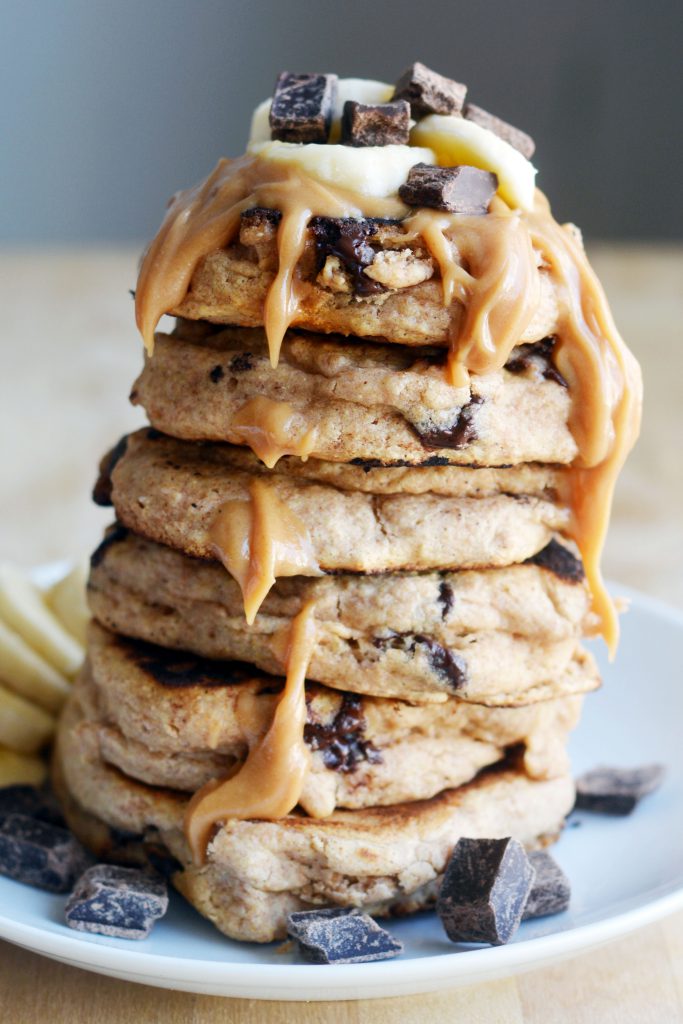 Also, here a few other Valentine's Day recipes from years past…
Vegan White Chocolate & Strawberry Cookies– I forgot how much I LOVE these babies! They use vegan white chocolate chips, which really blew my mind when I first tried them!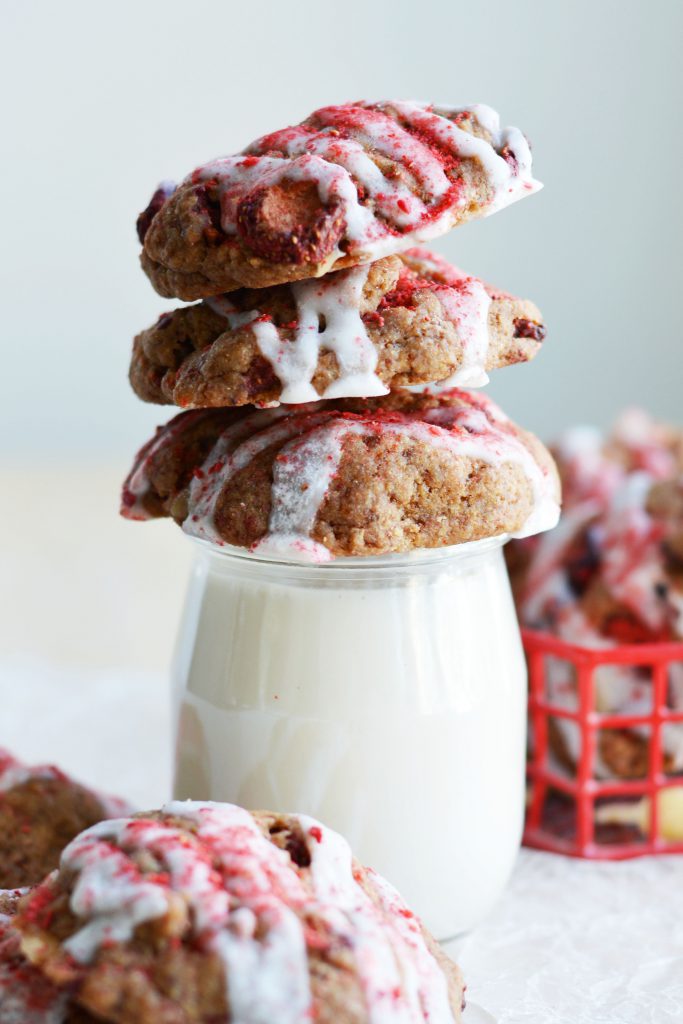 Raw Chocolate Fudge Hearts -These are a great option if you don't want to give your sweetie too much sugar.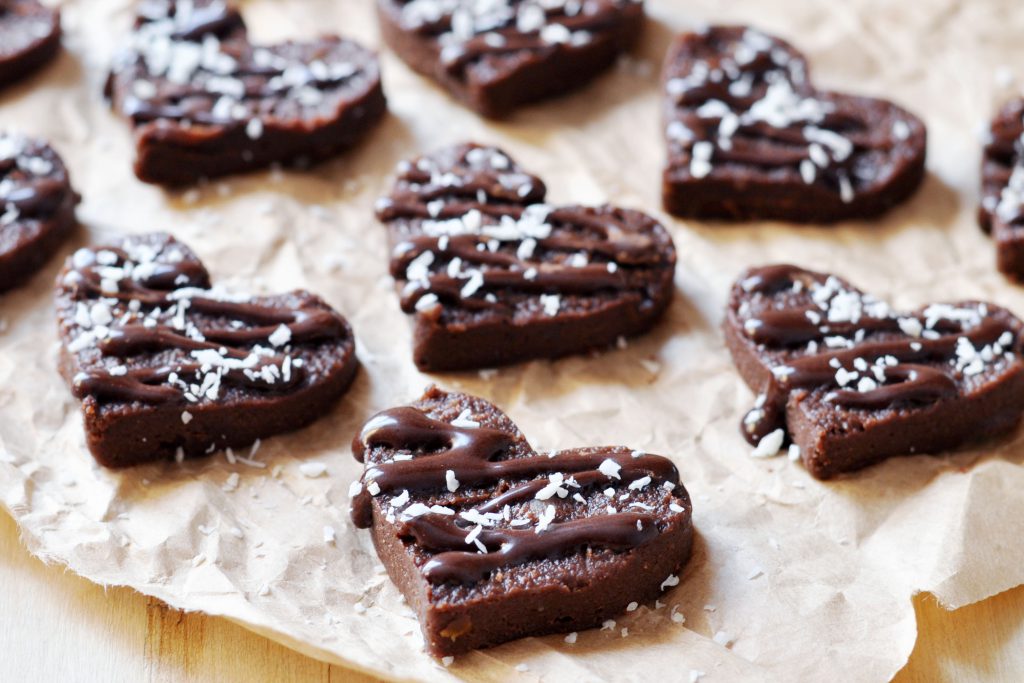 3-Ingredient Chocolate Mousse– Yep, only 3 ingredients! Thank you coconut milk for making this magic happen.