Today's recipe is a real sleeper. No really, these babies are designed to make you sleepy!
For the past six months or so, I've been ending my day with a warm mug of Four Sigmatic Reishi Mushroom Hot Cacao. It's basically a hot chocolate mix that has reishi mushroom powder in it, which is a type of medicinal mushroom that's known to help you relax and promote better sleep. I've heard of people loving reishi for a variety of reasons, like it strengthens their immune system or calms their anxiety, but I've personally fallen in love with it because it helps me fall asleep and stay asleep.
The Four Sigmatic Reishi packets are super convenient because all you have to do is add hot water, but as a daily habit, they're really not the most economical way to get your sleep on, so I decided to order straight reishi mushroom powder and make my own hot cocoa recipe! I've been tweaking that recipe for a bit, and I'm excited to share it with you soon, but today I'm going to share another delicious way that I've incorporated reishi into my nightly routine.
Today's Vegan & Gluten-Free No-Bake Chocolate-Peanut Butter Reishi Balls are a beyond-simple treat that I've been loving as chill-out dessert. The flavors of peanut butter, chocolate and coconut 100% mask the flavor of the reishi powder, so don't worry- these balls absolutely do not taste like mushrooms!
You might not think that Valentine's Day is the most timely holiday for sharing a recipe that will make you sleepy, but as the mama of a toddler who wakes up at 5am every. single. day. there's nothing more romantic to me right now than a good night's sleep!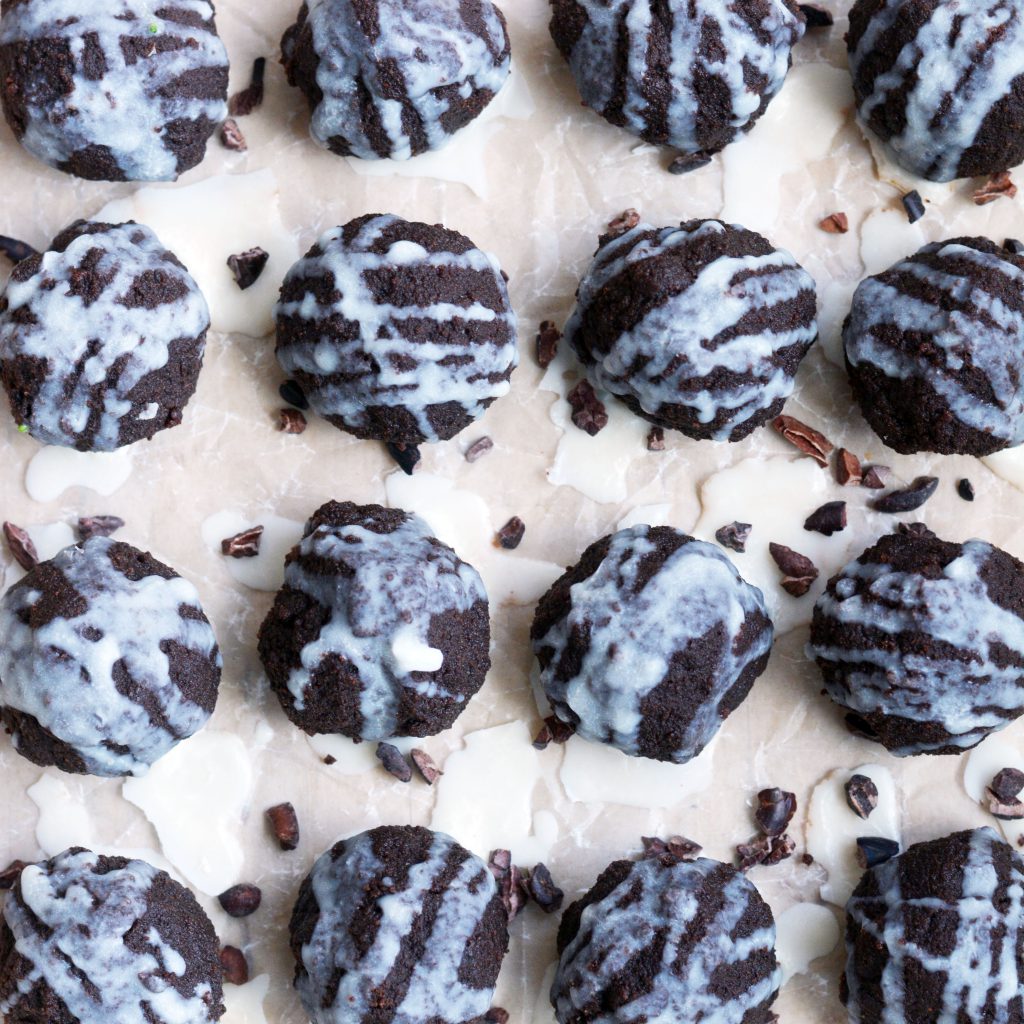 No-Bake Chocolate-Peanut Butter Reishi Balls, Vegan & Gluten-Free
Ingredients
1 cup creamy peanut butter (or your favorite nut butter)
½ cup cacao powder
12 pitted medjool dates (soak in hot water for 5 minutes if not soft)
¼ cup + 2 tablespoons coconut oil, melted
¼ cup maple syrup
1 tablespoon reishi powder
⅛ teaspoon sea salt
optional- 2 tablespoons cacao nibs
drizzle
2 tablespoons coconut butter, melted
Instructions
Line a baking sheet with parchment paper.
Combine the cacao powder, dates, coconut oil, maple syrup, reishi powder and salt in a blender or food processor and blend until mostly smooth.
Transfer the batter to a bowl. Stir in the cacao nibs if you want to add a crunchy texture.
Wet your hands roll a tablespoon of the batter into a ball. Place in on the baking sheet. Repeat, until all of the batter is used.
Place the baking sheet in the refrigerator so the balls can firm up (about 30 minutes).
Remove the baking sheet from the refrigerator. Drizzle the coconut butter over the balls. Return the baking sheet to the refrigerator for 5 minutes so the coconut butter can harden. Once it hardens, transfer the balls to an airtight container and store in the fridge.