After graduating from art school and working in textile design for a few years, I decided to pursue my dream of helping the world eat more veggies. I 2013 I enrolled at the Institute for Integrative Nutrition to become a health coach.
There's so much I could say about my experience at IIN- from joining a supportive, like-minded community to learning from some truly awesome speakers (Dr. Andrew Weil and David Wolfe to name a couple of my favorites!) it's been an absolutely life changing experience.
I was lucky to be a part of the Health Coach Training Diary Series where the school's camera crew checked in with me throughout the program. Click below to check out the videos!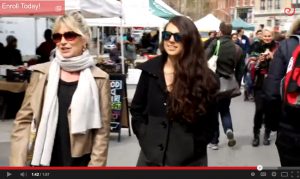 Curious to learn more about health coaching? Learn more about the school here and feel free to get in touch with me any questions! As an ambassador to IIN I'm happy to chat about my experience plus you can get a tuition discount when you mention my name.
Here are a few resources to get you started: