Already a member? Click here to log in.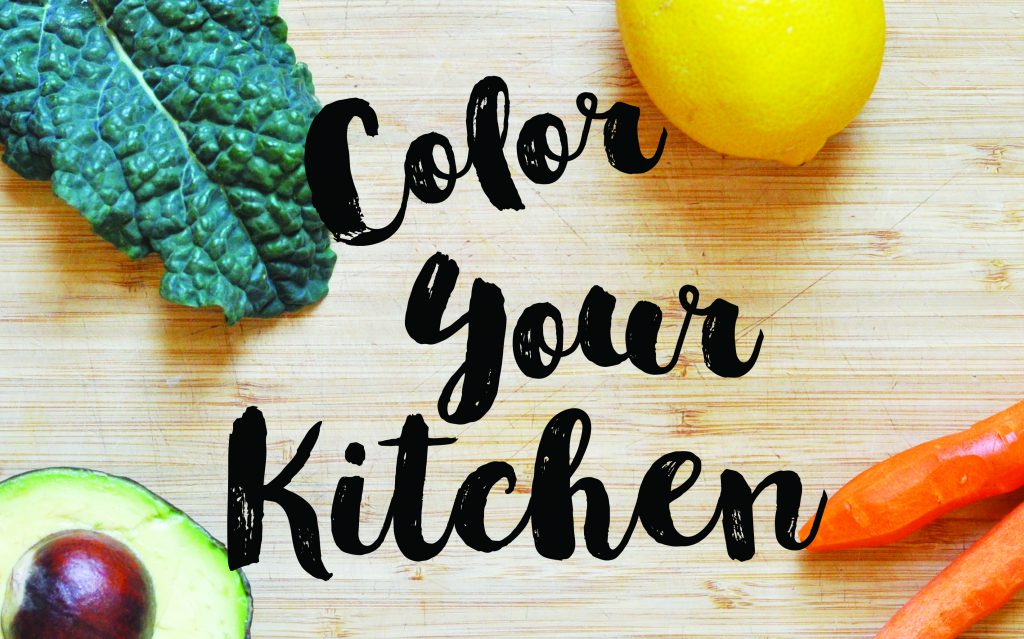 You love eating healthy food…when someone else makes dinner.
Eight years ago I began experimenting with a plant-based diet and I immediately fell in love with how great it made me feel. The salad bar at Whole Foods became my best friend and I loved going out to restaurants where I could order meals full of fresh veggies.
Unfortunately at home things were more difficult. I loved the food I was eating but I hated spending endless hours in the kitchen preparing each meal. I felt completely overwhelmed trying to follow plant-based recipes that had huge ingredient lists (many of which I had never heard of) and planning for each meal became a serious chore.
After much trial and error (and some really blah dishes) I realized that I didn't need fancy kitchen equipment or exotic ingredients put together a great meal. The best part of plant-based cooking is that plants (fruits, veggies, grains, nuts, etc.) are naturally full of flavor! Once I embraced the idea that the hardest part was already done for me (thanks mama nature!) I was able to teach myself to make healthy, easy (and totally delicious) food that's colorful, not complicated.
Colorful, not complicated.
Nowadays the kitchen is my happy place. Let's make it yours too.
I'll help you transform your kitchen into a place you love to spend time in. We'll start by clearing the clutter and making the most of your space. Then we'll get cooking! Oh, and the best part? The food! I'll walk you through recipes for breakfast, lunch and dinner that taste as good as they look (and trust me, they're really yummy). It's kind of like being your own personal chef.
So much more than a cookbook.
I really love cookbooks. So much so that I tend to read them before bed just like I would read fiction (anyone else?). Sometimes the idea of making a recipe is more appealing than actually doing the work. Color Your Kitchen is about more than making one grand recipe from a cookbook or Pinterest. It's about creating a lifestyle where healthy cooking is effortless and each meal is an opportunity for creativity.
Never ask "what's for dinner?" again.
Leave the planning up to me! The program includes a 21 day meal plan that's easy to follow and will teach you how to save time at each meal. I'll give you a shopping list for the grocery store, tell you what to make and show you how to make it. Every dish will be colorful, totally good-for-you and cause serious Instagram envy.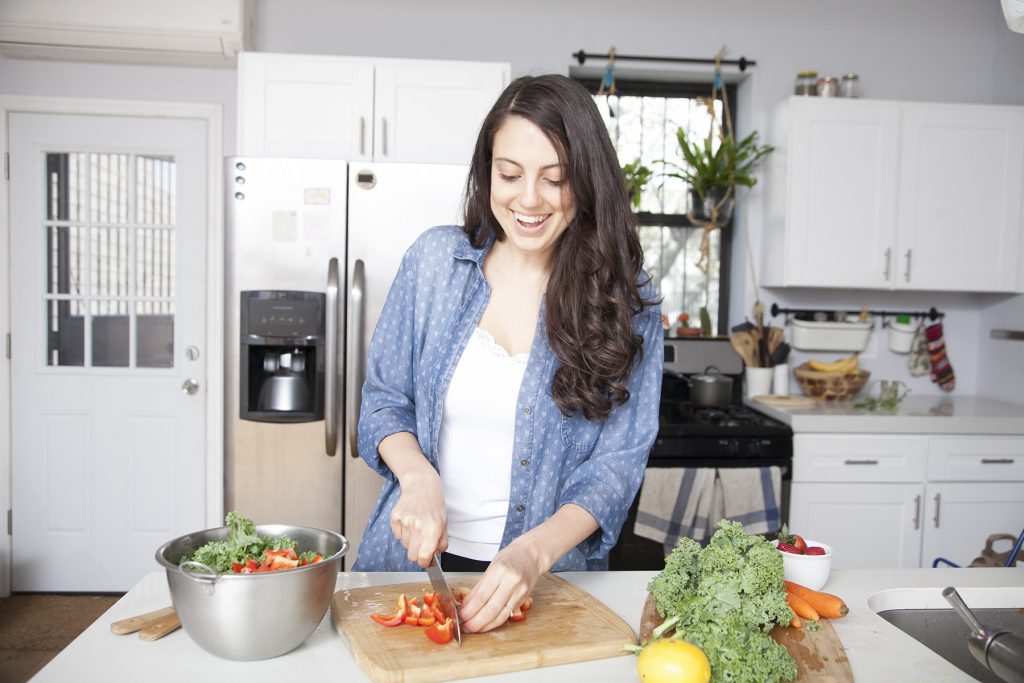 How it works:
We'll start by clearing the clutter with a one-week kitchen makeover- don't worry, it takes less than 20 minutes a day. I'll give you step-by-step instructions on how to make the most of all the areas in your kitchen (your pantry, under the sink, even the back of freezer).
You'll stock your pantry with items from the colorful kitchen pantry staples list.
At the beginning of each week you'll use the shopping list to get groceries. Yep, only one trip to the store per week.
You'll start each morning with the day's energizing breakfast recipe (2-10 minutes to prepare).
You'll already have prepared lunch for the day during last night's dinner so lunch will be easy breezy (and of course, deliciously colorful so don't forget to snap a photo!).
At night you'll grab your apron, turn on some music, pour yourself a glass of wine (or lemon water) and get cooking! You'll enjoy the process of cooking almost as much as you love eating the meal.
You'll track your progress (and show off your colorful creations) through your photo journal. Each day you'll snap a pic of what you've cooked up. Save it for yourself or show it off on social media.
By the end of the three weeks you'll be having so much fun and loving the food that you may actually forget you've been eating totally good-for-you food for three weeks. You'll feel the magical effects of a plant-based diet, have a ton of new recipes under your belt and feel confident and creative in the kitchen. You'll be inspired to keep cooking -colorfully, of course.
What's included:
21 day meal plan

Easy-to-follow recipes for breakfast, lunch and dinner each day.

Weekly grocery shopping lists

Only 1 trip to the store (or farmers market) each week!

One- week kitchen makeover

20-minute-or-less tasks to clear the clutter and make room for the magic

Colorful kitchen essentials list

Exactly which pots and pans you need to make the magic happen

Printable bulk good labels

Super cute labels to jazz up your ingredient storage

Organic shopping tips

How to shop organic on any budget

Grain cheat sheet

Exactly how long to cook everything

Easy Kitchen Conversions
Daily photo journal

Track your progress and show off how beautifully colorful each meal is.
Plus Bonuses!
Bonus #1: Colorful Cocktails Ebook

Green smoothies are great but sometimes what you really need is a cocktail. My favorite recipes to add some color to happy hour

Bonus #2: My Food Photography Tips

Professional food photography tips to make your photos look even tastier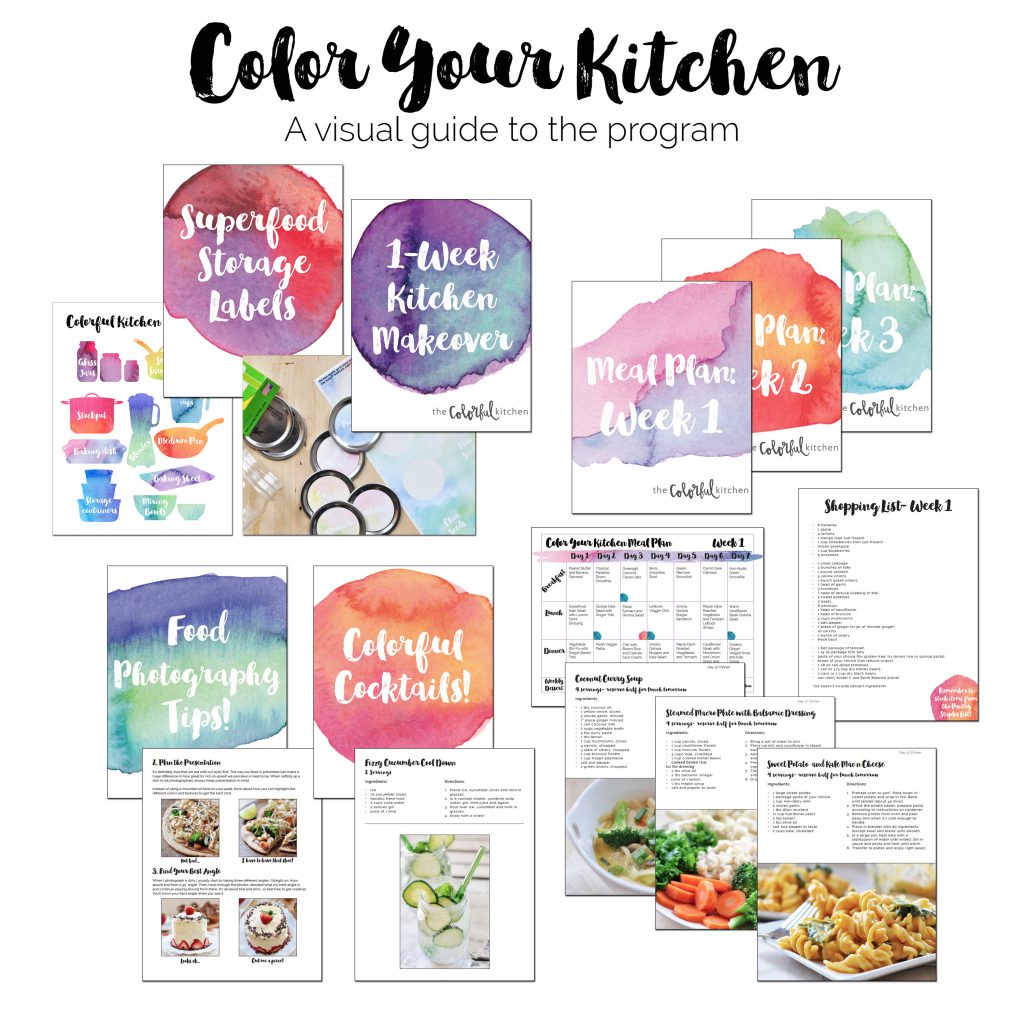 Color Your Kitchen is for you if…
You actually like eating healthy food…but ordering takeout is just easier.

I'll teach you how to whip up a great meal in less time than it takes to order takeout!

You love the idea of cooking but most days you end up skipping breakfast and microwaving something for dinner.

We've all been there. I'll show you how to save time in the kitchen so you'll never have to settle for microwaving dinner again.

You have a ton of recipes pinned on Pinterest…you just haven't gotten around to trying them.

Don't we all! I'll help you light your creative fire in the kitchen.

You love scrolling through food pics on Instagram.

It's definitely true that we eat with our eyes first. Each and every recipe in the meal plan is totally instagrammable, plus I'll show you my professional photography tips to get the best shot and share your creations with the world.
Color Your Kitchen is NOT for you if…
You want to count calories.

I'm all about counting colors, not calories. When you follow a balanced, colorful diet you get all the good stuff you need and there's no need to be restrictive

You're looking for a crash diet.

Color Your Kitchen is about loving your kitchen, your food and ultimately your body. It's not a crash diet, it's a healthy, sustainable lifestyle.

You want to eat a lot of meat and dairy.

All of the recipes in the meal plan are plant-based, which means they don't include dairy, eggs or meat. Some people may wish to add in small portions of these foods if they feel it's best for them (always listen to your body!) but if you want meat and dairy to be a large part of your diet this isn't the program for you.
A Tour of Color Your Kitchen
 
FAQs
I want to adopt a plant-based diet, is the program right for me?
I don't want to become vegan, is the program right for me?

Yes! While all of the recipes in the meal plan are vegan, you should feel free to add whatever foods make you feel your best. Always listen to your body!
I've tried diets in the past and I didn't stick with them. What makes this program different?

Color Your Kitchen is definitely not a diet, it's a healthy, fun, easy-breasy lifestyle. While all of the recipes are super good-for-you (but first and foremost delicious), the program is intended to help you make long-lasting lifestyle changes.

Will I loose weight?

The program is not specifically intended for weight loss but many people find that when they follow a plant-based diet they naturally tend to shed extra weight.
What if I skip a day?

That's totally fine! Life happens. Just pick back up with the program the next day and you'll be right on track.

What if I have allergies?

The program includes recipes that use nuts, soy and other potential allergens. Contact me to chat about substitutions.
Are the recipes gluten-free?

Almost all of the recipes are naturally gluten-free. There are a few that call for your choice of bread so you can feel free to use a GF bread or substitute with GF crackers or a lettuce wrap.
I'm really busy. How long will the recipes take to make?

The program is set up so every night when you make dinner you're also preparing lunch for the next day. Good food takes time to make but I'm all about keeping the recipes as simple and speedy as possible. Most dinners take between 15-35 minutes to prepare. The breakfast recipes take between 2-10 minutes.
How many people do the recipes serve?

The recipes are designed to serve two people. You can simply divide them in half to serve one, or multiply them to serve 4, 6, 8 or however many!
My kids/husband/parents don't like "healthy" food. Will they like the recipes?

I've found the best way to get people who think they don't like "healthy" food to try new recipes is to let the food speak for itself. Instead of giving them a speech about the benefits of kale, make your favorite green smoothie and let them try it.
What if my kitchen is really small?

Not a problem! I live in Queens and my kitchen is spacious by New York City standards but still about half the size of your average kitchen! It's all about working with what you've got.
So…what's the food like?

Every dish is colorfully delicious and totally good for you! Scroll through the photos below to see some examples…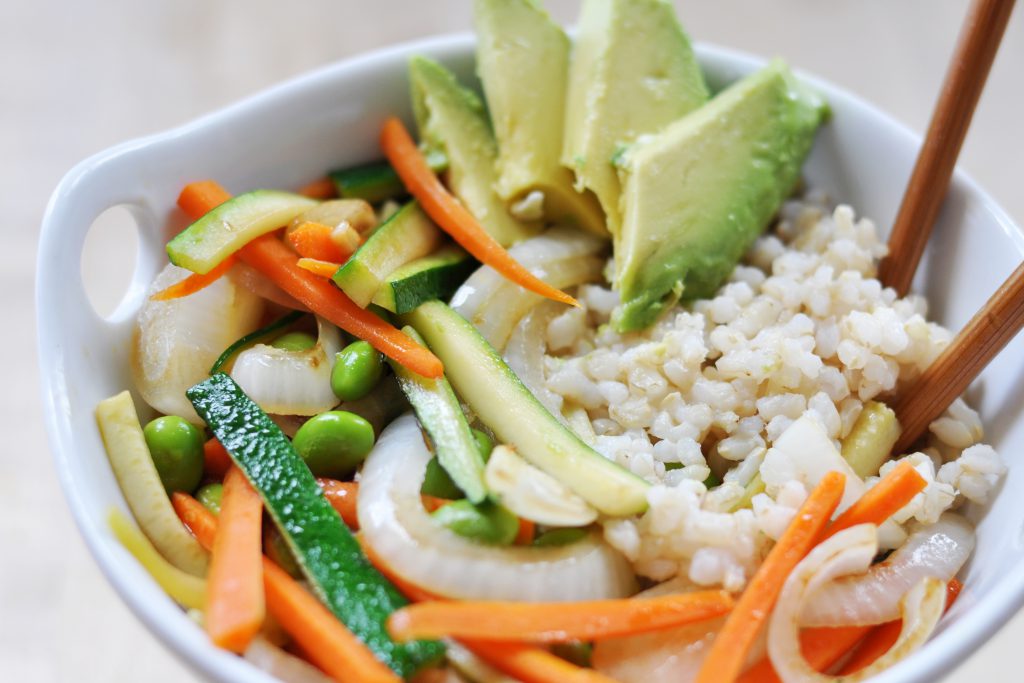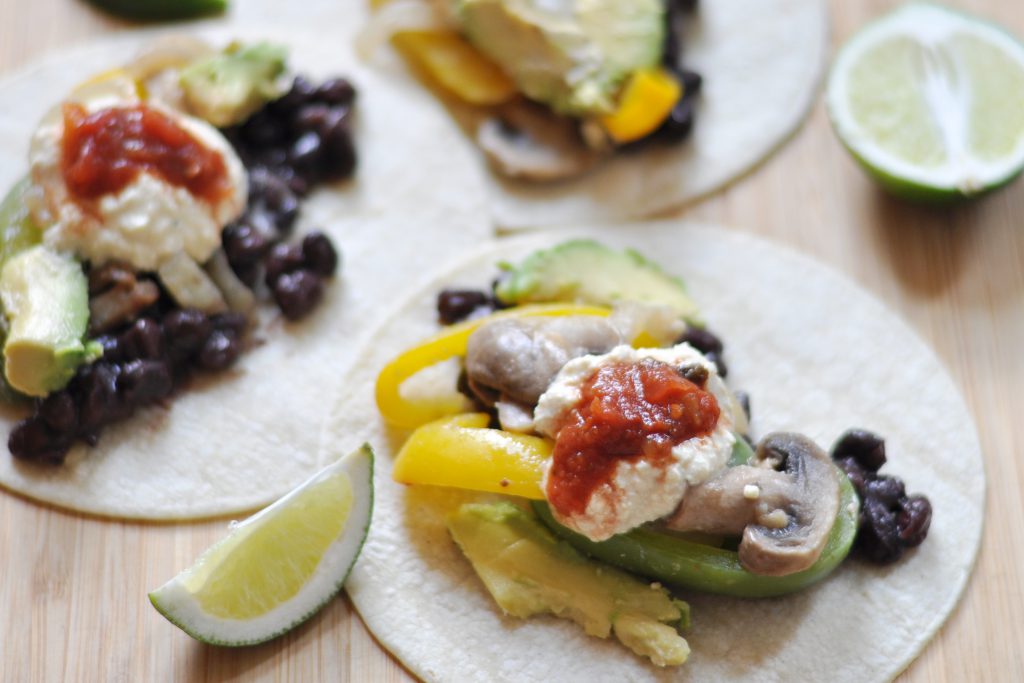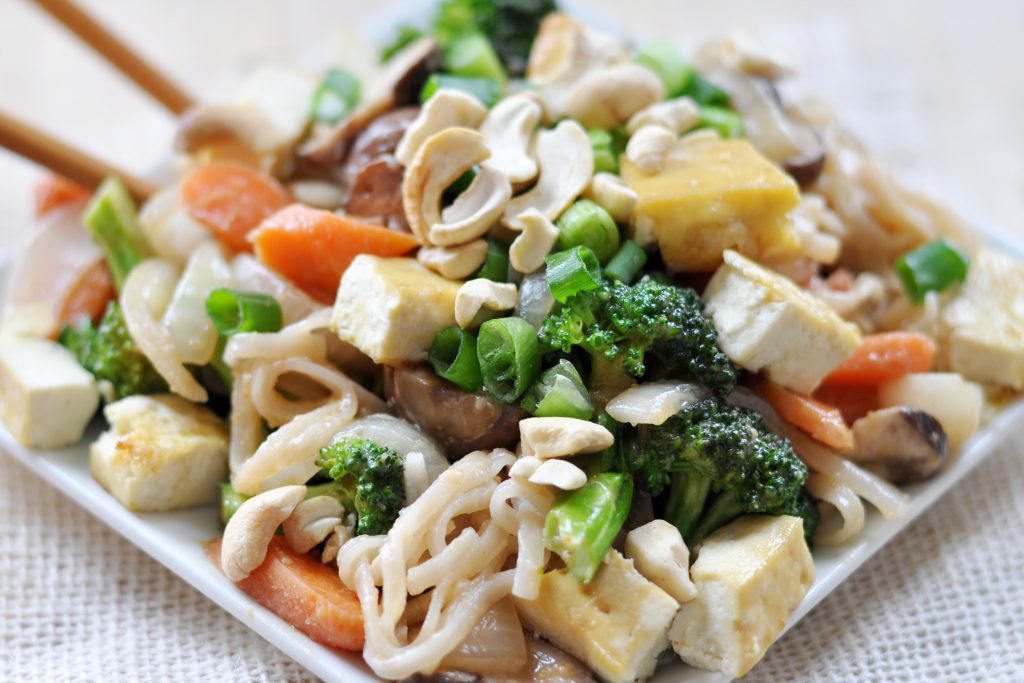 Like many digital audio and book retailers, I don't offer refunds on programs that can be downloaded and viewed (industry standard). This program is non-refundable, please read the full program details and frequently asked questions before purchasing. That said, if you have any problems with the program, please contact me and I'll be happy to work with you to solve the issue.