It's that time of the year again…Purim! Purim is the rowdiest of the Jewish holidays with festivities that include drinking, dressing up, dancing and COOKIES!
Last year I wrote about why we enjoy hamantaschen on Purim and shared a vegan + gluten-free version of the traditional cookies. This year I'm super excited to share a new variation… Samoa Hamantaschen!
I recently stumbled across this Buzzfeed article about crazy types of hamantaschen and the samoa-inspired recipe caught my eye. You know I love anything with chocolate, caramel and coconut so I decided to create a vegan and gluten-free version. Plus it's been years and years since I had a girl scout samoa cookie so it sounded like a fun challenge.
You may notice I tweaked my original recipe a bit. I added a little almond milk which helped the dough fold more smoothly. I also substituted maple syrup for agave which helped enhance the caramel flavor (plus tons of lovely readers have expressed interest in agave-free baking). Overall the verdict is…you gotta try these little babies!!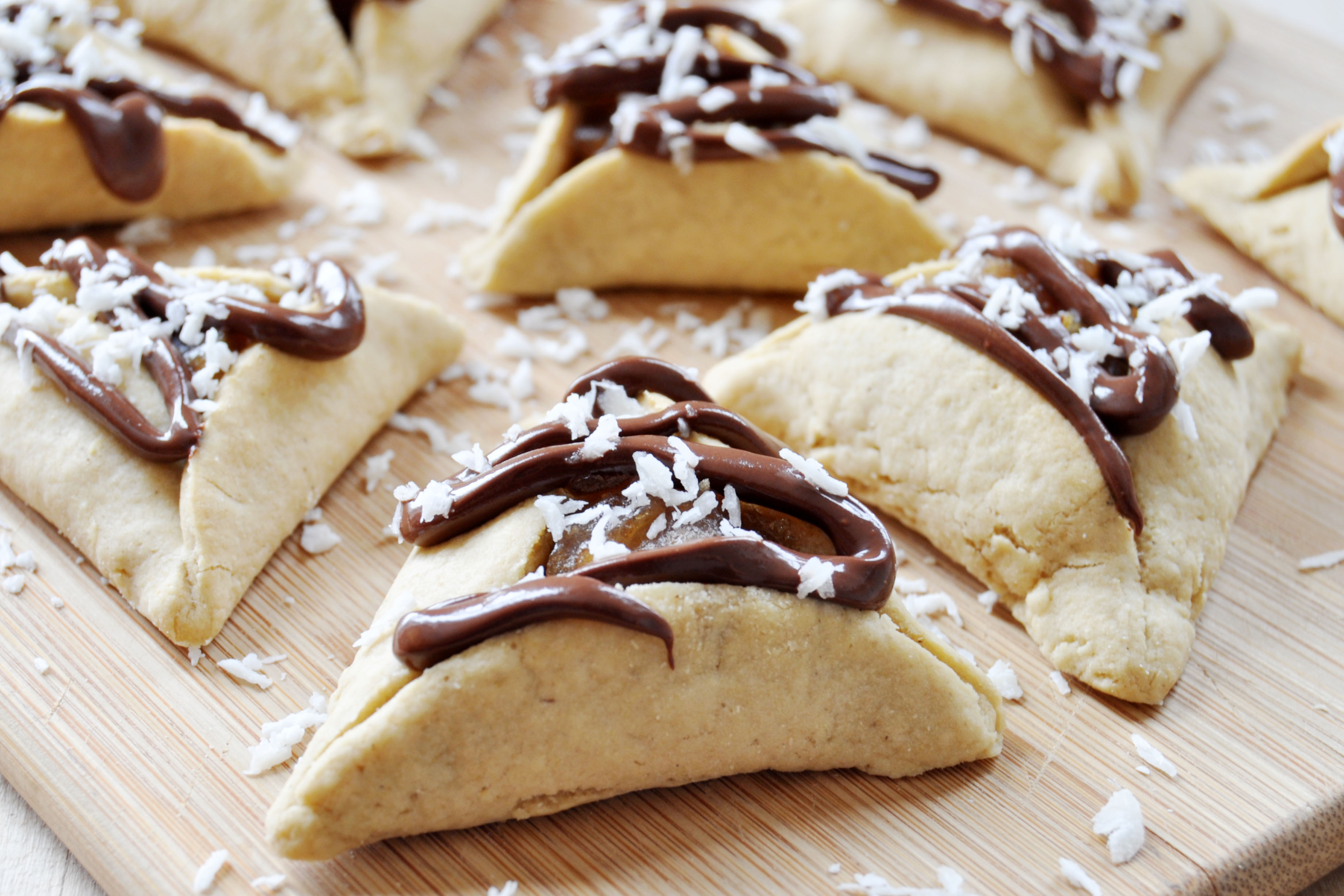 Samoa Hamantaschen, Vegan + Gluten-Free
Cuisine:
vegan, gluten-free
Ingredients
1.5 cups all-purpose gluten-free flour
1 tsp baking powder
1 tsp baking soda
1tbs cornstarch
1 tbs xanthan gum
¼ tsp salt
1 tbs vanilla extract
⅓ cup coconut oil, softened
¼ cup maple syrup
2 tbs non-dairy milk
12 dates, soaked for 30 minutes
2 tbs coconut oil
¼- 1/2 cup water
dash of salt
½ cup chocolate chips
¼ cup shredded coconut
Instructions
Preheat oven to 350°
Whisk together flour, baking powder, baking soda, cornstarch, xanthan gum and salt. Stir together vanilla, coconut oil, maple syrup and milk a small bowl. Add contents of small bowl to large and stir until thoroughly mixed (you might want to use your hands to lightly knead dough together).
Roll dough into a ball. Place in refrigerator while you prepare filling.
To prepare caramel filling, drain and rise dates and blend them with coconut oil, water and salt until mostly smooth. Set aside.
Place ball of dough onto clean surface and use a rolling pin to flatten until it's about ⅛" thick.
Use a 3" circular cookie cutter (a jar lid works well) to cut the dough into circles.
Place a tablespoon of caramel filling in the center of each circle. Gently fold the sides in to create a triangle and pinch the corners.
Line a baking sheet with parchment paper and place hamantaschen on sheet.
Bake for 9-11 minutes, until edges are slightly golden. Remove from oven and let cool completely.
Melt chocolate in a small saucepan. Drizzle chocolate over the cookies and sprinkle with shredded coconut.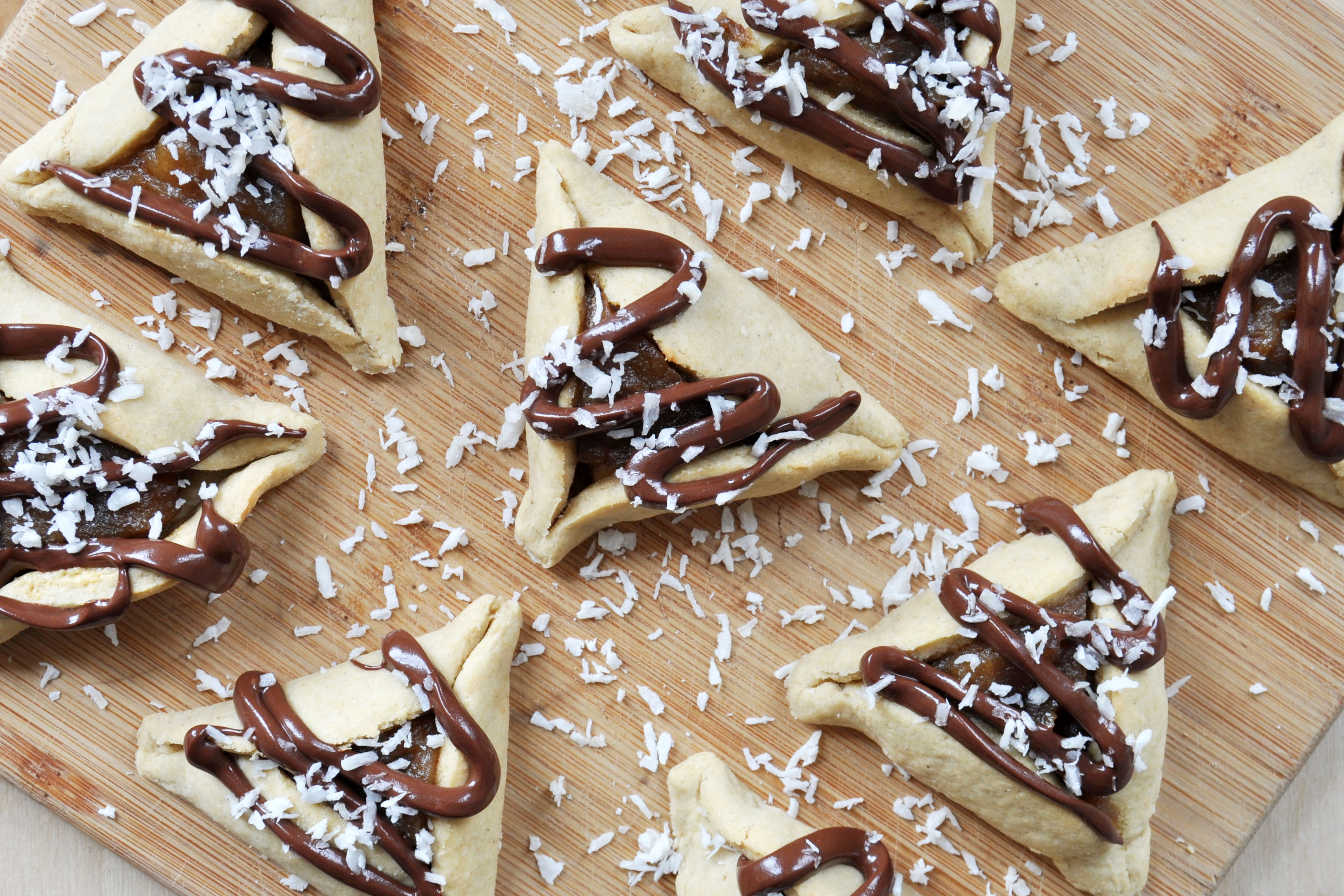 Ps- don't forget about last year's chocolate peanut hamantaschen while your at it!