There are a few recipes I make so often that I don't even think to mention them on the blog or snap photos for instagram.
Today's Vegan, Gluten-Free Thai Coconut Curry Noodle Soup is one of my favorite easy dinners and one of those recipes! About a year ago I posted a version of this soup and today I'm back with an update. The beauty of this dish is that you can throw whatever vegetables you have around in and it will always taste great.
In today's updated recipe I included noodles and fresh cilantro (which actually makes a big difference!). I used these really tasty black rice noodles but sometimes I go with bean pasta which is super yummy as well.
I had some leftover fried tempeh that I threw into the soup. For extra protein you can also add edamame or tofu. I hope you enjoy this easy dish as much as I do!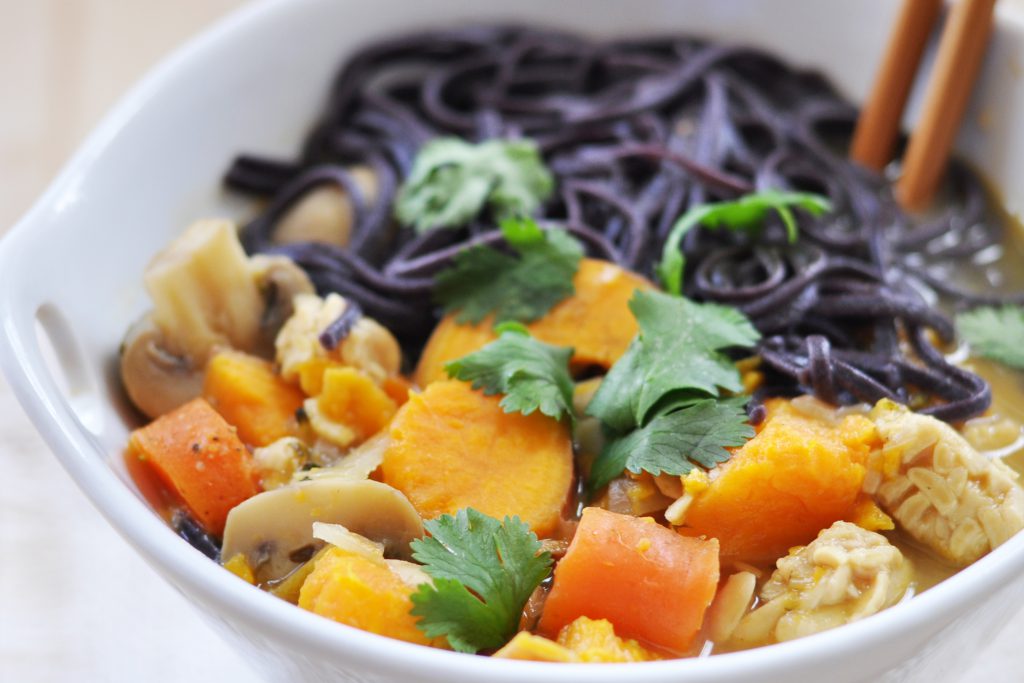 Thai Coconut Curry Noodle Soup , Vegan + Gluten-Free
Ingredients
Noodles of your choice
1 tbs coconut oil
1 yellow onion, sliced
3 cloves garlic, minced
1 tbs minced ginger
1 can coconut milk
2 cups vegetable broth
2 tbs curry paste (I used green curry)
1 tbs tamari
4 large carrots, chopped
1 cup mushrooms, sliced
2 medium sweet potatoes, chopped into 1″ pieces
1 cup broccoli florets
salt and pepper to taste
fresh cilantro, chopped
Instructions
Prepare noodles according to instructions on package.
In a large pot on the stove, heat coconut oil at medium-high. Add onion, garlic and ginger and sauté until onions are translucent (about 7 minutes).
Add coconut milk and vegetable broth and bring to a boil. Stir in curry paste and tamari.
Add carrots, mushrooms, sweet potatoes (and whatever other veggies) and simmer for 15 minutes.
Add broccoli, salt and pepper and simmer another 2-3 minutes.
Serve over cooked rice noodles or rice (if using) and enjoy right away!