In my book, there's nothing better than spotting (and bringing home!) the first tomatoes of the summer season each year.
We've been getting some super delicious cherry tomatoes this season at my local coop and today's recipe takes advantage of their sweet flavor.
This Vegan, Gluten-Free, Black Bean, Avocado, Tomato and Quinoa Salad is definitely my new favorite summer salad. It's so full of flavor and different textures but everything works together so nicely. Once the quinoa and beans are cooked, all you really have to do it chop and mix so it couldn't be easier to prepare!
It's packed with protein so it makes a great main course or you can serve as a side with grilled veggies at your next barbecue!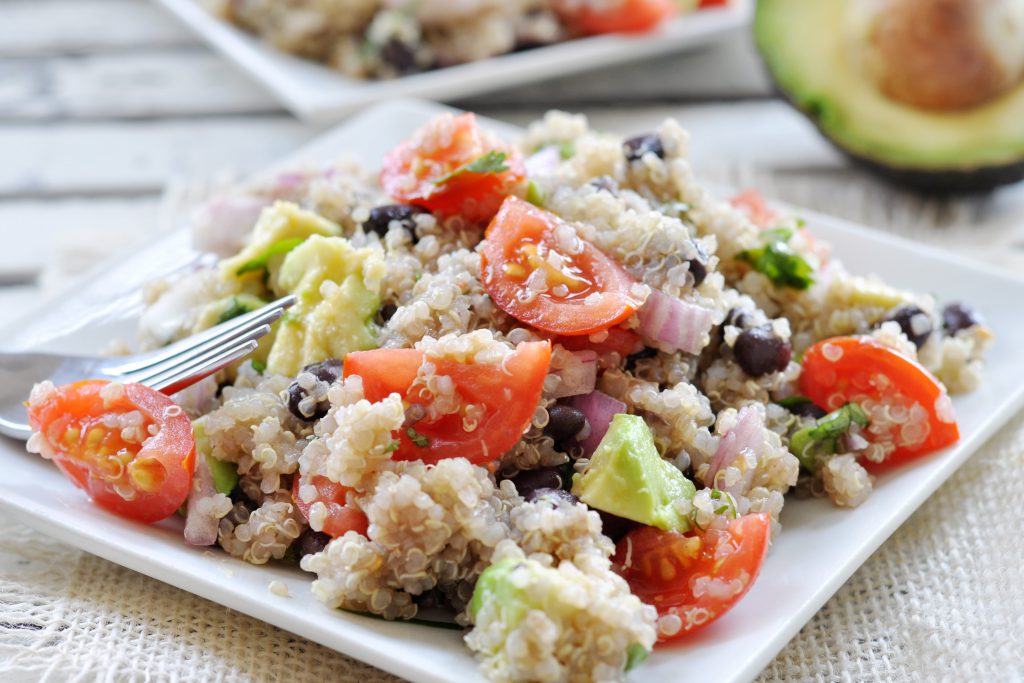 sdf

Black Bean, Avocado, Tomato and Quinoa Salad, Vegan + Gluten-Free
Ingredients
1 cup dry quinoa
1 smal red onion, diced
1.5 cups cooked (or 1 can) black beans
1 cup cherry tomatoes, diced
1 avocado, diced
2 tbs olive oil
¼ cup fresh cilantro, chopped
2 tbs balsamic vinegar
salt and pepper to taste
Instructions
To prepare quinoa, bring 2½ cups of water to boil. Add quinoa, cover and simmer for 15 minutes. Turn heat off and let sit, covered, for 5 minutes before using.
Transfer quinoa to large bowl. Stir in all other ingredients. Enjoy!