As we near the end of summer, lately I've been feeling nostalgic for the sleep away summer camp I went to as a kid. Certain things remind me of camp- bonfires, the smell of rain on a hot day and chipwich ice cream sandwiches.
At camp there was a general store called Granny's and once a week we were allowed to stock up on toiletries and snacks. Of the snacks they sold, chipwiches were by far the most popular. I can still remember how refreshing it was to unwrap the frozen treat on a sweaty afternoon.
Incase you aren't familiar with chipwiches (are they even still a thing?) they're made of two chocolate chip cookies with vanilla ice cream sandwiched inside, coated with more chocolate chips on the outside. On a particularly sweaty day last week I started thinking about my favorite camp snack and created my own raw, vegan and gluten-free version, the Healthy Chipwich!
I am seriously jazzed about this recipe, like first-day-of-camp excited. These chipwiches are filled with oats, cashews, cacao, dates and other wholesome ingredients (as opposed to the original chipwich) but they are so yummy you would never know! I decided to swap the ice cream for a cashew cream filling that has the same melt-in-your mouth quality. You could also totally skip that part and just use a scoop of your favorite vanilla (here's mine).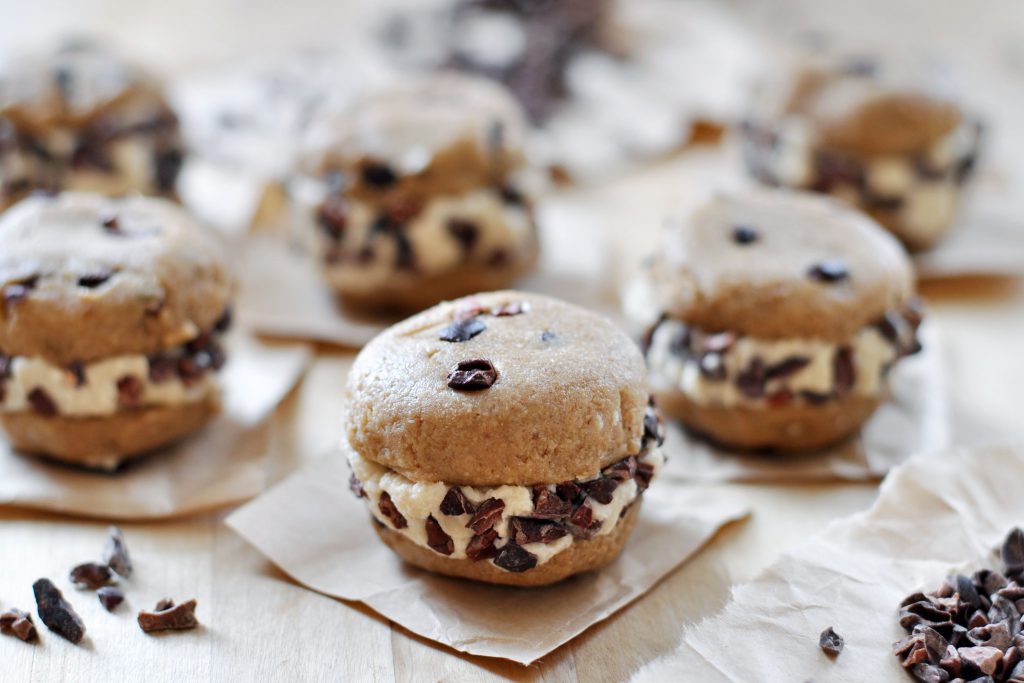 Healthy Chipwich, Vegan + Gluten-Free
Cuisine:
vegan, gluten-free, raw
Ingredients
8 dates, pitted and soaked in water 30 minutes
1 cup oat flour
2 tbs coconut oil, melted
2 tbs maple syrup
dash of salt
¼ cup cacao nibs
1 cup cashews, soaked in water 4 hours
¼ cup coconut butter
3 tbs maple syrup
1 tsp vanilla extract
dash of salt
splash of non-dairy milk, as needed to blend
extra cacao nibs to sprinkle
Instructions
To prepare cookies, drain dates and blend them with oat flour, coconut oil, maple syrup and salt until thoroughly combined and batter is formed. Stir in cacao nibs.
Roll batter out on a piece of parchment paper until ½" thick. Use a cookie cutter to cut circle shapes. Transfer cookies to plate or tray and place in refrigerator to set.
Prepare filling by draining cashews and blending them with coconut butter, maple syrup, vanilla and salt until smooth. If needed, add a splash or two of milk to help blend.
Remove cookies from refrigerator. To assemble sandwiches, spread a scoop of filling across half of the cookies, then place another cookie on top. Sprinkle cacao nibs around sides and use your hands to gently press them in. Place cookies in refrigerator for 30 minutes to set before enjoying.