While perusing my local all-vegan grocery store Haymaker's (I'm a lucky gal to have them nearby!), I came upon a product that I've never seen before- vegan white chocolate chips! It's been years and years since I've had white chocolate so I had to buy a bag to bring home.
My discovery was perfectly timed with  Valentine's Day around the corner, so today I'm so excited to share these Vegan White Chocolate & Strawberry Cookies with you! Not to toot my own horn but, holy moly-these cookies are incredible. I was going to give them to my husband as a romantic early V-Day gift but they're so delicious that I may just stash them away for myself (sorry, Ross!).
I think the magic of these cookies is that the white chocolate chips really melted into the cookies. At first I was disappointed that you couldn't see the chips poking out of the cookies and they didn't look as cute as I hoped but after tasting them I really didn't care because I'm so please with how they turned out. I did run into one little snafu- I tried melting the chips to add a white chocolate drizzle on top but instead of melting smoothly, they melted a bit then hardened (maybe the heat was too high? I'm going to keep experimenting!). I ended up using melted coconut butter for the drizzle, which added the perfect subtle coconut flavor.
Here are the vegan white chocolate chips I found at Haymaker's. I also came across this brand on amazon that I'm curious to try. Instead of topping them with sprinkles, I experimented with mashing up the same freeze dried strawberries that I used in the cookies. I simply placed a handful in a bowl and used the back end of a vegetable peeler (my makeshift mortar and pestle) to turn them into powder. I LOVE how this worked out and added such a vibrant color, I can't wait to experiment more with this.
Ok, now that you've got all the info, it's time to get baking! Let me know what you think of the different kinds of vegan white chocolate chips if you try them and definitely let me know if there are other brands I should know about!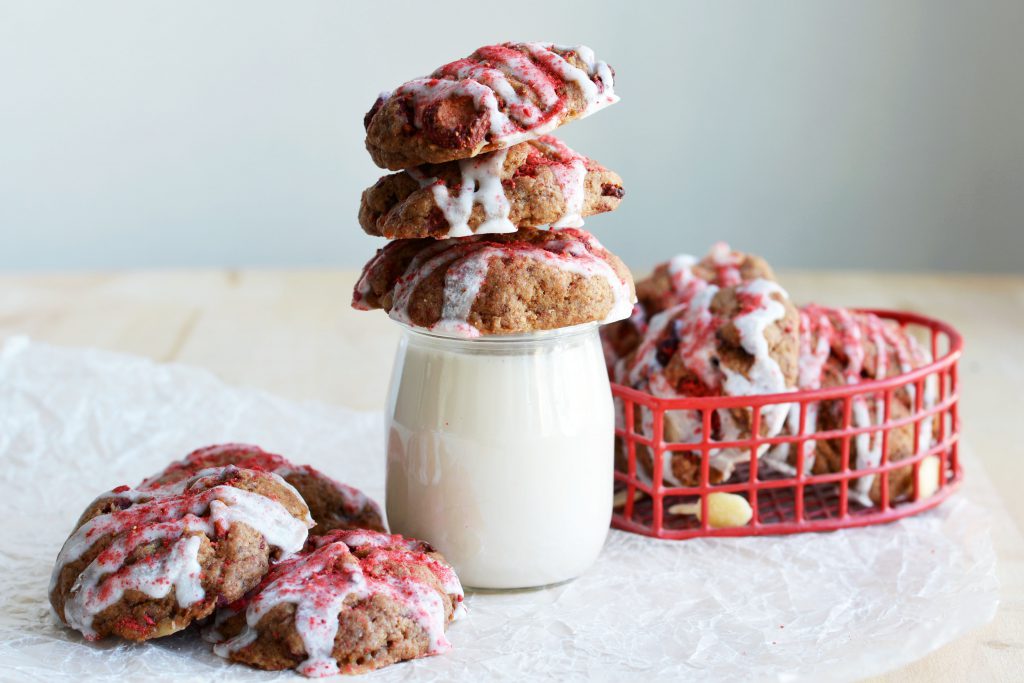 Vegan White Chocolate & Strawberry Cookies for Valentine's Day
Author:
Ilene Godofsky Moreno
Ingredients
flax egg
1 tbs ground flaxseed
3 tbs warm water
dry
2 cups spelt flour
⅔ cup coconut sugar
½ tsp baking soda
⅛ tsp salt
wet
⅔ cup coconut oil, softened
2 tsp vanilla extract
¼ cup non-dairy milk
fold-in
drizzle
2 tablespoons coconut butter, melted
1 tablespoon crushed freeze dried strawberries (see note above)
Instructions
Preheat the oven to 350°. Grease a baking sheet.
Prepare the flax "egg" by stirring together the flax and water in a small bowl or cup. Let sit 10 minutes before using.
In a large bowl, whisk all the dry ingredients together.
In a small bowl, stir all the wet ingredients together.
Add the contents of small bowl to large and mix until thoroughly combined.
Fold in the white chocolate chips and freeze dried strawberries.
Scoop a little more than 1 tablespoon of batter onto baking sheet for each cookie. Use your hand to slightly flatten each scoop of batter.
Bake for about 15 minutes, until edges are lightly golden. Let the cookies cool completely, then drizzle the coconut butter on top and sprinkle crushed freeze dried strawberries on top.