Turmeric is totally having a moment. It feels like I can't walk 10 feet in Brooklyn without running into a golden milk latte!
Have you jumped on the golden milk latte train? If you have no idea what I'm talking about, turmeric is a cousin of ginger that's known for it's healing qualities. Maybe you've used it to add a natural yellow color to your tofu scrambles or encountered it in an Indian curry. In addition to being a superfood with the power to prevent and help heal colds, turmeric has a unique, slightly spicy, ginger-y flavor that's especiall warming and comforting this time of the year.
I've been making a super basic golden milk this winter that's pretty much just almond milk, maple syrup and turmeric but here's a fancier version from one of my favorite bloggers that I'm planning to try soon.
As I mentioned before, I've been seeing golden milk lattes all around town- from my favorite all-vegan creperie Little Choc, to my go-to matcha spot MatchaBar. After trying an "ayurvedic bonfire cider latte" (which was like a golden milk latte+ apple cider and it was SO GOOD) at a The End last week, I was inspired to come up with a dessert based on the hottest drink in town.
Today's Vegan, Gluten-Free Raw Golden Milk Latte Cream Cups are like the baby of a raw cheesecake and a golden milk latte. Even though they are a dessert, they're only lightly sweetened so you can really taste the turmeric and cinnamon flavors. They're super rich and creamy but won't leave you feeling weighed down. To sum it up, I'm totally smitten with them.
The recipe calls for a refrigerated can of coconut milk and cashews soaked in water- so make sure to plan ahead. I like them as 2-bite treats so I opted for a mini muffin tray but I think they would also be great a little a larger if you decide to use a regular sized muffin tray. Can't wait to hear what you think of them!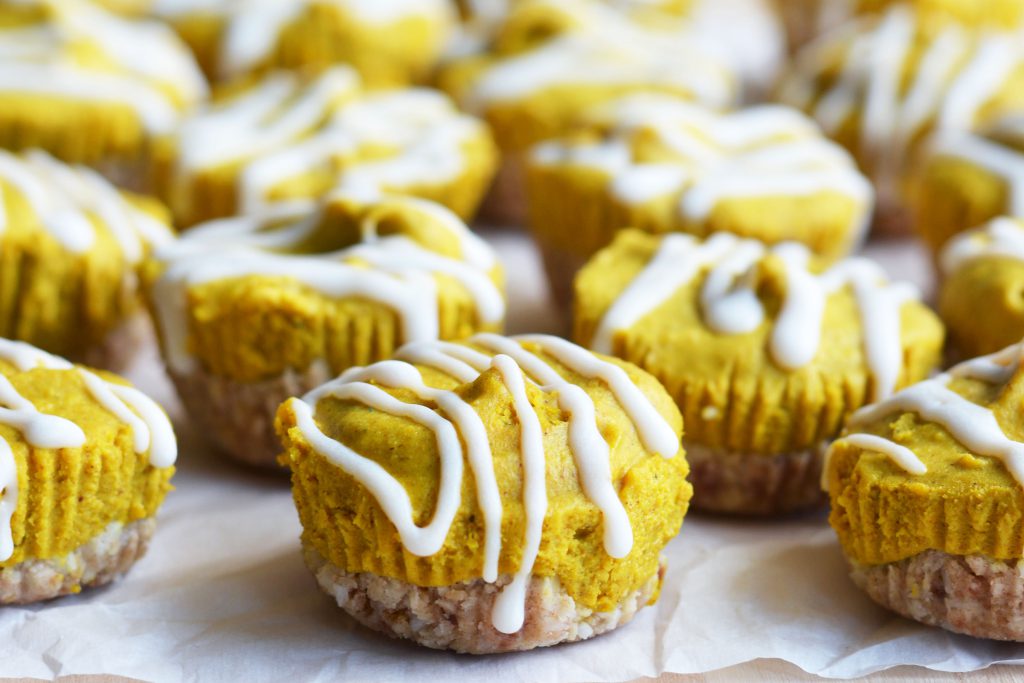 Raw Golden Milk Latte Cream Cups, Vegan+ Gluten-Free
Author:
Ilene Godofsky Moreno
Cuisine:
vegan, raw, healthy
Ingredients
crust
¾ cup rolled oats
¼ cup dates (soaked in hot water for 30 minutes if not soft)
¼ cup shredded coconut
2 tablespoons coconut oil, melted
1 tablespoon maple syrup
pinch of salt
golden milk cream layer
1 can full fat coconut milk, refrigerated overnight
1 cup raw cashews, soaked in water at least 4 hours
1 tablespoon maple syrup
1 tablespoon coconut oil, melted
½ teaspoon vanilla extract
1 tablespoon ground turmeric
1 tsp cinnamon
¼ teaspoon salt
drizzle
Instructions
Line 2 mini muffin trays with baking cups.
To prepare the crust, pulse the oats in a blender or food processor until flour is formed. Add all other crust ingredients and pulse until a mostly smooth texture is formed. Scoop slightly less than a tablespoon into each baking cup and use your fingers to press it firmly into the bottom of the cups.
To prepare the golden milk cream layer, drain the cashews and place them in the blender.
Open the can of coconut milk and scoop the cream (it should have separated in the refrigerator) into the blender. Add 2 tablespoons of the remaining coconut liquid and discard the rest (or save it for a smoothie!).
Add all the remaining ingredients and blend until smooth (you'll have to scrape the sides down a few times. Use a spoon to fill the baking cups with the golden milk cream. Place the tray in the refrigerator to set (1-2 hours).
When the cups have firmed up, peel the baking cups off and set them on baking sheet or platter. Use a pastry bag or spoon to drizzle the coconut butter on top. Store them in an airtight container in the fridge.