I love super simple one-mixing-bowl desserts but every once in a while I like to whip up something a little extra decadent. This weekend I set out to create the Ultimate Raw Vegan Cheesecake– I wanted it to be visually appealing as well as layered with flavor. I decided to modify the No-Bake Macaroon recipe from my 21-Day Meal Plan to create a unique gluten-free coconut macaroon crust. From there, I added layers of chocolate, blueberry and regular cheesecake and sprinkled cacao nibs on top to add a little crunch.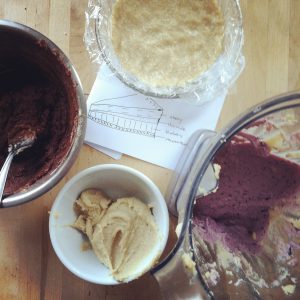 I'm so happy with how the cheesecake turned out! I used my 6″ mini pie dish (same as in this raspberry cheesecake) and made a tall cheesecake that serves 8 people. I lined the baking dish with plastic wrap, that way once the cheesecake was set in the freezer I could easily pop it out of the pie dish. The key to keeping the colors of each layer separated is to pop the dish in the freezer after adding each layer- that way the previous layer is firm enough so you can spread the next layer on top without mixing them together. This cheesecake may take a little more time to make than your average dessert but trust me- it's totally worth it!
Ultimate Raw Vegan Cheesecake
Cuisine:
Vegan, Gluten-Free, Raw
Ingredients
macaroon crust- ½ cup unsweetened shredded coconut, 3 tbs almond meal, 1 tbs agave, 1 tbs softened coconut oil, ⅛ tsp vanilla, dash of salt
2 cups raw cashews, soaked at least 4 hours
juice of 1 lemon
½ cup coconut oil
3 tbs agave
2 tsp vanilla extract
⅛ tsp salt
2 tbs cacao or cocoa powder
⅓ cup blueberries
optional topping- cacao nibs
Instructions
Line pie dish with plastic wrap.
Prepare macaroon crust by mixing all crust ingredients together in a small bowl. Use fingers to press mixture into the bottom of the pie dish. Place in freezer for at least 15 minutes before adding next layer.
Prepare filling by combining cashews (drained), lemon juice, coconut oil, agave, vanilla and salt together in a blender until completely smooth. You'll need to scrape the sides down a few times.
Divide the batter into thirds in three separate bowls. Stir cacao powder into one bowl to create chocolate layer.
To create blueberry layer, mix blueberries and one third of batter together in blender until smooth.
Remove pie dish from freezer. Spread chocolate filling layer evenly over crust. Return to freezer for 15 minutes.
Spread blueberry filling layer evenly. Return to freezer for 15 minutes.
Spread plain filling layer evenly. Sprinkle edges with cacao nibs. Freeze for at least 1 hour, then pop cake out of plastic wrapping. Store in refrigerator.